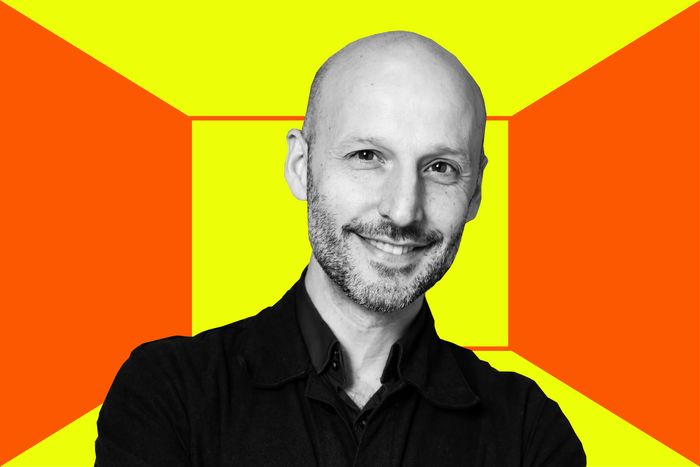 Photo-Illustration: Curbed; Photo: John Michael Kohler Arts Center
New York's "21 Questions" is back with an eye toward creative New Yorkers. Glenn Adamson is a leading craft historian and the former director of the Museum of Arts and Design. He recently published Objects USA: 2020 and Postmodernism: Style and Subversion, 1970–1990. His latest exhibition, "The New Figuration," is on view at Friedman Benda through April 19.
Name: Glenn Adamson
Age: 49
Neighborhood: Prospect Heights
Occupation: Design and craft historian, curator, and writer
What's hanging above your couch? 
A Merlin James painting. It's a sandpiper on a wet beach, but it also seems to gloss most of 20th-century art history. It's one of those paintings I can look at every single day and see something else in it.
What's the first job you had in New York?
I worked at a craft store on Seventh Avenue in Brooklyn called the Clay Pot. I sold pottery, glass, and scarves. When I got the job, I had just graduated from college. As it happens right now, I'm drinking from a mug that I got at the Clay Pot, probably in 1994.
What color are you always drawn to?
I have always thought that the color pink just contains multitudes in terms of its relationship to ideas of queerness and gender history, but it's also a very interesting art historical color. I actually had an Instagram account with my buddy Sarah Archer, a design writer based in Philly, called Unthink Pink.
What art or artifact are you most surprised you own?
The video for "Love Shack" was shot in my backyard, and we have a plaque showing the house, and it says "Love shack was filmed here" on it with an image of the house. Phillip Mayberry and Scott Walker, the people who built our house, were potters and friends with the B-52's, and they
had this old hippie cabin that they painted up in this absolutely amazing way. They ended up knocking down that house, but some of their fantastic tilework is still in ours. I loved the B-52's when I was in high school, and if you told me back then that I would live on the site where the video was filmed, I wouldn't believe it!
Which New Yorker would you want to hang out with?
Laurie Anderson. She just crosses every genre of conceptual art, music, and performance — all the things that I'm interested in — and was three steps ahead of everyone else at every stage of her career. It would be interesting to talk to her about her very early performance Duets on Ice, where she played the violin while wearing a pair of skates that were frozen in a block of ice. I would love to find out what it was like the very moment that the ice melted and the metal of the skates clanged against the concrete beneath her. How did the public respond to that? I saw her show at the Hirshhorn, which was a lot like hanging out with her. It felt like I was walking around in her brain. I think that's how she conceived it.
What's the last thing you made with your hands?
I play music. I'm not a craftsperson at all, and I self-consciously steer clear of making objects for reasons you might be able to imagine. My instrument is called the Uilleann pipes, which is the national bagpipe of Ireland. It's quieter and a more melodic and musical experience than Scottish bagpipes. I've played for 30 years but got back into it heavily during the pandemic. I have a house upstate, so I can play without fear of annoying the neighbors.
Is there one thing you own multiple versions of?
I have a lot of ceramics, as you can imagine. Our regular "eat off it all day" plates are all Heath Ceramics. I have several bowls by Warren MacKenzie, which are each unique and at the same time expressions of the same thing. I find ceramics compelling because of the multiplicity you get with them. Something about the way that ego is suppressed across numerous objects in pottery really, really appeals to me.
What New York City museum do you always go back to?
The Noguchi Museum for sure. Stealing an idea from Dakin Hart, who is a curator there, it sort of doesn't need you. Other museums, like even the Metropolitan, only make sense when they are thronged with visitors. The Noguchi Museum is already perfect and eternal and feels outside of the happenstance flow of visitation and marketing and exhibitions coming and going — all the things we tend to think museums are about. It floats free from all of that because of how Noguchi infused the space with these primal qualities. To me, it's as close in New York City as you can get to Stonehenge or Machu Picchu.
What do you always have next to your computer? 
Upstate, a mug by Ellen Shankin, who is a Virginia-based potter. It's just the right weight: heavy enough so you feel like there's something in your hand but light enough that it's a pleasure to drink from. It has hard contours in all the places you want it to be hard and soft contours in all the places you want it to be soft. I have two of them since one might be in the dishwasher. My mug in Brooklyn is by Victor, a company that made thick, cast-porcelain tie-off caps for electrical poles but broadened into diner mugs.
Where is the best view of the city?
Isn't it weirdly from the BQE? I'm thinking of a stretch where you're coming from Queens into Brooklyn. When Frank Lloyd Wright came to Yale, someone asked him where he'd ideally like to stay when he was on campus. He famously said Harkness Tower — which is this big, neo-Gothic tower — "because I don't have to look at it." That's very much the feeling I get when I'm driving on the BQE and looking over at the Empire State Building.
What building or object do you want to redesign every time you see it?
Obviously I have a very loving relationship with the Museum of Arts and Design, which I used to direct, but the building is locked in an ongoing struggle with itself between the new architecture by Allied Works and the now-missing Edward Durell Stone architecture. The building has great bones in terms of its shape — that beautiful curve on the front of it — and the incredible ceramic tile, and the slots that Brad Cloepfil put in for the light. But it's so difficult to navigate because all you have is that one elevator core, and it just takes forever to get up and down it. There's no freight elevator because there isn't room for one. I don't think the Stone design was a very satisfactory building principally because the patron, Huntington Hartford, was so eccentric and was more interested in closing the city out than opening himself to it. Cloepfil had a very difficult situation to work with. But just like a lot of buildings that have been adapted, it feels like a skeleton trying to bust out of a closet.
What's one thing you would change about your field? 
Interpreting my field as craft, the thing I would change is for people not to feel so anxious all the time. Historic marginalization — sexism and racism and a lower status in the arts — has often characterized the field. That has generated a lot of resentment and insecurity. Now, the art world and even the world of mass production seemingly can't get enough of craft. There's still this perpetual feeling of unfulfillment. I would love to see the craft world be able to kick back, relax, and just enjoy all the compliments.
If you could live anywhere in New York City, where would it be?
My partner and I thought of moving to Harlem, partly to see the city from a new vantage point from the north. There's an incredible history of music and art, and the Cloisters would be so close.
What would you hoard if it stopped being produced?
Besides toilet paper? That's the real answer, whether anyone would admit to it or not! But if there was an apocalypse, I think the thing I'd miss the most is music and podcasts. If there was some way to hoard them, I would.
What do you do to get out of a creative rut? 
I don't really do creative ruts. I'll just agree to write about a new topic. That's what I love about being a freelance writer and curator. It's a great line of work for a distracted mind. Having a palette of different types of work I do throughout the day means I don't wind up in a trough I can't get out of.
Where was your first NYC apartment and how much was the rent? 
When I worked at the Clay Pot, I lived in a garret apartment on 3rd Street in Park Slope. I think it was around $500, which seemed really, really expensive to me. Rent took up most of what I earned.
Where in the city do you go to be alone?
I don't like being alone that much. When you're a writer — and maybe this is true of artists, too — you get more than enough of your own company. The version of being alone that I do is going to Prospect Park with my dog, Annie.
Worst piece of career advice you've ever gotten? 
Don't use your email as your to-do list, the idea being that you're constantly reactive to what other people need from you. I spent a long time trying not to do that before realizing that actually email was an incredibly sensitive register of my entire community of collaborators and that it was totally fine to do that. It massively amplified my productivity. I might have a minority and unpopular view, but I'm an advocate for the much-unloved advantages of email.
What have you given away to someone that you wish you could get back? 
I handwrote and illustrated a children's book for my nieces. To back up a step: I tried to write poetry, but what came out was absolute doggerel. It was terrible as poetry, but it's a great start to a children's book. It was called The Impossible Circus, and I spent a long time doing the drawings and coloring. I don't regret giving it to them because that was the whole point of it, and they really did appreciate it. Now that they're 21 and 18, it's probably sitting somewhat unlooked after on a shelf. And I'm aware that I don't have it.
What's your favorite NYC restaurant and regular order?
It's called La Mela, and the great thing about it is you don't order; they just bring food out to you. It's in Little Italy, and it's the kind of place that unironically has a light-up phallus hanging from the ceiling that they illuminate for happy-birthday songs.
What descriptive phrase do you want on your obit headline?
What would actually really make me happy is if it said: "Brother of Peter Adamson, Noted Philosophy Historian, Dies Age 99." I have an identical twin brother, and he's the father of the aforementioned nieces. He lives in Munich, where he teaches and hosts the podcast The History of Philosophy Without Any Gaps. I take so much more pride in what he does than what I do. I would love to be remembered as his biggest fan.