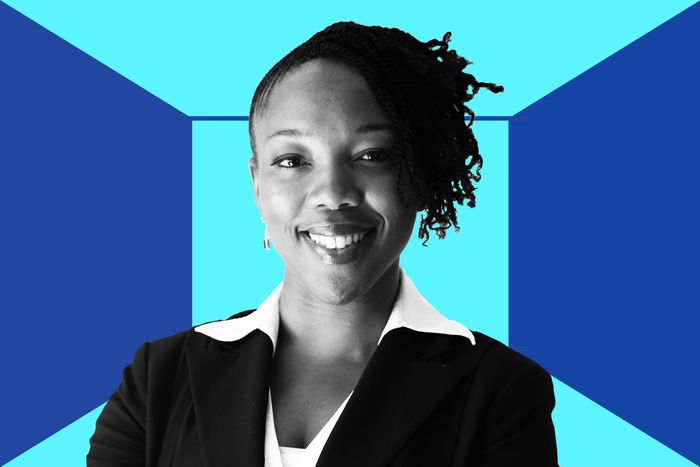 Photo-Illustration: Curbed; Photo: Courtesy of Ifeoma Ebo
New York's "21 Questions" is back with an eye on creative New Yorkers. In her 20 years as an urban planner, Ifeoma Ebo has designed projects that make cities more equitable places to live. She directed public space design for community safety initiatives in the New York City Mayor's Office of Criminal Justice, developed guidelines for the Department of Design and Construction, and worked on mixed-use affordable-housing development strategies at the Department of Housing Preservation and Development. Ebo was on the advisory council for MoMA's "Reconstructions: Architecture and Blackness in America" exhibition, and worked with Architecture for Humanity and FIFA to design soccer centers across Africa. She teaches architecture at Syracuse and Columbia and contributed to Curbed's "Perfecting the New York City Street" project.
Name: Ifeoma Ebo
Age: 42
Neighborhood: Midwood, Brooklyn
Occupation: Urban designer, planner, architect, and director of Creative Urban Alchemy
What's hanging above your couch?
A number of photographs of strong women in my family — my mother, my aunt and her children, my grandmother. I didn't curate it to be that way; it just turned out like that. I was born and raised in Brooklyn, but it's not necessarily home because I was born and raised here; it's home because it's the place where my mother lives and the place where we are together. My mother came here from Nigeria in the '60s when she was a teenager and I'm a first-generation American. The photos remind me of who I am and the story before my own story began. They're a source of strength.
What's the first job you had in New York?
My first job out of architecture school was an internship with Aaris Design Architects. It's run by Nicole Hollant, who's still a friend of mine today. Before that, I spent summers in high school as an intern for Chemical Bank. It was sort of like an entry to what it is to work in the corporate world. I saw how you have to shrink yourself in order to fit into corporate settings. It was hurtful, but also helpful.
What color are you always drawn to?
Purple. It's a combination of red, which is an energetic color, and blue, which is a calming color. Those two colors together reflect who I am. It's actually hard to find clothing in the shade I like, which is a deep, intense purple. But my dining room is painted plum.
What work of art or artifact are you most surprised you own?
I have a batik from China and the reason why I'm surprised I own it has to do with the story that got me to China in the first place. After undergrad, in 2002, I decided to take a month and a half and teach English in a rural part of southeast China. I was like, You went to architecture school. Why are you teaching English? I wanted an adventure and to learn about the culture. While I was there, I purchased a batik because it reminded me so much of African cloth and the ways it's dyed with wax. It has a blue dragon on it and the background is red and white.
Which New Yorker would you want to hang out with?
Probably Mayor Adams. He has acknowledged that the public realm is important in thinking about economic recovery, but I definitely would stress a bit more of its importance and how agencies involved with it need to work together. There are conversations in the design and planning community around crafting a position of a public realm czar or deputy mayor of the public realm. That could be a really great way to address the need for improved coordination between agencies.
What's the last thing you made with your hands?
I'm turning my backyard into a vegetable garden. This is three years in the making, and every year it gets a little bit better. I built raised beds, painted an Afrocentric mural that says, "Ebo Family Garden," and recently got a mini-greenhouse. I'm growing corn, tomatoes, Swiss chard, oregano, and parsley. I've got the seedlings going under a grow light next to my sofa. The transformation of the space with raised garden beds was really about creating a space for gardening where my mother can participate. She doesn't have to crouch down to the ground and it's easier for her to tend to the vegetables. It's become an intergenerational space where my cousins and nephews and nieces come. It's like ground zero for my family.
Is there one thing you own multiple versions of?
Batiks — they're the easiest thing to purchase and pack with you when you travel, they're beautiful, and they're vibrant. I have the one from China that I mentioned before, and some from South Africa, Nigeria, Brazil, and India. The process of creating them feels similar to architectural drawings. You start with a blank cloth and a whole vision is captured onto them.
What New York City museum do you always go back to?
I go to the Brooklyn Museum a lot because of the First Saturday events. They've gotten so much better through the years in the ways in which they engage community and create space for diversity and inclusion. The events aren't just about seeing art; they're about celebrating joy with music, dance lessons, and things like that.
What do you always have next to your computer? 
Besides water? My humidifier with essential oils. I usually have peppermint and eucalyptus going because they enliven the senses. I'm not a coffee drinker, so I use other things to keep me rejuvenated and alert.
Where is the best view of the city?
I don't go to the Brooklyn Promenade a lot, but when I do, I appreciate how you're able to sit down on a chair and just gaze. It's a peaceful space that's engulfed in nature and allows you to have a vantage point of the city that is immersive, unlike being at the top of the Empire State Building. You're still within the pedestrian experience of Brooklyn, but you're able to see Manhattan from afar.
What building or object do you want to redesign every time you see it?
There's an intersection by my house called Flatbush Junction, where Nostrand Avenue and Flatbush meet. Aside from Grand Army Plaza and Atlantic Avenue, it's the greatest transit interchange along Flatbush. As a gateway to a specific part of Brooklyn — Midwood, Flatlands, Flatbush — it just doesn't do the area justice culturally. It's a hodgepodge of Applebee's and Dallas BBQs. The public realm here could be transformed to have meaning and really say something. I would expand the sidewalks so there are more places to sit down and create areas of comfort, especially around the spaces where people have to wait for the bus, often for a very long time, or where they're coming out of Target and waiting for a taxi. The area is very busy and folks are running to the train station, but there aren't places for passive recreation. The intersection is also difficult to cross and there isn't enough time to get from one side to the other. I'd slow traffic down. You could bring more cohesion to this area, and display culture more prominently, through all the details in the streetscape.
What's one thing you would change about your field? 
We have to acknowledge that communities aren't blank canvases and that culture is embedded in communities before work begins. It centers around establishing a set of principles or values that are co-created with a community and its stakeholders, and ensuring that the design team is held accountable to those principles. The outcomes should reflect the culture, ethnicity, and diversity of challenges and opportunities in a community.
If you could live anywhere in New York City, where would it be?
I like where I'm at. It's family-oriented, there are beautiful Victorian homes, and there is so much diversity in how people craft their personal space. It's so different from house to house.
What would you hoard, if it stopped being produced?
Handwoven baskets. I have a number of them from West Africa. There are so many hands involved in making each basket, and they require so much time and energy.
What do you do to get out of a creative rut? 
I take a power walk around the neighborhood.
Where was your first NYC apartment and how much was the rent? 
I have been fortunate to never rent an apartment in New York. I live in a two-family home that my mother bought in the late '90s. I was born and raised in Park Slope and my mother told me the apartment we had there was $700 a month, which would be unheard of right now!
Where in the city do you go to be alone?
Can you actually really do that in New York City? There really is no place you can do that and say there's really no other human being unless it's 4 o'clock in the morning and you go to the park.
Worst piece of career advice you've ever gotten? 
My mother told me to go into nursing. I had graduated from architecture school right after 9/11 and the industry was doing really bad. She told me: "Why don't you go into nursing since it's a sure thing? You'll always have a job regardless of the economy." I'm glad I didn't take the advice because I need to be in environments where I'm creating new spaces. I'm always thinking three-dimensionally, and that's not what nurses do. I could design a space for nurses, but not be one!
What have you given away to someone that you wish you could get back? 
Power over my narrative. If people don't know who you really are and they don't take time to get to know you, they craft a whole narrative about who you are, maybe because of a bad encounter, without understanding their own bias. When you see that happening, you begin to internalize that story and wonder, Am I really like that? No. I'm not. This is a particular challenge for Black women and women working in corporate environments. In the past I've allowed negative narratives of who I am, but I don't now.
What's your favorite NYC restaurant and regular order? 
Buka, a Nigerian restaurant in Clinton Hill. My favorite thing to order is egusi soup, which is a traditional Nigerian dish made with goat meat. It's so delicious and fortified. When I have the itch for food from home, I go here. Inside the restaurant, there's a yellow van from Lagos that's used for public transportation. The owners bought one from Nigeria, disassembled it, and reassembled it with a little seating inside.
What descriptive phrase do you want on your obit headline?
Curious, creative.