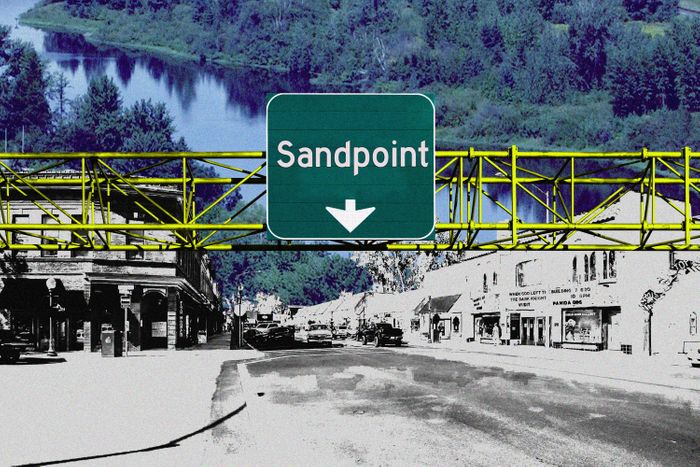 Photo-Illustration: Curbed; Photos: Getty Images, Shutterstock
In this biweekly series, Realtor Diaries, we hear from the people at the center of a wilder-than-ever market. Today, an hour-by-hour glimpse into the working world of Steve, a Realtor in Sandpoint, Idaho.
7 a.m. I wake up when my kids wake up. I try to stay present with them until they're off at school or busy with an activity.
8 a.m. Once they're out, I check for new listings — throughout the day and well into the night, I'm checking for new listings.
I switched careers in my 40s so that I could spend more time with my family and have a better quality of life. I went from something high pressure involving the government to becoming a real-estate agent. With that career change came a location change, and I chose Sandpoint, Idaho, because the life here just looked so good. I'd been living in a city where homelessness and crime were spiraling out of control because of public policy. You'd have to walk through human feces to get to work. Like so many people moving here, I'd had enough. People are fleeing. And they're willing to pay whatever it takes to have a better, less stressful life.
I'm so happy I moved here. My clients have been amazing people. A lot of them actually became friends, and they all have various perspectives on life. Most people who call me are usually looking for at least five acres, three beds, two baths, and 2,500 square feet, as that is what used to be a common property up here. That property used to cost $500,000 to $600,000, now it is at least $800,000 or more.
The housing styles range quite a bit in this area. There are a decent amount of craftsmans, timber-frame style, and a lot of mountain-style homes. Almost all of our homes were custom homes at one point, so we don't have a lot of cookie-cutter communities.
8:30 a.m. A friend calls to ask my thoughts on this one article, a bad article, that ran in the press. We all know the Realtor who was the primary source of that interview, and let's just say, he's definitely on the further-right end of the spectrum. He markets specifically to the extreme right and to preppers, and I don't think that represents everyone who is moving up here.
A prepper is someone who wants to live off the land and have preparations in place for the end of the world. They have their own gardens and have their own animals and set things up so they're totally self-sufficient. There is a small percentage of homes here that are off-grid, and they run the gamut in styles — the clients buying these homes typically fall more on the prepper side.
I think that article has his phone ringing nonstop, but I'm not sure it will actually change much here. I would say the majority of my clients are fairly conservative, but I don't really deal with that kind of extreme clientele.
9 a.m. I head to my office to meet with new clients. They're like 90 percent of all my clients: They're moving up here to get away from wherever they are right now. It's that simple. They're fed up. They say, "I want less government in my life. I want to have my own opinions and not feel like I'm crazy for having them." They're moving to Sandpoint for a more wholesome atmosphere.
I often feel like I'm a therapist. I keep hearing, "You wouldn't believe what's going on in my state; I just want to move to Idaho and live a simple life." People are entranced by the beauty, but the primary motivating factor is: I just need to get out.
10 a.m. The meeting went well; we narrowed in on some good options. I explained to them about our microclimates: This place gets more snow; this place gets more sun. Also, renter rules. Other caveats. We barely have building codes up here, it's very hands off and free.
I warn them that anything under $600,000 that is decent sells extremely quickly no matter what it is or where it is. So they have to be ready to move fast. I also let them know that something like 70 percent of our transactions were cash last year.
11 a.m. I step outside for some fresh air and bump into a friend. We catch up on our work lives. I tell her that I'm really happy with my job because I've met such nice, interesting people. Despite what that article might have depicted, most new clients were not coming here for politics alone. I mean, is Idaho a red state? Yes. Definitely, yes. Is Sandpoint conservative? Sure. But we also have the biggest lake in Idaho, the best ski mountain (in my opinion), right here.
You can feel right away that we have a community here. In a big city, you can get away with being a jerk and probably never run into that person again. That doesn't work in a small town. If you get stuck in the snow and need help, you start caring a hell of a lot less what your neighbor's beliefs are. You care about whether that neighbor will help pull your car out of the snow just like you would do for him.
12 p.m. I run some errands in town; it's a small town, quaint. Everyone knows everyone and is very helpful. We never shut down for COVID; it was like "wear a mask" or "don't wear a mask." It's all your prerogative.
1 p.m. Right now, there is very little inventory, so I am spending more time than ever trying to find properties for buyers. That means cold calling some property owners to see if they are willing to sell. Most people know they have a good thing and will not consider selling no matter what the price is.
2 p.m. I have a call with someone who I suspect is a prepper. They want acreage, privacy, and properties that feel more isolated, more off the grid. So yes, you do get some preppers out here — I don't judge them, or anyone else, but I'm certainly not hoping the world ends.
3 p.m. I have a showing in our "downtown." It's cute with a few great restaurants. The houses are closer to each other and it feels more like a little low-key city than mountainous and rural, which is most of the area. My buyers aren't sure what they want. They'd like to be on the lake, but that's at least $2 million for something as basic as a pretty nice three-bedroom that's not falling down.
They wonder if it would be wiser to buy land. Out of the city, you can find acreage. Five to 20 acres is not uncommon. I warn them that prices for acres have shot up astronomically — people can't afford to buy so they're building. In the last five years, I believe most land has gone up 300 percent. It used to be so cheap.
4 p.m. I'm meeting up with a former client for a coffee, just to catch up. He's an executive in the entertainment business. The jobs you're seeing up here have definitely changed. It used to be retirees. Former cops and firefighters were a huge source of clients a few years ago. They took their California retirement money and came to live up here where it was cheap. Those people are priced out now.
In the past, for the non-retired, many jobs were geared toward the service industry, logging, and construction. The local vibe has always been that life comes before work — so if it is a powder day on the mountain, no one shows up for work. The same applies during hunting and boating season.
That has changed a little, but not too much. However, now we have a large software company in town, which has changed the landscape of downtown quite a bit. And there are plenty of second-home owners with money. Now, there are some architecturally stunning houses on the lake that go for 8 or 9 million. It's a mixture of styles: timber-frame style homes, more modern stuff; anything larger in size will go for 4 million or more. Our prices are starting to surpass Seattle.
5 p.m. Someone calls me to ask about diversity out here, a question I don't often get. I tell them most of us are of a "live and let live" mentality. Most people don't care what you do in your personal life or what your background is, as long as you're not dictating their choices.
Per that article, there are definitely some politically charged people moving here, but it's certainly not everyone. I think some people who move here are coming in hot. They are super-vocal about things like a mask mandate. That might not be the style of the locals, who seem a little more relaxed on some of these issues. But the newcomers will say, "You don't understand … we were in states where we lost something, now we're fighting tooth and nail for our freedom. We want the government not to dictate anything to us!"
A more progressive person probably wouldn't love it here. When COVID first hit, we wore gloves when showing houses — that died quickly. No one ever did the "proof of vaccination" thing. I did maybe one showing where we had to wear masks since COVID has been around. People cared about COVID, but most people did not want it to run their lives. People who wanted to wear masks wore masks and those who didn't stayed mask free.
We do have plenty of guns here. Anyone can carry a gun, concealed or unconcealed. Needless to say, we don't have much crime.  People who commit crimes usually are the ones with illegal guns. I have a gun, there's one in my truck at all times.
6 p.m. I have a client interested in a hunting property, so before night falls, we visit a large property that's backed up onto state forest land. It's way off-grid. After walking for about five minutes, I head to my truck and grab my rifle. There's just no way my handgun is going to stop what I saw evidence of walking for just those few minutes — there was bear shit everywhere and cougar and moose tracks all over the place. Turns out, we had a drama-free tour of the property, and my client is interested in making an offer, but you can't be too careful.
7 p.m. I'm happy to be home with my family after a long day at work. I unwind with a stiff drink while relaxing with my wife. We have a pretty spectacular view and you can almost unwind immediately just looking at it.
We've had a really wonderful few years here, even though, of course, it was very sad seeing people struggle with the pandemic.
We have friends on both coasts who were constantly complaining about how much life sucked with COVID, and how they couldn't wait until it ended. My wife and I look back on it and think how this was one of the best times in our marriage. We lived life to the fullest, spent more time with the kids, and were more grateful for what we had and where we live.
Sandpoint was amazing to us during that time — we skied, boated, swam in the lake, hiked, built gardens, the kids raised chickens and a plethora of other animals, and we all spent a ton of time with friends.