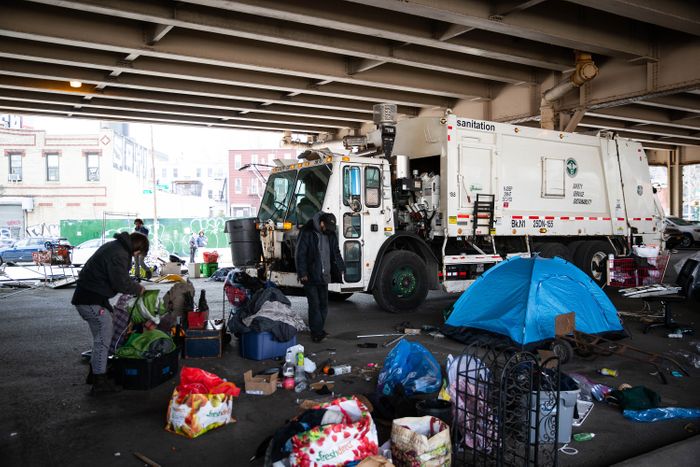 Photo: Karla Ann Cote/NurPhoto/Shutterstock
"It's a process," Eric Adams said this week at the press conference formally announcing his initiative to clear homeless encampments across the city. People wouldn't necessarily agree to enter the shelter system right away; that would take some time. "You have to rebuild that trust," he said. "You have to peel back the layers of distrust." But directing sanitation workers to toss tents, mattresses, and other belongings into trash trucks while NYPD officers stand watch — well, that takes no time at all.
The mayor said his administration had identified 244 of these arrangements, generally a handful of tents clustered in open lots or under bridges. A task force composed of the Department of Sanitation, the New York Police Department, the Parks Department, and the Department of Homeless Services had already cleared 239 of them. In many cases, residents were given 24-hour notice of their evictions. Still, the mayor said Wednesday, the city was "not rushing through this."
The sweeps aren't new policy — Bill de Blasio removed about 250 sites every two weeks in 2021. When asked about that, and the failure of those sweeps to eliminate encampments, Adams deflected, saying this had nothing to do with his predecessor. In a way, he's right. The mayor's twin initiatives to eliminate visible homelessness on subways and in encampments is less an echo of de Blasio than a clear statement of his own priorities: Outcomes like getting people into permanent housing are secondary to the theater of doing something.
What gets ignored by this administration in the spectacle of the sweeps is that clearing encampments doesn't help end homelessness. "Quick sweeps without sufficient outreach tend to just move people from one place to another," said Lauren Dunton, a senior associate at Abt Associates who has studied encampments. On Wednesday, Deputy Mayor Meera Joshi seemed to suggest that people shifting locations after receiving notices to vacate was proof that sweeps work: "A lot of these engagements are successful because when DSNY and DHS come back, some 24 hours later, sometimes the sites are cleaned up," she said. When the trucks roll in, "people have collected their belongings and moved on."
This process of forcefully moving people around is cruel; it's also expensive. Studies have shown that the cost of clearing encampments — including law enforcement, sanitation, courts, jails, ERs — is approximately two to three times the cost of just providing people housing. (A report in Los Angeles from 2015 showed that of the $100 million the city spent on homelessness, $87 million of that went to law enforcement.)
While the Adams administration is spending money on new beds, it's not clear how many of them exist just yet. An important part of this initiative was the announcement of 350 "safe haven" beds, which are generally considered to be single-occupancy rooms with a key, access to bathrooms, and social services. They provide privacy and autonomy — no curfews or other restrictions — that traditional shelters lack. But it's not clear how many of these new beds are currently open and how many will be private. The city issued pictures of the safe-haven sites this week, and they are smaller barrack-style congregate shelters.
It's not clear how many people want to live outside, but for many it can be preferable to entering the shelter system. A survey done by the Coalition for the Homeless in New York City found myriad reasons why people avoid it. Many noted theft, threat of physical violence, poor security staff, overly complicated rule systems, and harsh treatment by staff. One survey respondent noted the "K2 stench all day." Others avoid shelters because they have to be separated from their spouse, loved ones, or children. Many shelters have curfews that make odd-hour employment impossible, not to mention the fact that we are still amidst a viral pandemic that makes congregate shelters dangerous.
But the truth is that "if New York had adequate facilities," said Eric Tars, the legal director for the National Homelessness Law Center, "people wouldn't be in the streets in the first place." He notes the long lines that form for new Section 8 vouchers, the thousands of people on public-housing wait lists. Even so, the city workers present at the sweeps are so far struggling to convince people to enter the shelter system. New York City has a universal right to shelter, and hundreds of people still choose to live outside.
Tars notes that if the task force were prioritizing compassionate action, the outreach workers would have helped residents leave the camps long before the police and sanitation departments showed up to clean up. (This reversal in approach is exactly what advocates are calling for right now.) Instead, numerous videos show residents of an encampment under the BQE standing defeated and dumbfounded as the city threw all their worldly goods into trash trucks on a day when temperatures got down to ten degrees. As the trash trucks filled, residents told WNYC's Gwynne Hogan their previous experiences with city services. (One man said he was assaulted in a shelter, and later accepted an offer to stay at an SRO only to be told there were no single rooms available.)
The Adams administration claims that it was storing property for the residents of these demolished camps, but Urban Justice Center witnesses at clearances say that outreach workers were telling residents they didn't have any way to store their belongings. "Things he is saying in his press conference," said Helen Strom of the Urban Justice Center, "are really different from what is happening on the ground." Dunton also pointed out that when camps are cleared, documents like Social Security cards and important medications often get tossed too.
Adams said the task force would be repeatedly returning to encampment sites, canvassing every day to make sure they were clean. These tactics were things he learned "in the mid-'90s" watching the subway system respond to graffiti by aggressively painting over new tags. Maria Welles, of the Safety Net Project, who has been monitoring the clearances, told me that this rhetoric about repeated checkups sounded a lot like harassment to her. "This reminds me of stuff I saw under Giuliani," she said. "They're more aggressive than ever and doing something that won't solve the problem."
By the city's own count, only five people accepted an offer of a safe-haven bed after this week's sweeps. Adams said he wasn't deterred. The camp clearances would continue. "I know we can do it right," he said. Michael, one of the residents of the BQE encampment that was taken down, told WNYC's Hogan that he had lived there for two years after getting kicked out of his apartment nearby. He wasn't sure where he would stay that night, he said, but it wouldn't be a shelter.