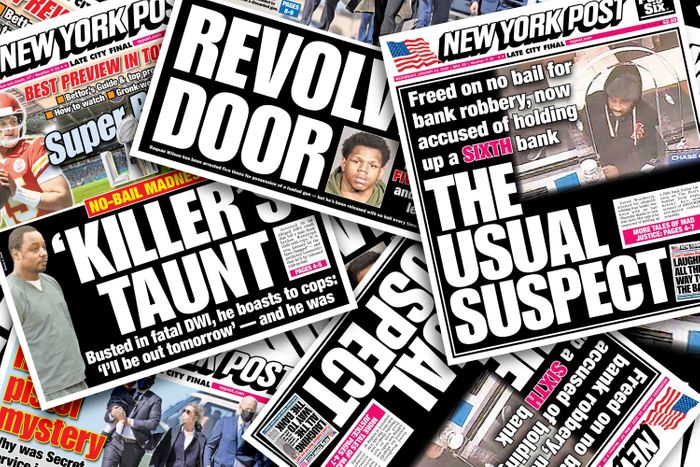 Photo-Illustration: Curbed; Photos: New York Post
"We're going to continue to work to restore New Yorkers' sense of safety," Governor Kathy Hochul told reporters late last week as she announced she had at last reached an agreement with legislators on a budget deal. "I want to stop the cycle of violence and stop the headlines." The final budget, which she signed Saturday, had been delayed in significant part by wrangling over Hochul's desire to roll back parts of the three-year-old reforms to New York's bail law, a package of modest and relatively technical adjustments making it more difficult for judges to incarcerate people charged with low-level offenses based on their inability to pay bail. That had been resolved, Hochul said. The changes, though short of what she had called for, expanded judges' power to send people to jail before trial, including for some minor offenses such as shoplifting.
Hochul's mention of "the headlines" was telling. The fight over bail reform has always been as much about the stories being told about public safety as it has been about actual public safety. As opponents of the reforms made their case in Albany, a parallel campaign played out in neighborhoods across New York City. Law-enforcement officials toured community meetings. Tabloids beat a steady drum about a city in mayhem. For the opponents of bail reform to succeed — a campaign that is very much alive — the public would have to be made to feel afraid in their homes, on their blocks, in subways and parks. The very experience of living in New York City had to be transformed into one of ambient danger.
"Twenty-twenty is going to be a challenging year for us — you see it already," the NYPD's chief of department at the time, Terence Monahan, told residents at the 108th precinct's community council meeting in February of that year. "You have all heard about bail reform. Well, we are feeling the effects of it — and make no doubt about it: A lot of what is going on out there can be related to bail reform." The law had been in effect for all of 28 days. Data on its impact was nonexistent. Even as some crimes were going down in the city, others, including homicides and gun assaults, were going up. This was true in cities all over the country, big and small, Democratic and Republican, none of them subject to New York's bail reforms. But here was Monahan, the NYPD's highest-ranking uniformed officer, telling a room of Queens residents that they were in greater danger because of it.
Monahan was hardly the only one issuing such warnings. In the first month alone after the reforms went into effect, the New York Post ran four front pages trying to link the reforms to danger ("Freed on bail for bank robbery, now accused of holding up a sixth bank"). Other papers joined in. The headlines were difficult to escape. Walking down the sidewalk or stopping at a bodega, passersby were confronted with newsstands warning of a "City Out of Control."
In Facebook groups and press conferences, sheriffs and police chiefs warned of impending catastrophe. "This is going to jeopardize public safety, short and sweet," Albany County sheriff Craig Apple told news cameras weeks before the reforms had gone into effect.
This campaign proved incredibly successful. Within months of bail reform going into effect in 2020, it was being partially undone, attacked by Republicans and conservative Democrats in the legislature and by then-Governor Andrew Cuomo. In April 2020, State Senate Majority Leader Andrea Stewart Cousins and Assembly Speaker Carl Heastie capitulated. Legislators managed to stave off Cuomo's call for a "dangerousness standard" empowering judges to lock people up before their trials based on a judge's foretelling (crystal ball optional) of whether they would do something dangerous to other people in the future. But the final deal that year, much like the new budget this year, still carved big chunks out of the new reforms, expanding the categories of charges for which people could be locked up if they couldn't pay bail.
Meanwhile, actual data about the effect of bail reform was finally becoming available, and it didn't support the claims linking it to increased crime. Even as the NYPD continued to blame bail reform on crime at every opportunity, another organ of the de Blasio administration, the Mayor's Office of Criminal Justice, was quietly publishing statistical analyses disproving this claim. Last fall, finding himself boxed in and under oath, then–NYPD commissioner Dermot Shea conceded to state legislators that the causal relationship between bail reform and crime, which he had been trumpeting in the press for nearly two years, did not actually exist.
But the story had already taken root. A poll released by Siena College in March, as lawmakers were running up against the budget deadline, found that 64 percent of those surveyed believed bail reform had resulted in an increase in crime. Fifty-six percent believed bail reform was "bad for New York." It was the culmination of a three-year project. Relentlessly instructed to fear bail reform, New Yorkers were now afraid.
"It's been incredibly frustrating," said Assemblywoman Latrice Walker, one of the authors of the original bail-reform legislation, who undertook a hunger strike as she watched the second round of rollbacks to her legislation negotiated over the past two weeks. "There's been so much misinformation that folks were seeing in the media, blaming bail reform for just about anything bad that happened in the state of New York. And the result has been that the politics hasn't been guided by actual evidence about whether the law's working; it's just following the polling that shows some people are scared."
The campaign isn't over. The story just works too well. Having taken bites out of bail reform in two of the past three legislative sessions, opponents are primed to come back for more. "We must make sure there are no loopholes for anyone that will commit a violent crime in his city," New York City Mayor Eric Adams, who lobbied hard for even harsher increases to pretrial detention than those enacted in the budget, said Sunday. "It was a real W, but we have more to do."