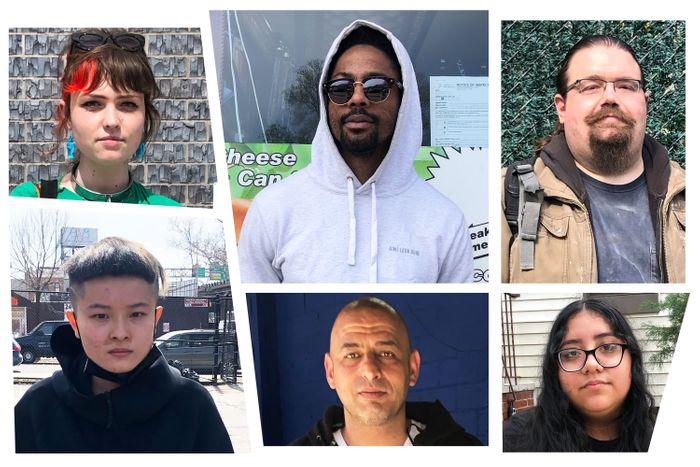 A day after a mass shooting on the N train in Sunset Park left 23 wounded, life around the 36th Street subway stop definitely did not feel normal. As people started their days, the subway shooter was still on the loose, news trucks and cameras surrounded the block around the station, and police swarmed 4th Avenue. We talked to some of the people who live and work nearby to get a sense of how they, and the neighborhood, were feeling on Wednesday afternoon, about 30 hours after the shootings.
Ashley Marte, 27, is pictured with her daughter, Scarlett Fernandez, 5.
I'm still shaken. My daughter goes to PS24 on 37th Street and my whole family lives near there. Yesterday morning, I saw people being carried out of the subway. I didn't understand what was happening at first— the first person I saw, I thought it was a drunk person, then I heard someone say, 'Someone's shooting.' I felt stuck. You always think you'd run, but I literally could not move. I'm an aesthetician and I work by Union Square — I normally take the N train — but my early appointment was canceled yesterday. I didn't send my daughter to school today; she'll go back tomorrow, but today we just took the day off and went to the park. I'm still trying to make sense of it. I'm not shocked at the violence, but I'm shocked at the area it happened in.
Elsie Alburquerque, 39, works at Brooklyn Fitness on 35th Street.
I have the afternoon shift, so I was home [in Kensington] when it happened. My phone was bombarded with texts and messages all morning, but it didn't hit me until I got off the train and started seeing more and more police around 29th Street. Taking the train again today was nerve-wracking, but unfortunately there is no other way. We're New Yorkers and this is our way of getting around, but I'm afraid. The doors open or people cross the car, and I'm ready to get up and leave.
Chuckie Langley, 36, and Tyreik Jones, 33, are two friends who live nearby.
T.J.: I was supposed to go to work on the train that day — I work for a moving company — but I ended up taking the bus after I got to the station and saw people being carried out on stretchers. From now on I'm super aware, watching bags being put down. I've been around violence all my life, but not like this.
Aynsley Leonardis, 23, works a few blocks away.


Once a week, I work at St. Mark's Comics in Industry City, doing graphic design.I took the subway in today. It was kind of an emotional adventure. I had been dreading it but couldn't afford to take a car. When I changed trains at Atlantic, it was weirdly deserted, although the subway is probably the safest it's ever been since no one is going to try anything today. I felt relieved coming up the stairs until I saw all the [TV] cameras.
Jay Vasquez, 20, is a local resident.
I was too scared to be out yesterday—I just watched it on TV. Today I'm feeling kind of better, but I'm still nervous. I don't go on the subway too much. I was already nervous after that guy pushed the woman on the tracks. Before the pandemic, it was not like that. Today, my family members took a car service to work, walked, or stayed home.
Ahmed Kilil, 39, runs a car-window-tinting business on Third Avenue.
If my kids go on the train, I go with them. My son is 17 but I'm scared to let him go alone. Coming from Coney Island, at 8 a.m., you will see people drunk and high. There needs to be something for these people. And cameras inside the trains: They cannot put police on every subway.
Rhyn Hermanson, 34, from Bay Ridge, works in commercial plumbing.
I took the train today; it's surreal. Going through the station, it looks like nothing happened, but you know something happened. Everyone is trying to get back to normal, but you still have that lingering in the back of your head. You can't avoid horrible things happening and you can't stop one person doing something like that: My whole life I have been taught you look around, you look at the people around you.
Jenny Nolasco, 16, is a student.
I go to Fort Hamilton [High School] and usually take the R train. I took the bus today. It takes 20 minutes more. But I still don't feel safe.