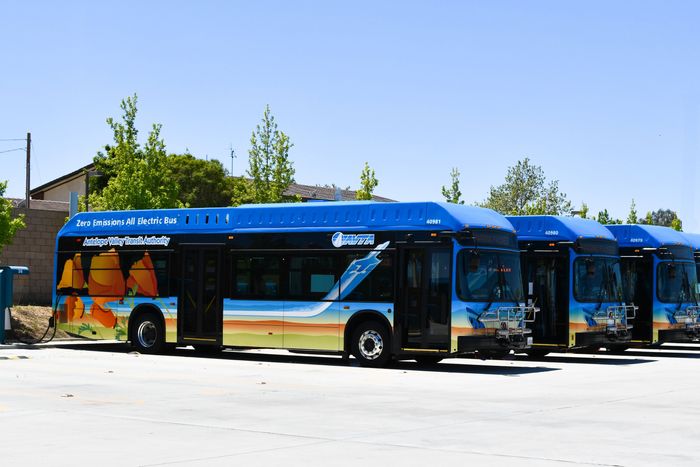 AVTA, a transit agency serving mostly suburban and rural communities in Southern California, is the first in the country to go all-electric.
Photo: AVTA
In the northeast corner of Los Angeles County known as the Antelope Valley, the roughly ten-mile trip from Lancaster to Palmdale by city bus is fast, frequent, and disarmingly quiet. Out the large windows, Joshua trees gesture like cartoon characters and California poppies bloom in a bright orange blur on distant foothills. With the acquisition of its 77th electric bus — the exteriors all painted with those orange poppies — plus ten electric microtransit vans, the Antelope Valley Transit Authority celebrated a milestone last month no other transit agency in the country can claim: the first fleet to be fully electrified, hitting its zero-emission goal a full 18 years earlier than scheduled.
While big-city transit agencies are still years or decades away from electrifying their fleets — the MTA is aiming for full electrification by 2040; L.A. County's Metro is hoping for 2030 — the Antelope Valley, a region of about 450,000 people, got there long before anyone else. It may seem like the smaller scale of the cities involved makes AVTA a less-than-ideal test case, but AVTA fulfills the transportation needs of two cities with the populations of Syracuse and Albany, plus dozens more suburban and rural communities. There are hundreds of midsize cities like these across the U.S., and this is where the electrification revolution can start. The big cities will be the ones playing catch-up. "Now they're 18-plus years behind," Esteban Rodriguez, AVTA's director of operations and maintenance, tells me with a smile as we tour the bus yard.
There are lessons in much of what went right — and wrong — in the Antelope Valley. In 2018, when California's air-quality agency set an ambitious goal for the state's public-transit agencies to go 100 percent zero-emission by 2040, AVTA had gotten a head start a decade earlier. In 2008, R. Rex Parris, Lancaster's Republican mayor, was among the elected officials, including then-Governor Arnold Schwarzenegger, who made trips to China to lure BYD, a Chinese electric-vehicle manufacturer, to town. The area has long been a hub for defense contractors — Lockheed Martin and Northrop Grumman are both based here; sonic booms punctuated the landscape a few times during my visit — but was hit hard by job losses and foreclosures in the recession and mortgage crisis.
The plan to have BYD set up a factory in Lancaster, with an office in downtown L.A., was ultimately ushered through in 2010 without much public oversight and with considerable tax incentives for BYD. And while there were promises from local officials of "high-paying green-collar jobs," few of those jobs materialized at first. When the factory opened in 2013, labor groups discovered BYD was underpaying temporary workers from China and employed "fewer than 40 workers here," as the New York Times reported. Protesters picketed BYD's downtown L.A. office that year to demand more local hires, and when BYD's workers unionized in 2018, the company agreed to a recently renewed community benefits plan that includes training programs, apprenticeships, and commitments to hire underrepresented groups such as veterans and formerly incarcerated people. This means that the people making the electric buses are, more often than not, Antelope Valley residents, and a starting salary for a welder is $16 per hour, which is comparable to a nearby defense contractor.
The deal struck by Parris and others also included a contract for AVTA to buy up to 85 of BYD's electric buses, and some of the first BYD buses made in the U.S. were tested as part of AVTA's fleet. Agency operators were skeptical at first. In the Antelope Valley, extreme temperatures were of greatest concern, with 100-degree summer days and below-freezing winter nights. So operators loaded the seats up with sandbags to test the buses while cranking the AC and heater. Due to the long distances covered by AVTA's routes — some vehicles are traveling as many as 150 miles round-trip to L.A. daily — there was also anxiety about the buses making it back. (Those commuter coaches in particular, which are made by a different company named MCI, benefitted from a bit of topographic fortuitousness: The trip to L.A., which is mostly downhill, actually charges the battery regeneratively.) The buses are plugged in overnight in a centralized bus yard — a solar field planned for completion in two years will fuel the buses with 100 percent renewable energy — but with a service area of 1,200 square miles, some buses still need power on the go, so AVTA is working to disperse more charging stations in the field.
Patricia Allen, an AVTA bus operator for four years, showed me an intriguing bit of electric-bus sorcery at the main transit center. Installed in the bus bays are what's called WAVE near-field chargers — large square pads embedded into the asphalt. In order to refuel, Allen parks the bus over one while she's taking a break on a layover. Sometimes connecting to the charging systems can be finicky, Allen said, and in the winter the buses can take a while to heat up. But she says the electric buses are an improvement over diesel in one way: The old ones put off serious fumes. "They stunk," she said. "Major headaches." Like many people who grew up in the Antelope Valley, Allen is asthmatic; childhood asthma rates in the Antelope Valley are double that of the rest of L.A. County. But over the last decade, the region has experienced a drop in both locally generated ground-level ozone and diesel particulate emissions that cause chronic health issues, says Bret Banks, executive director of the Antelope Valley Air Quality Management Agency. Electrification was part of that, he said. "Operation of AVTA's battery electric buses removed a daily contributor to toxic air emissions from the Antelope Valley's air."
About 1,500 vehicles roll out from the BYD factory each year, delivering buses to 34 transit agencies across the country. On a surgically clean floor, hundreds of BYD buses hand-painted in candy-shell hues navigate down the line. Danny Alvarez grew up near here and is now one of 700 employees, managing BYD's production of electric trucks and school buses. I met him in front of a seemingly infinite row of green-and-blue-striped buses headed to the city of L.A.'s transportation department — it will be the largest U.S. electric-bus fleet when delivered. "To see it start from nothing, and watch it being built all through the plant, and then also to see them in use all over Lancaster and Palmdale, it's just cool," he said. "We're doing something positive. Something good."
In California, a majority of the people who have access to electric vehicles live in a handful of wealthy Zip Codes. What's happening in the Antelope Valley flips that, delivering electrification to the communities severed by trucking routes and suffering from bad air. As the U.S. pumps money into more robust bus service — $1.1 billion of the Infrastructure Investment and Jobs Act is allocated for cities to buy zero-emission buses, although BYD, being a Chinese company, is not currently eligible for that funding — AVTA's accomplishment is a glimpse at what's possible. Other transit agencies can now look to Southern California's high desert as a model for how to create better jobs while building an all-electric fleet.