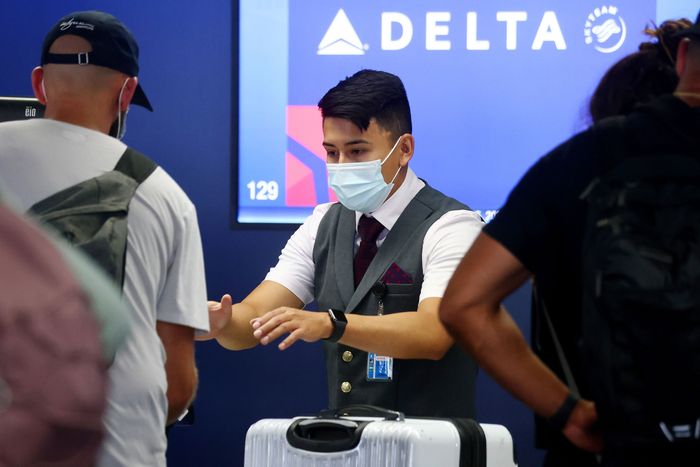 Photo: Mario Tama/Getty Images
A federal judge struck down mask requirements on transit across the country — including planes, trains, and buses — and what we're left with is a complete mess of contradictory directives and ad hoc policies from private companies and public entities that individuals are left to parse on their own. What could go wrong?
Delta quickly lifted its mask mandates, putting out a statement that noted the "unexpected nature of this announcement" would mean "inconsistent enforcement during the next 24 hours as this news is more broadly communicated." (The statement originally claimed that COVID-19 "has transitioned to an ordinary seasonal virus," which the company later changed to "a more manageable respiratory virus.") A slew of major airlines — including United, American, and JetBlue — also dropped their mask requirements with one Alaska Airlines pilot announcing the change midair to applause from passengers. ("It's over," he said. "Immediately.")
Uber made face masks optional for riders and drivers and is now allowing passengers to sit in the front seat again. In a nod to the fact that COVID still exists, its site notes, "It's still important to take safety precautions while riding, driving, and delivering. So make sure to roll down the windows for extra airflow, sanitize your hands before and after trips or deliveries, and always cover your cough or sneeze." Lyft also dropped its requirement, stating, "As always, drivers or riders can decline to accept or cancel any ride they don't wish to take." (In New York, the city's Taxi & Limousine Commission, which oversees taxis and ride-share vehicles like Uber and Lyft, is still requiring masks.)  The MTA will continue to require masks, while New Jersey Transit and Amtrak dropped the rule.
For at least the next 24 hours, expect chaos. And summer travel is just around the corner, so maybe keep some cheat notes handy.