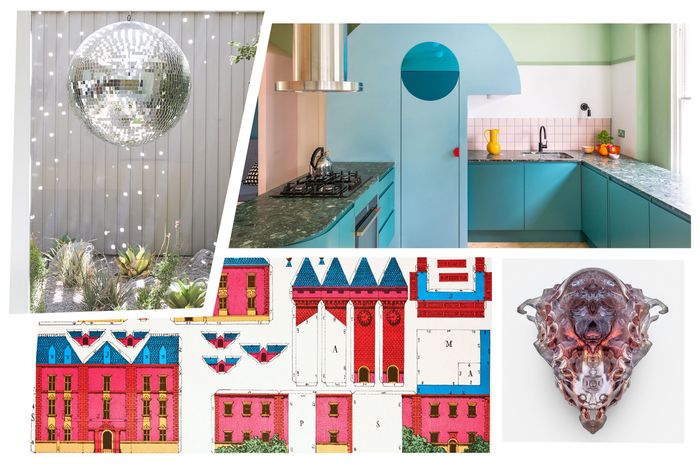 Photo: Madeline Toll and French + Tye/House of Joy/gestalten 2022, Honey & Wax Booksellers on behalf of The New York International Antiquarian Book Fair, Yoram Reshef/Courtesy of SFMOMA
Every couple of weeks, I'll round up and share the objects, designers, news, and events worth knowing about.
The 62nd Antiquarian Book Fair is next week at the Park Avenue Armory, with 200 exhibitors from around the world showing off their prized prints, maps, ephemera, and books. There's a good deal of the latter for architecture fans and New York City history buffs: an 1867 cartographic directory of all the businesses on Broadway below 14th Street that's 118 inches long and winds into a maple canister, and the first annual report from the Department of Public Parks, which discusses details about the early days of Central Park (including all the animals in the zoo!), at James Cummins Bookseller; a first edition of Benjamin Asher's American Builder's Companion, the main resource for Federal-style builders in the U.S., at Bull's Head Rare Books; and a series of French architecture prints done up 1960s Day-Glo style from Honey & Wax. From April 21 to 24.
My Favorite Shapes, Julio Torres's 2019 HBO special, wound up being one of the most strange and charming moments of design criticism I've encountered. The comedian mused on tiny cacti and imagined a new life for a Happy Meal toy he rescued from the street. Mostly, it was about seeing the world, and the objects around us, in a more imaginative way. Torres channeled that weirdness into a new children's book called I Want to Be a Vase, which tells stories about home goods that wish to transform into something else — like a plunger that just wants to hold flowers. The book's cuddly 3-D illustrations by Julian Glander are as surreal and endearing as Torres's imaginative writing. Available for preorder now; publishes on June 7.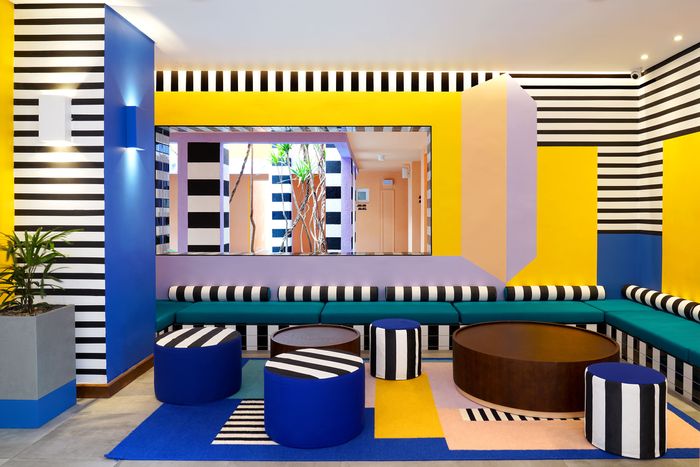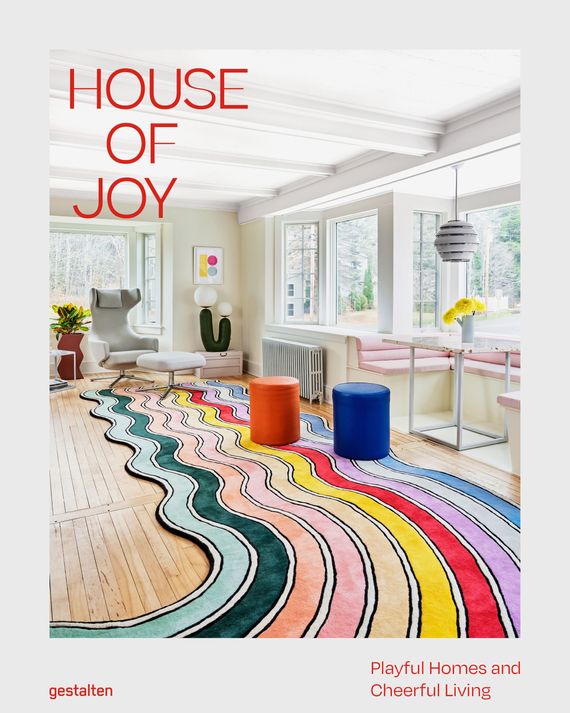 A book of extremely lovely and vibrant interiors, from a Memphis-y hotel in Mauritius to an aesthetically optimized Airbnb in Maine. It's a welcome antidote to doomscrolling. Available for preorder now; publishes on June 28.
I've deeply appreciated Tauba Auerbach's near-scientific exploration of patterns, symbols, typography, math, and language over the years: wrapping an old FDNY fireboat in a red-and-white marble pattern, a type specimen series composed of different shapes, helix rolling papers, and an alphabetized Bible, among others. I was fortunate to be able to visit a retrospective of their work at SFMOMA on a trip to the Bay Area a couple weeks ago. Individually, each piece reflects a deep curiosity with human perception, and together, they represent how there is order grounding us in the world despite the general chaos of things. It felt like a highbrow version of the Exploratorium, which was my favorite museum as a kid. While much of Auerbach's work is visual, I was thrilled to catch a brief performance of the Auerglass Organ, an instrument they made with the musician Cameron Mesirow. It requires two people to play, since one person pumps air into the other's pipes, and the keyboard on each side is divided into alternate notes. The sound is soothing, harmonious, and peaceful, representing how beautiful it can be when two individuals can trust and collaborate with each other. A few snippets of what the instrument sounds like are available online. Rehearsals take place every Friday, ahead of a final performance on April 28.
Neri Oxman's Death Masks in Nature x Humanity (also) at SFMOMA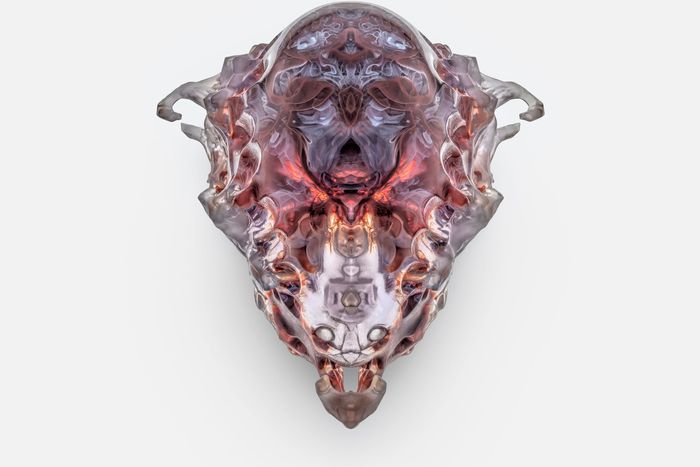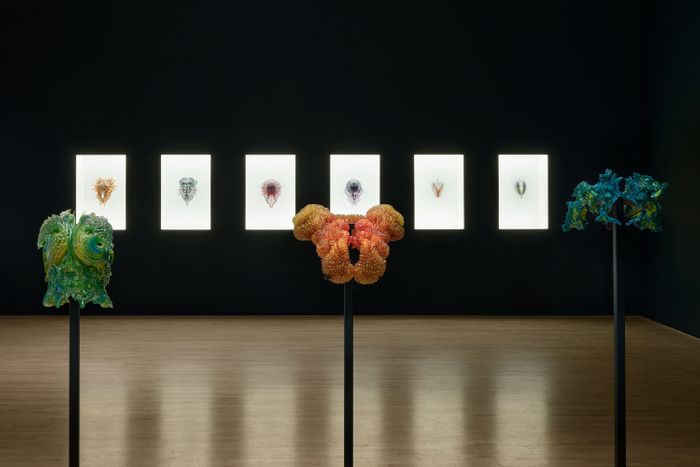 I finally had a chance to see Neri Oxman's mildly gruesome and haunting Vespers series of death masks up close in Nature x Humanity, another captivating exhibition currently at SFMOMA. The masks were made through digital design and fabrication, and they look like something pulled from a horror movie. Each of them is supposed to represent the final breath a person takes as they transition from life to death. Oxman made them by 3-D printing what looks like the skull of an alien creature and pumping it full of pigment-creating microorganisms. The masks are chilling to see and also so mesmerizing to behold. Sign me up for one when I die. Through May 15.
Patricia Urquiola's Design Hotel for Haworth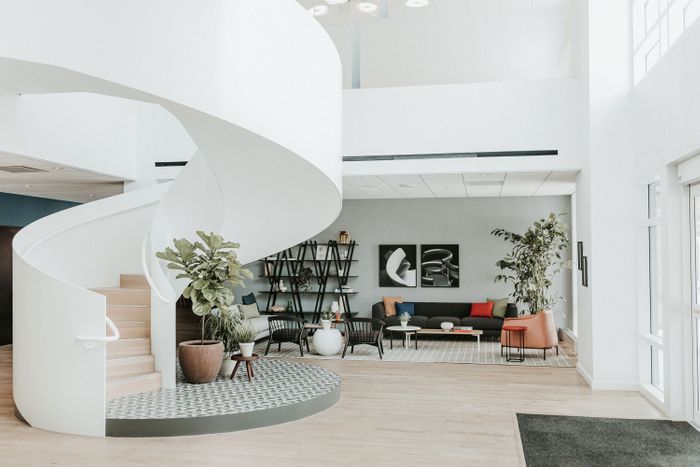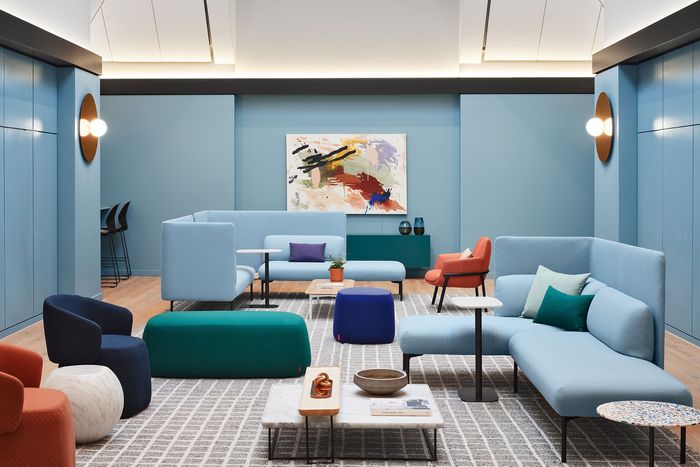 Patricia Urquiola — the designer of the oft-copied Shimmer table for Glas Italia and Italian sofas that cost as much as a car — has designed hotels in cosmopolitan destinations like Lake Como, Milan, Barcelona, Venice, and Singapore. But her first in the United States happens to be in … Holland, Michigan. Created for the contract furniture brand Haworth's conference-center renovation, the hotel is as chic as something you'd see in Italy, with a swooping spiral staircase, clean-lined furniture, and rich colors. Patricia, do New York next!