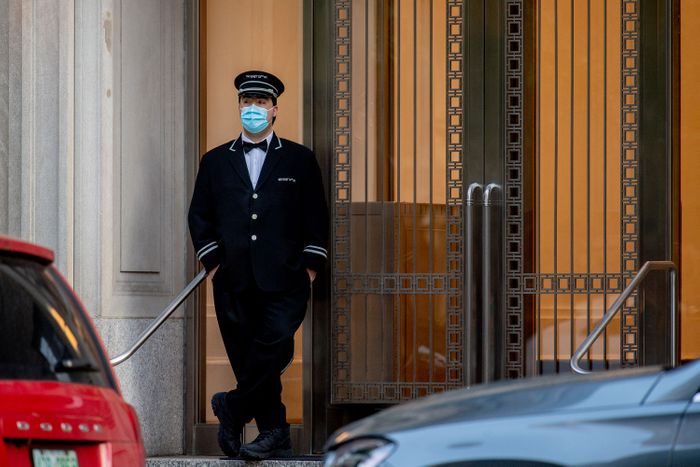 Photo: Roy Rochlin/Getty Images
Updated 4/20 9:18am: As the deadline approached, 32BJ-SEIU and the Realty Advisory Board reached a tentative agreement — averting a strike.
On a stunning Friday afternoon on Central Park West, a black SUV came to a smooth stop in front of one of the neighborhood's most ornate legacy apartment buildings, its stone façade gleaming in the sunshine. The door opened to reveal a little girl and a small white dog, alone in the car, beginning to climb out. The doorman, in a crisp green uniform under the building's matching green awning, rushed over to help: He held her massive iPhone, her tiny backpack, and the dog's leash while she dismounted, then got them both inside and into the elevator.
Around the corner, in front of a building with giant iron gates, I watched a doorman intercept tourists who approached the entrance for a photo. "You have to stay behind the sign," he told them. "And I can't pose. I can be in the picture, but I can't look like I'm posing." The man taking his photograph complimented his uniform while the doorman turned to me: "If we don't get a good contract this time, I'll definitely look for another job. Everyone is hiring right now." He had only been at the building for three years — his colleague, who had been there for 19, came back outside after hustling a package of medication from a delivery man into the lobby. "I do what people ask me," he said. "That's the umbrella, and everything goes under it."
Earlier that week, more than 30,000 doormen across the city had voted through their union, 32BJ-SEIU, to authorize a strike in the event that an agreement can't be reached on their new contract with the Realty Advisory Board. The RAB, representing landlords, wants to increase their insurance premiums and cut their sick leave and vacation time; the doormen say they will walk by Thursday, when the contract expires, if the negotiations turn sour. This means that entire luxury enclaves across uptown, in which people pay millions not to have to fend for themselves, could be about to lose the guys that facilitate their lives.
Up here, the doormen are as central to a neighborhood's reputation as the apartments' price per square foot and unimpeded park views. Their job is formal in appearance and incredibly intimate in practice: Many of the workers I spoke to have been at their current address for more than a decade, some for two or three. They know the residents by name, and they know their schedules, habits, and preferences. Now more than ever, their role is a cross between air-traffic control and personal assisting for millionaires. "I was spraying paper bags that delivery food came in, then spraying Lysol in the air before setting it down in front of their apartments," one man told me of the intense cleaning choreography that turned food delivery into a kind of bomb defusion in the early months of the pandemic. The Lysol portion has since abated, at least, but the huge amount of delivery coordination remains, the packages filling his building's lobby like a shipping dock. "An 80-year-old woman just learned how to use Amazon, and now she's getting four packages a day," he said, shaking his head.
Another doorman told me that at one point, he was taking oximeter and temperature readings for 60 housekeepers, nurses, and home-care assistants. (His building, unfortunately, is still spraying down packages.) One spent hours at the Spectrum store dealing with a cable issue for a resident who wouldn't leave her home, but not before having to run back for a handwritten letter that authorized him on her account. "I had to carry a tenant's shoes one time," a doorman named Izzy told me to the sounds of horses clopping in the park across the street, "because she was scared of tracking something into the street from her house." ("Hi Iz!" a woman called breezily to him as she walked inside.)
While the doormen and the SEIU are at odds with the RAB, most of them say the tenants and residents themselves are supportive of the doormen's demands — to an extent. "They're not against us," said a doorman on 75th as we admired the tulips. They're not a great help, either. Asked what he thinks will happen to the deliveries, the trash, and the mail if the doormen stop coming to work after tomorrow, he recalled an incident from a few years back that offered a glimpse of what the future might hold: "A lady came down and said, 'I'll sort the mail,'" he recalled. "So she went through it, took out her own mail, then decided, 'That's it — I'm done,' and went upstairs." So that's how it'll go? I asked him. "That's how it could go," he said, leaving to help put a very-expensive-looking stroller into a waiting BMW.
"This is Park Avenue — I don't think anybody is going to get their own mail," a man further up on Park told me. There has been talk of hiring outside security companies; one Coldwell Banker agent cheerily said she had volunteered to man the door at her own building in a press release sent around by her company. But she seemed to be an outlier: A worker two doors over said his building had set up a volunteer schedule for residents to take two hour shifts on door duty. After two weeks, not a single person had signed up.