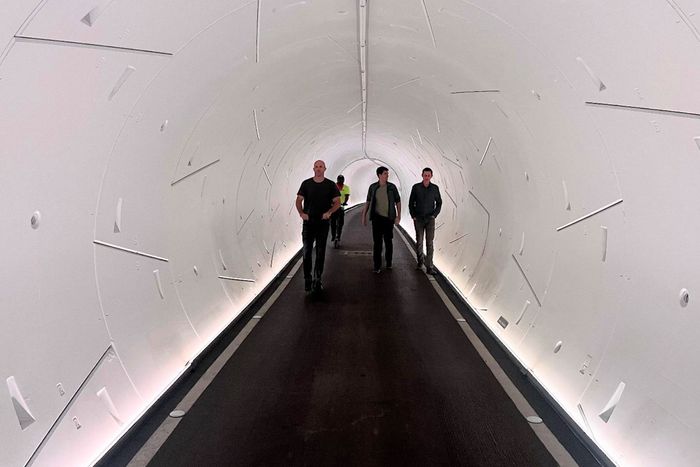 Would the Boring Company's tunnels be better suited for walking?
Photo: The Boring Company
Much like the mesmerizing spin of a tunnel-boring machine chewing through substrate, city leaders from L.A. to Las Vegas to Miami have fallen under the spell of the Boring Company, Elon Musk's grifty endeavor to dig "traffic-ending" holes beneath cities. But the latest city to gobble up Musk's pitch is a surprising one. In the suburbs just south of Austin, the city of Kyle, Texas (population 45,697), is set to approve a Boring Company proposal for a pedestrian tunnel linking two planned developments on either side of Union Pacific rail tracks. There's no final estimate yet, nor a specified tunnel length, although the Boring Company is asking for $50,000 to start the project. Yet it may not cost the city a thing, since Kyle officials say they have already secured up to $3 million in funding from private developers. Elon Musk finally building tunnels that might prioritize people over cars? Sounds too good to be true!
Looking at the scant details of the Kyle proposal, there's something not quite right. It's clear the area needs better pedestrian connectivity — there's a highway overpass less than 500 feet away that allows cars to easily pass over the tracks but is hard to get to on foot — however, it's not immediately obvious why a tunnel would be needed. With intermittent freight and a few Amtrak trains per day, there's just not a lot of rail traffic on this part of the tracks. Most of the nearby crossings are simple at-grade roads that look like this. Those crossings could absolutely be improved with wider sidewalks as well as protected lanes for other modes. And while the proposal does say that bikes, scooters, and small electric vehicles, like golf carts, would also be allowed in the tunnel, it's difficult (although not impossible) to envision how all those modes will safely share what will be a ten-foot wide underground paved surface.
What's actually happening in Kyle is the result of a welcome-wagon tour Boring Company conducted after the company (and Musk) relocated to Texas last year. To curry favor with local officials, the Boring Company paid visits to cities large and small throughout the state, proposing tunnel projects that would supposedly solve all their problems. In the Austin area alone, the Boring Company is pursuing multiple tunnels — all for cars — with one 12-mile route going from downtown to Tesla's new Gigafactory, with a stop at the Austin airport. Austin employees from the city's Development Services Department recently traveled to Las Vegas to tour the one-mile tunnel that was completed there last year (and is already experiencing traffic jams) to "understand best practices for permitting subgrade mobility infrastructure." What they saw was essentially a parking garage on private property where Teslas traveled single-file through a tunnel with no emergency exit — which would absolutely not be permitted by Austin's Transportation Department from a safety perspective.
At the same time, the Boring Company is dramatically scaling up its operations. Timed with the disclosure of a big investment round, Musk used Twitter, a platform he now partially owns, to announce that he's hiring for dozens of new Boring Company positions, both in Vegas, where Clark County officials have approved an expansion of the tunnel beneath the convention center, as well as in Austin, where a test tunnel is currently being dug at a recently acquired site outside the city.
Accompanying this expansion is a fresh round of grandiose claims on a revamped Boring Company website — which gets completely wiped from time to time — that the company's tunnels will "solve traffic." Beyond Musk's tweets, there is no empirical evidence, data, or modeling to support his car-moving tunnels as a traffic solution. The tunneling technology hyped on the site to build the pedestrian tunnel does not yet exist. Yet local officials, mayors, and governors all over the country keep handing Musk money.
The city of Kyle may soon have a shiny new pedestrian tunnel (does it get the flashing lights like Vegas, too?), and it might work just fine. A short passage under some railroad tracks is much better suited to the Boring Company's capabilities. Tunnels to bury utility lines, particularly in areas prone to climate disasters, would also be a welcome idea from Musk. He's even promised to design tunnels for pedestrians before. Yet somehow, the tunnels that get built are always for cars.
By now, some cities are not falling for Musk's pitch. When approached by the Boring Company earlier this year to dig tunnels to San Antonio's airport, Mayor Ron Nirenberg said no thanks. "We have a lot of transportation issues that we want to solve here in Texas and in San Antonio, frankly," he said. "That doesn't solve any of them."