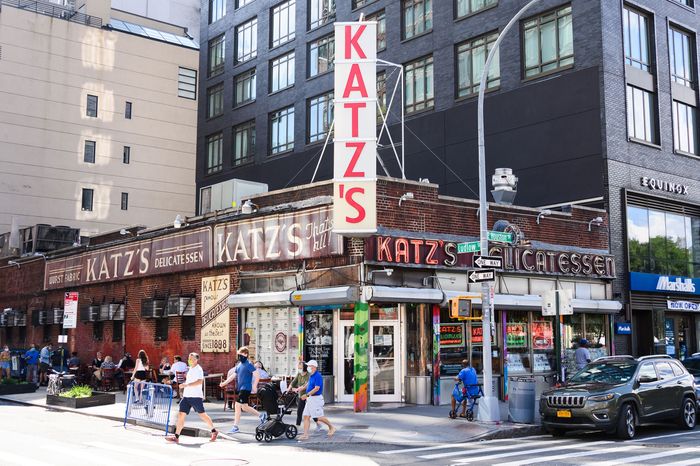 Photo: Noam Galai/Getty Images
Before Frank James was arrested on Wednesday afternoon for allegedly shooting ten people and injuring at least 23 on the N train in Sunset Park on Tuesday morning, he was spotted wandering around a number of notable New York City locales. During the 30 hours while the NYPD was pulling out all the stops trying to find him, James was apparently walking around the city, visiting crowded neighborhoods and well-known restaurants — behaving, it seems, more like a tourist than a fugitive.
It's a little baffling to map out. Right after the shooting, James reportedly switched to the R train, got off at 25th Street, and then took a bus up to Park Slope, where he bought a mask at the 9th Street Quick Stop, as one worker confirmed to the New York Daily News. He then headed into Manhattan and checked in at the Chelsea International Hostel on West 20th Street, ABC News reported.
Instead of laying low on Wednesday, James just sort of hung around Manhattan. At around 10:30 a.m., he was spotted at Dimes, the forever-discussed café that gave Dimes Square its name, and like anything that happens there, it spurred a number of tweets, including from people who saw James. Owner Sabrina De Sousa told Gothamist that she saw a man matching James's description sitting on one of the benches with a duffel bag outside her restaurant, but didn't call the police because she was unsure if he was the same person. "He didn't seem totally well. He was just kind of staring into space, in a daze, not engaging with his surroundings," De Sousa said. After he left, a customer called the cops, according to the Daily News.
A few hours later, James was seen just a bit north on the Lower East Side getting lunch at Katz's Deli, famous for both its pastrami sandwiches and its throngs of diners. Restaurant workers told the Daily News that they had no idea James was there at the time. Eventually, James ended up at the McDonald's on East 6th and First Avenue, where he apparently called in a tip on himself. CNN reported that James told authorities he was going to be in the restaurant charging his phone and "essentially told police he saw his face on the news and knew he was wanted." Sometime after, he was seen a block north. Lee Vasu, a portrait painter, told Artnet he recognized James on First Avenue after Vasu left Cafe Mogador on St Mark's Avenue. "I told my wife, 'The subway shooter is right behind us. Go fast. Push the baby. No time for argument. Go,'" he said. (Vasu said he showed a photo on his phone of James to a nearby cop, who responded, "Shoot, that is him!")
When James walked past Saifee Hardware on East 7th and First Avenue around the same time, he was recognized one final time by Francisco Puebla, manager of the hardware store, along with Zach Tahhan and a third person. "We were outside discussing where we wanted the new camera to point. And at that moment, somebody was walking right on the sidewalk, and my eyes went right to his face and I said, 'That's the guy,'" Puebla told us earlier this week. Puebla flagged down a cop car, and James was finally arrested walking down St Mark's Place. By a Google Maps estimate, James traversed some 11 miles and made at least five stops across the city before he was caught.