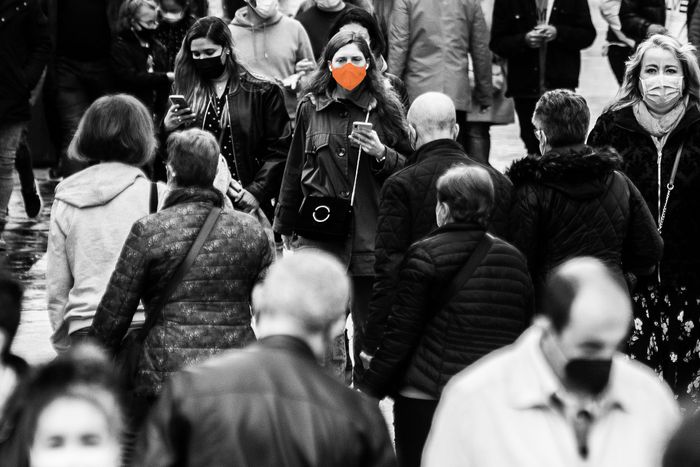 Photo-Illustration: Curbed; Photo: Marcos del Mazo/LightRocket via Getty Images
The city is over the pandemic and wearing a mask is embarrassing. Sitting close together is the thing. In-person is the thing. I like to keep up; I take off my mask, I sit close. I say: I'm so bored of this whole thing. I am bored of this whole thing. I have multiple sclerosis, but I'm still so bored.
COVID collectivism in New York — whatever was left of it — ended sometime in March. For me, it was when Eric Adams, eating lunch at Veselka, scrawled "LIFT THE MANDATES" on a napkin and held it to the window for the press. Smile for the cameras. Suddenly, somehow, it was official: This is over.
Everywhere you look just screams: over. Brick-and-mortar testing sites around the city close early and on weekends. Masks aren't required anywhere except Broadway and the subway (a joke in practice). Proof of vaccination is no longer required to eat in a restaurant, work out, or see a movie. Structural support — enhanced unemployment, eviction moratoriums — are long since gone. The hotel-isolation program is finished. Test and Trace — the city's main COVID contact-tracing program — is over. Home tests and other resources are available, but New York is somewhere new now: the era of good luck with that.
A few weeks ago, New York slipped again from butter-yellow to orange on the New York Times case tracker. Cases are still up across the city. Pops of orange and poppy red are spreading upstate. No one is calling it a wave. The mayor had it — but it was really just a raspy voice, he said. The governor sees cases rising but says that doesn't have to change much about how people go about their day. (Her vague, but pointed, response: "I'm going to protect the health of New Yorkers, but I'm also protecting the economy.") A college-age friend's entire a cappella group went down. Sarah Jessica Parker and Matthew Broderick. A new handful of colleagues and friends every week. The official response so far is: As you were. 
As I was in a pandemic, though, only really worked with some acknowledgment from the state and city that the pandemic existed. Nothing draconian. Indoor masking and vaccine mandates seem to work well when we see cases beginning to tick up. They give people who are at higher risk of getting sick access to public space. I have it relatively easy — unlike so many, I can work from home; I have insurance. Without real support from leadership, what's left for people at high risk (or people who don't have child care, or people who just don't feel like rolling the dice) is only obsessive, internal self-calibration. (And eerie supplementary guides on how to assess your own risk: A recent Times newsletter touted seven ways to lower your chance of exposure, like tips to keep clutter off your desk.)
Existing in this phase requires dexterity: You need to make choices about what feels safe, or at least like an acceptable risk, but also how you talk about what you're doing. Does a tone exist to convey that I'm the right level of cautious, not unbearably so? Careful but not addicted to the pandemic? Discussing risk is okay, to an extent, but don't act like it's dire. A person can be nervous but can't seem scolding.
And then there are the dozens of puzzles that emerge just from moving through a day.
Like: My friend had plans to meet up with someone last week. The guy texted her that — "full transparency" — he had COVID. But … see her at noon? She decided not to go. "Oh," he responded.
Or: I go for an infusion every month for my M.S. Last time I went, another patient told me she'd had four vaccinations — first and second, booster and booster — and still has no antibodies. She doesn't know how much protection her body will offer if she catches the virus or what that will mean for her in the long run. She's a teacher, and she's going in to work  — there's no work-from-home option anymore.
The calculations chug along in my brain, exactly as exhausting as they are dull. Does this drugstore seem well ventilated? Am I immunocompromised enough to care? I have antibodies, but M.S. means you get sicker when you're sicker. I had a cold recently that left my arms weak for a month. I could get COVID and easily be perfectly fine. Or I could not be.
When cases started going up this month, I became cautious again. Not extremely. I still wanted to see people. I assessed my risk. My boyfriend deliberated over the going-to-work thing and then went. He wore a mask; no one else did. He might have gotten COVID there or it might have come from somewhere else. Three days after he tested positive, I did too.
Migraines, fever, exhaustion. A full week after I tested positive, I got a text from the city letting me know that if I wanted to isolate, well — I could call a number for "resources and helpful information." I was on hold for a long time. I hung up.
Ten days later, I still couldn't walk much more than a few blocks. But slowly, I started to feel better. Not completely. My body is still tired. I'm relieved, a little. This particular worst is over; I can go to restaurants without thinking much of it for the time being. But I've also had to call my doctor to try to assess which of my present symptoms are COVID-related and which are just part of my regular slate of illnesses. And which of my regular slate of illnesses have been inflamed by my bout with COVID. I imagine this is a loop we'll stay in for a long time.
A week after Adams tested positive, he reemerged, puffed up with antivirals and antibodies and whatever else. He felt excellent, he said.