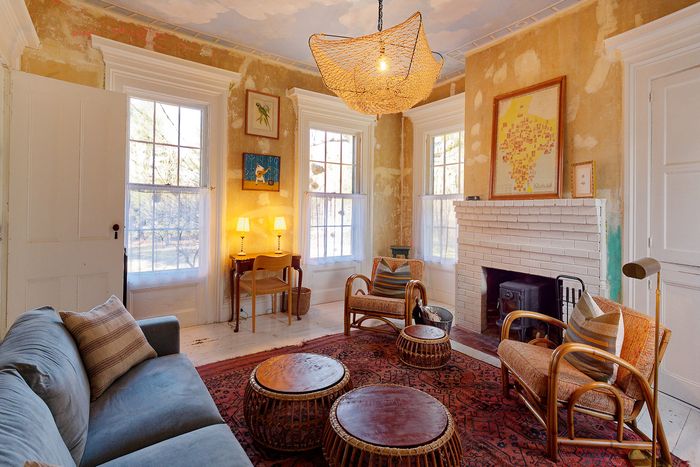 There are only about 20 houses for sale in Hudson right now, and they're nearly all small bungalows and colonials. And then there's the house on County Route 14: a white clapboard 1815 Greek Revival with an especially elegant front porch framed by four ionic columns.
Listed for $1.925 million, the four-bedroom home sits quite far back from the road on a leafy five-acre plot (that's still just a ten-minute drive from downtown Hudson). The first floor is especially grand, with ten-foot ceilings, three parlor rooms, and two staircases (the main one up front and another in the rear kitchen that goes up to the primary bedroom).
The house had the same owner for decades until 2018, when a stylist bought it and completed a thorough restoration. Many of those updates were subtle but essential for old houses, like replacing the ropes and weights in every single window and rehanging the original parlor doors with modern hardware so that everything can open and close properly. The bathrooms were updated with floral floor tiles and new lighting. And in several parts of the house, including the guest bedroom downstairs and the east parlor — the one with clouds painted onto the ceiling — the dusty-hued wallpaper was half-scraped and sealed over for an intentionally worn look.
But the best original details were left untouched, including three fireplaces, the wide-plank pine floors found throughout the house, and exposed beams (which are most prominent  in the kitchen and main bedroom). The front parlor also has something that listing agent James Male says is rarely found in the area: windows that open all the way up almost to the ceiling so you can walk right out onto the front porch.