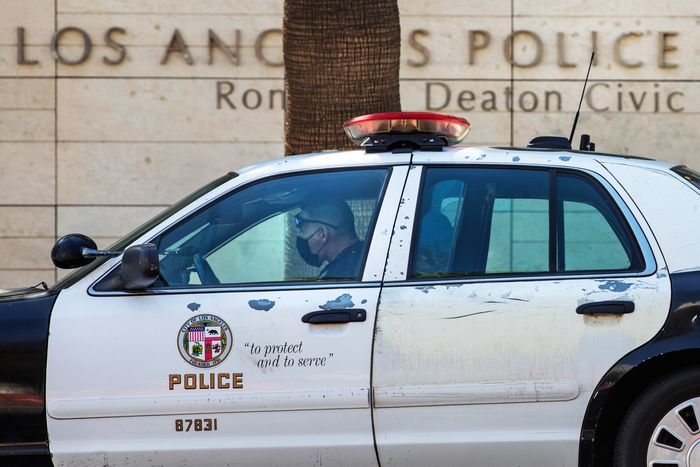 Photo: Mel Melcon/Los Angeles Times via Getty Images
Rent for a one-bedroom apartment in Los Angeles is now averaging $2,300 per month in a city where 73 percent of households spend over 30 percent of their income on rent and utilities. It's the second most rent-burdened city in the country — after Miami. L.A.'s cops have a starting salary that's about $70,000 annually with a guaranteed raise once they complete their training; only firefighters make more among city workers. Still, LAPD Chief Michel Moore says that high rents are making it harder to recruit new officers, so the department is looking to launch a $33 million "housing initiative" to subsidize their rent. The plan is to ask landlords to cut LAPD officers a discount, then raise money from local business leaders and foundations to make up the difference. "The landlord will get a check from the cop, and the landlord's going to get a check from the Los Angeles Police Foundation," Steve Soboroff, who sat on the city's Board of Police Commissioners for nearly a decade, told the Los Angeles Business Journal.
Soboroff also happens to be a developer of high-end residential properties in Los Angeles. He's been calling for subsidized rents for cops for a decade and even gave LAPD officers priority to move into the 300 affordable units of his Playa Vista development on the Westside. Soboroff has been recruiting other developers to the new housing plan; one who has already expressed interest is Geoff Palmer, L.A.'s top Republican donor. (He's the guy who sued L.A. last year for "astronomical financial losses," because, he claimed, the city's eviction moratorium had cost him $20 million. Apparently, Palmer doesn't support assistance for tenants unless they happen to be police officers.)
The twist here is that the city already gives far more money to the LAPD than it does to any initiatives that might alleviate that rent burden: The 2022 budget allocates twice as many dollars to policing as it does to housing Angelenos. The whole thing feels a little absurd.
Also fitting: LAPD officers currently serve as the city's de facto housing-enforcement agency — summoned by people in stable housing to ticket people living in encampments and lock people out of their apartments during evictions. When Soboroff asks, "What landlord wouldn't want a cop living in their complex?" it's a fair question.