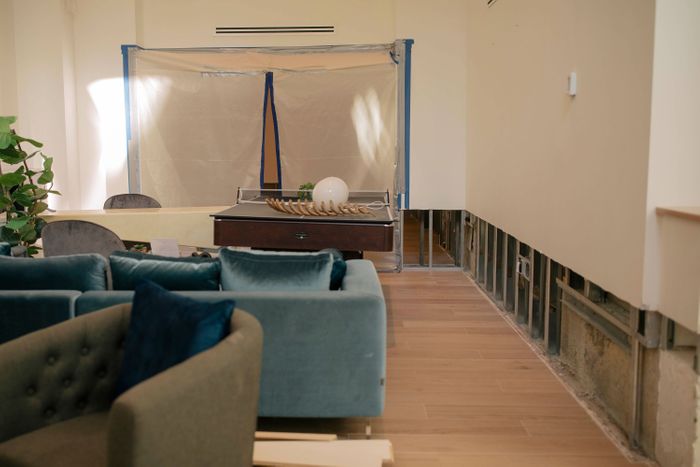 A lounge at Hero condominiums in Long Island City.
Photo: JosÈ A. Alvarado Jr./The New York Times
On its website, Hero, the luxury condominium tower that opened in Long Island City in spring 2020, calls itself "a monument of contemporary elegance and urban convenience." Meanwhile, 11 Greene, a high-end rental building in Soho that opened last summer, "blends classic loft comfort with contemporary splendor." These are beautiful words describing buildings that are reportedly falling apart. (Luxury-tenant disappointment is now some kind of trend.)
As the New York Times reported, both buildings are part of a spate of luxury developments that opened during the pandemic promising bespoke amenities and finishes but are now instead full of leaks and beset with repair issues. According to the Times, residents at Hero have complained about burst sprinkler pipes flooding their apartments and broken elevators. A Zen garden advertised on Hero's website as "finished with sand, rocks, and greenery," is instead unfinished and composed mainly of weeds, trash bags, and safety cones. One-bedrooms in the building are currently listed between $825,000 to $1,075,000.
"It was literally raining from all the light fixtures," Harish Salem Chandramowli, a resident who had to move out for six months because of flooding from the gym above him, told the Times. Six months after Chandramowli returned, he had to move out again because the flooding came back. In what is perhaps meant to be reassuring, the building's developer, Silverback, told the Times the two leaks were unrelated. Josh Schuster, the firm's managing principal, blamed the pandemic for the repair delays, saying, "There hasn't been a day where we are not working on this project." (That seems bad?) In July, Real Deal News reported that Schuster, the relatively young founder of Silverback, has been accused of mismanaging the company and is the subject of multiple lawsuits, with courts ordering him to pay millions in legal claims.
Since the pandemic, developers have blamed supply-chain issues, labor shortages, and unexpected costs for some of the challenges at new buildings. As one real-estate attorney told the Times, "Developers generally cut corners, but I would say more corners were cut as a result of the pandemic." At 11 Greene, leaky plumbing has been a major issue as well, soaking one resident's Peloton treadmill. The heat has gone in and out in the winter, with tenants — whose monthly rents range between $10,000 and $18,500 — reportedly turning on their ovens for warmth. There were also complaints about swarms of flies and the comparatively minor inconvenience of faucet handles twisting off in residents' hands. 11 Greene is one of the few New York development properties of its kind built by Arch Companies, a relatively new firm. Arch told the Times that the problems were simply the typical trials of new construction and that "every valid item brought to our attention has been resolved in a timely manner." (One could be forgiven for thinking sink knobs should stay on for at least a few years.)
Hero prides itself on the fact that it "offers residents 15,000 sq ft of thoughtful amenities," and 11 Greene advertises its private storage units and "state-of-the-art" fitness center. But maybe the most thoughtful amenity is a dry apartment you can live in.