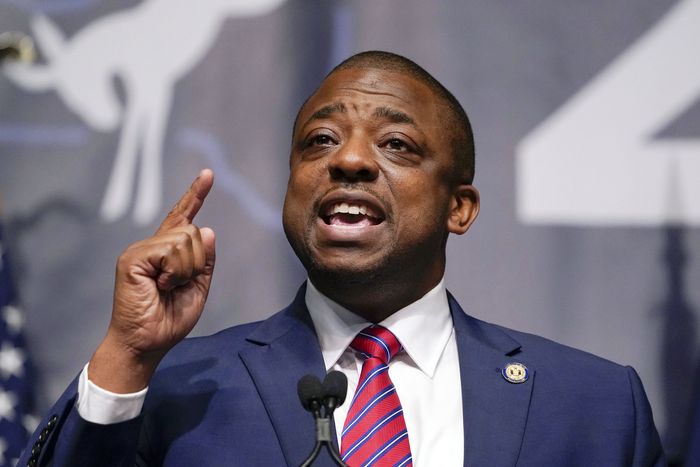 Photo: Seth Wenig/AP/Shutterstock
Lieutenant Governor Brian A. Benjamin resigned this afternoon, just hours after he was arrested and charged in Manhattan federal court with bribery, fraud, and falsification of records in connection with his unsuccessful 2021 run for New York City comptroller. The indictment accuses Benjamin of conspiring "to direct a state-funded grant to an organization controlled by a real estate developer in exchange for campaign contributions." Benjamin also, according to the indictment, "engaged in a series of lies and deceptions" to cover things up, including lying on his background check. The Harlem real-estate investor, Gerald Migdol, who was arrested for his role in the scheme this past November and was identified in the indictment only as "CC-1," short for "co-conspirator 1," has apparently been cooperating. Migdol, who went on a brownstone buying spree in the 1990s and early 2000s, seems to have focused his more recent efforts on developing political connections. But who is he? And what exactly is he accused of doing?
The scheme
In January 2021, the City reported on a number of irregularities in contributions to Benjamin's campaign for comptroller, among them a number of $250 wire-transfer contributions from people who, when contacted, said they had no idea who Benjamin even was. One transfer was made in the name of Migdol's 2-year-old grandson. All came through an intermediary, Michael Murphy, who works at one of Migdol's nonprofits, Friends of Public School Harlem. Prosecutors later alleged that Migdol either paid for or refunded contributions from many others. The illegal contributions also would have — under New York City's generous campaign-financing program, in which the first $100 of each donation is potentially eligible for $800 in matching public dollars — been a way to steal taxpayer money. "Campaign finance-board records show Benjamin's campaign identified 21 of the contributions Murphy steered to Benjamin as match-eligible — adding up to $16,800 in possible public dollars," according to the City.
Migdol's real-estate career
A New York native and son of a plumber who went to a Queens College and Benjamin Cardozo Law School, Migdol started making real-estate investments after graduating from law school in 1979, buying and rehabbing buildings on the Lower East Side with his father, according to a 2006 profile in Real Estate Weekly. "Essentially, we looked for the worst buildings on the best blocks in areas that we felt would change," Migdol said. He shut down his company in 1990 when the market crashed and went to work for GFI Realty, and in the mid-'90s began buying properties again — this time, Harlem brownstones, which were readily available for comparatively little money. He started the Migdol Organization in 2002. At first, he turned the houses into multi-unit rentals, but he started doing condo conversions around 2006, a shift he told the New York Post was spurred by the rising cost of brownstones. "When I started buying in 2001 they were $200,000 and $300,000, and now it is $1 million for a shell," he said. "If you want to make money, the secret is to buy low and sell high." (That is not exactly a secret, but it's true nonetheless.)
Migdol does not seem to have registered as a force with the city's more powerful real-estate players, and the Migdol Organization's website has no information about its holdings or investments. It describes Migdol as "a Harlem based company that provides specialized services in housing, development, social work and law. Through its subsidiaries, the Migdol Organization develops, manages, brokers and owns various types of real estate throughout New York City." It does, however, have a quote, allegedly from Hillary Clinton (it's possible; Migdol was a big Democratic donor): "I'm so impressed with the Migdols' business model of a truly diverse firm that combines profit and non-profit businesses in one organization." In a video on the website, Migdol, sitting next to his wife, Sheri Perl, describes the company as though it were a social-services organization "that provides housing, security, legal services for the neighborhood and for the homeless population." Essentially the entirety of the website is dedicated to the organization's nonprofit work, with no indications of where or how it makes its money.
Chummy with politicians 
Through contributions as well as various nonprofits that donate supplies to Harlem public schools and give out turkeys at Thanksgiving, Migdol has cultivated his political relationships. His 70th birthday party in February 2020 was attended not only by Benjamin (then a state senator), but Letitia James, Representative Adriano Espaillat, State Senator Robert Jackson, Assemblymembers Al Taylor and Robert Rodriguez, and Hazel N. Dukes, the president of the New York State chapter of the N.A.A.C.P. Migdol, his wife, and his son have collectively given James's campaign for attorney general $30,000 since 2019, money that she told the Albany Times Union after Migdol's arrest that she would return. "The Migdol family has given a total of $106,000 since 2006 in New York elections. The largest single donation came in November 2020, when Gerald Migdol donated $15,000 to the campaign arm of the state Senate Democrats," the Times Union also reported.
Relationship with Benjamin
The two men were close, the Times reported, "and traded accolades at a series of charitable and political functions over the years in Harlem." There are numerous photos of the two men together on the Migdol website and Facebook page, including one of Benjamin presenting Migdol with a $50,000 check made out to his nonprofit Friends of Public School Harlem. In 2019, Benjamin also nominated Migdol for a Community Leadership Award. That same year, Migdol hosted an event honoring Dukes, one of Benjamin's political mentors, which Benjamin attended. When Migdol was arrested in the fall, a spokesman for Benjamin's campaign for comptroller told the Times that Benjamin would fully cooperate with authorities and that "as soon as the campaign discovered these contributions were improperly sourced, they donated them to the campaign finance board." As late as last week, when Benjamin was meeting with prosecutors, his top aides were reportedly telling allies that he expected to be cleared.