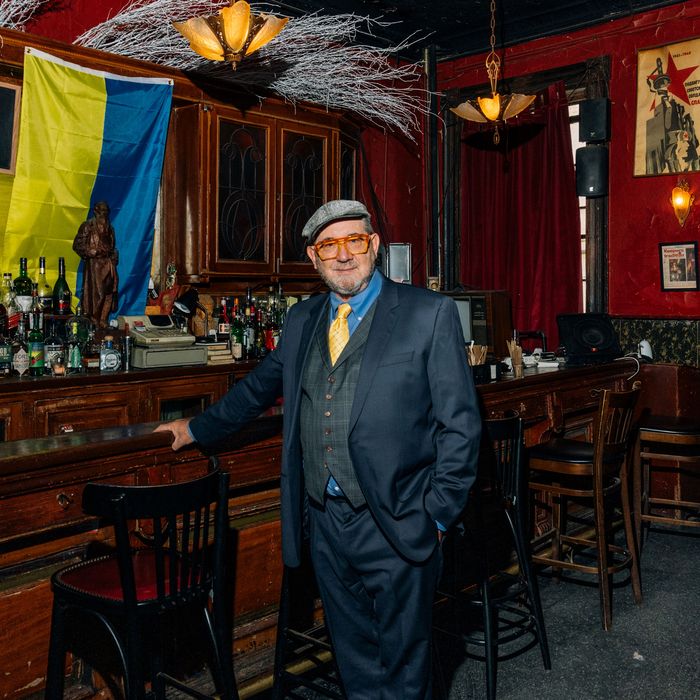 Photo: DeSean McClinton-Holland
When Denis Woychuk was growing up in Flatbush in the late 1950s and '60s, he often took trips into the city with his father. His dad immigrated to the U.S. from Ukraine in 1929, and in the Ukrainian Village he didn't even have to try to speak English. Often, they would stop by 85 E. 4th Street, which was then the Ukrainian Labor Home, a kind of socialist social club. The Ukrainian Daily News was headquartered there, Soviet propaganda films were shown, and plenty of vodka was poured at the bar. Woychuk inadvertently had his own first drink here at just 5 years old, after a bartender decided it would be funny to serve him. In 1993, after he was well past the legal drinking age, Woychuk bought the building and opened the Kraine Gallery (that's short for Ukraine) and KGB Bar.
The bar looks much the same today as when it first opened — decorated with Soviet-era posters, communist flags, and Art Deco structures left behind by the Ukrainian Labor Home — and for decades has been famous for its readings and other literary events. But if KGB has largely remained the same, the rest of the Ukrainian Village has not. Woychuk lives in the neighborhood too, and over the years he has seen rents skyrocket, old businesses close, and new ones open.
Rather than holding on to the past, he's gotten used to the neighborhood constantly changing. But his number-one priority has always remained the same: "All I want is for the arts scene to stay alive and vibrant," he says. These days, many of the classic Eastern European establishments that once lined the streets of the East Village have shuttered, replaced by cafés and boutiques for the young and slightly more affluent. Still, Woychuk says he has faith that the neighborhood will continue to retain that artistic counterculture edge.
Kraine Theater
85 E. 4th St., at 2nd Ave.
I can't talk about "my spots" without talking about my literal spots. Kraine Theater was where it all began for me. First, it was the Kraine Gallery, where I showed a lot of different artists' work. Some people might not know this, but KGB technically stands for Kraine Gallery Bar. Nowadays, it's a theater hosting a variety of acts, but especially focused on smaller Off Broadway shows with an experimental edge to them. The programming is such that I think there's something for everyone here.
Frank
88 2nd Ave., at E. 5th St.
Being in the bar business, I work odd hours, so I like a dinner spot like Frank that's open late and isn't just junk food. These days, this place is considered by many to be a local staple. They've been around 15 years, and for good reason. But honestly, I still consider them to be the new guys on the block. It's a classic-style Italian restaurant, with a great linguine.
B&H Diner
127 2nd Ave., at St. Marks Pl.
This is one of the longest-standing Ukrainian spots in the area, and I hope it continues to stay around. I ate there as a child, and it really hasn't changed too much. I remember we ate there often because it was very cheap and my dad knew a lot of the patrons there. It was opened as a Jewish dairy restaurant: Everything they serve here has dairy in it, so there's no meat in order to keep kosher. That's great for me because I've cut down on my meat consumption anyway. I come here for a pea soup or borscht. Get whatever looks good; you really can't go wrong.
Double Zero
65 2nd Ave., at E. 4th St.
Truthfully, I eat out more than I drink out. This place is a new but welcome addition to the neighborhood. It's got plenty of vegan pizzas. They make one with pecan cream and truffle oil. I'm not a total vegetarian but this place makes a strong case for going meatless and being totally okay with it.
New York Comedy Club
85 E. 4th St., at 2nd Ave.
This isn't my comedy club, but it's in our building. I think it's got maybe the best name in New York City for a comedy club: They pop up first in any Google search. It's kind of a perfect tourist trap, not that it's a trap necessarily. Thirty-eight bucks is not bad for a fun night of entertainment. Of course, not every show is going to be a knockout performance but that's comedy, right? Every once in a while they have some pretty famous people come through, like Sarah Silverman or Jim Gaffigan.
Stage Diner (closed)
128 2nd Ave., at St. Marks Pl.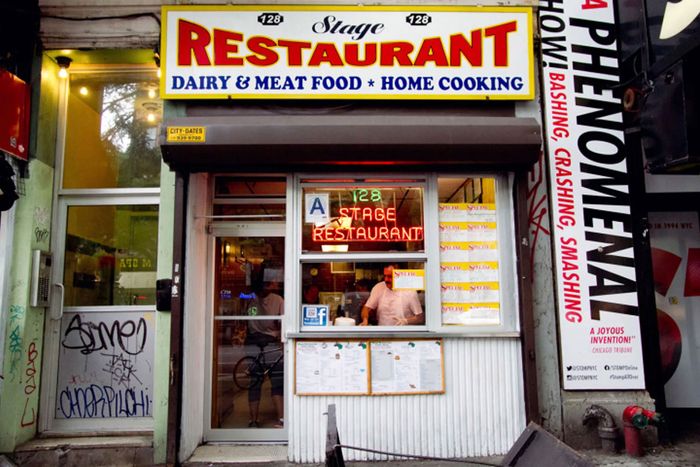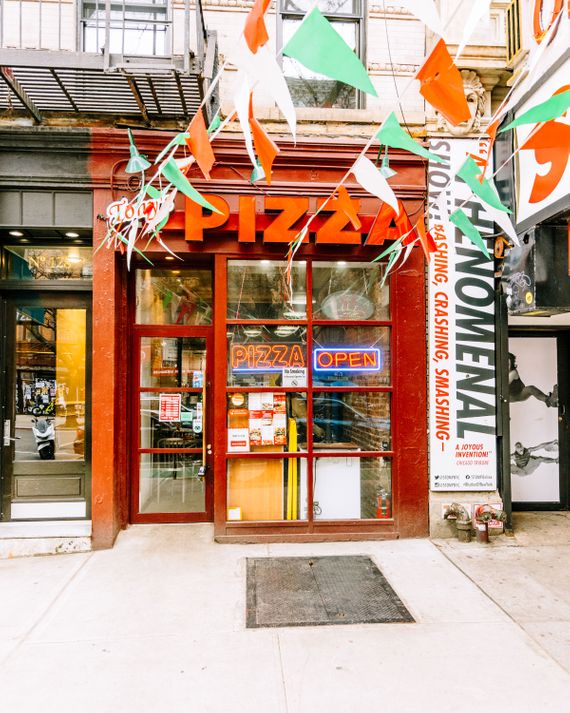 This was a no-frills Ukrainian diner with simple seats along formica countertops. Sadly, it went out of business when Belgian Fries across the street exploded from gas leaks in 2016. It really wasn't trying to be anything but a diner, which is hard to come by now. It did try to renovate and be cooler at one point, but I don't think it did so as successfully as Veselka. I loved that it was open all the time. It was a small spot with a whole lot of charm.
Phebe's
361 Bowery, at E. 4th St.
Phebe's is a neighborhood institution. It's been here since the '60s. It used to be an old man's bar that became something of a theater bar after so many theaters opened in the area in the '80s. If you look at the demographics these days, it's a real hot spot for young people. Everyone comes in with an ID saying they're born between 1990 and 2001. I've seen it change quite a bit but it's always retained its charm as a beloved neighborhood bar. Even though they might be our competition, I would like to see them keep their doors open for quite some time.
Anyway Café
34 E. 2nd St., at 2nd Ave.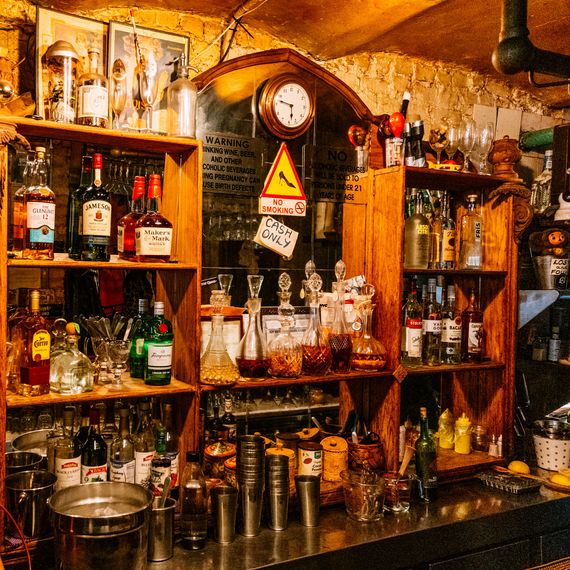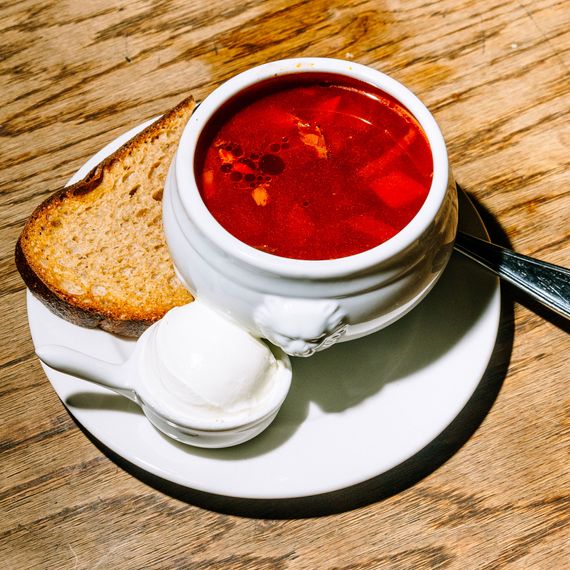 I'm here so often, I'm practically a tenant. This is a tiny place that does really fun live music, serves Russian and Ukrainian food, and is always sure to be a good time. I like to get pierogis or borscht. They've got all sorts of great stuff. They also make beautiful infused vodkas flavored with things like horseradish. Might sound strange, but trust me; try it.
Piccola Strada
77 E. 4th St., at 2nd Ave.
These days, mom-and-pop shops are an endangered species, and this Italian restaurant is a true mom-and-pop spot. It's on the same block as KGB Bar, and it's maybe the size of my living room. They're serving some truly sumptuous Italian food, like penne alla vodka and gnocchi alla Bolognese. The folks are so sweet and it's affordable. I'm glad it's still around. Plus, it's BYOB.
Via Della Scrofa
60 E. 4th St., at 3rd Ave.
This is an Italian grocer in the neighborhood, where you can get great stuff that you really just can't find elsewhere. I got a canned branzino here the other day. It was so good. I'd never even heard of canned branzino before!