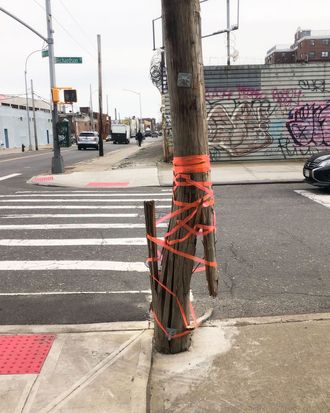 Lucas Adams noticed the pole on Valentine's Day. It was almost completely splintered at the bottom and had a subtle lean giving it the look of one of those inflatable tubes that thrash in the wind outside car dealerships. The break seemed fresh; he often passed the pole on his way to work. "Suddenly, there was this perilous-looking telephone pole," Adams said. He thought maybe a truck had hit it — it's on an industrial strip on the corner of Richardson Street and Morgan Avenue in East Williamsburg — but he really couldn't say. In what appeared a haphazard attempt to secure the pole, a wooden board was nailed to it and it was wrapped in bright-orange tape.
"I cannot imagine those few beams they screwed on are gonna hold forever," Adams said.
He called 311 to report it and was routed to 911, which connected him to someone from the Fire Department, who told him it was a Con Edison pole and that they would have to fix it. Then Adams got a call back from a cop who was at the pole, which he knew because the cop said, "I see it. It's not good." Adams felt this was a good sign — as if there were a shared understanding that the pole was a problem and would be taken care of.
Later that night, he saw the pole was still broken, except now there were two cones near it with caution tape that read "FIRE LINE DO NOT CROSS." That also seemed like a good sign. Maybe the next step would be to fix the pole. Except, soon enough, the cones disappeared. The splinter remained. It has now been almost two months, and the pole is still standing with the same awkward, hazardous lean. Like Adams, I wanted to know more about this pole that everyone says is not their pole but is almost certainly going to fall over at some point (maybe on someone's head). So I started asking around.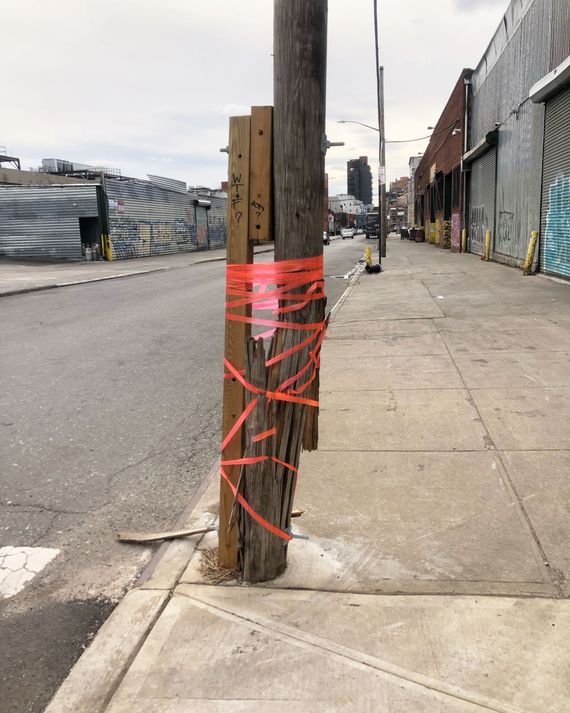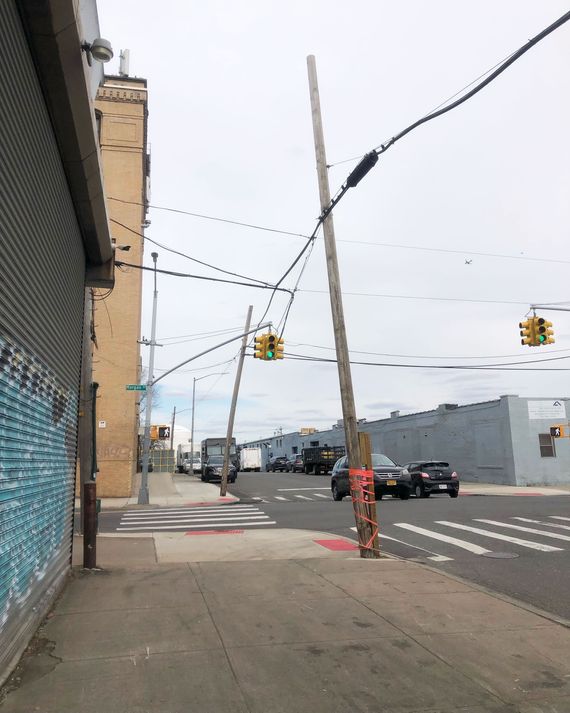 I retraced Adams's concerned-citizen reporting and emailed the NYPD first. I asked for any updates on the pole and who was in charge of it. I got a two-word response: "Con Edison." So that's where I went next. In an email, a Con Edison representative told me, "There is no Con Edison equipment on that pole. It is not a Con Edison pole." He suggested it might be a phone or cable line.
Next, I reached out to an Altice representative, one of the possible cable-company owners of the pole, who wrote, "This is outside of Optimum's service area, and those are not our lines." A spokesperson for Charter, which owns Spectrum, corrected me when I asked if it was the company's power line — "pole (not 'power line')" — and said it wasn't: "Our Operations staff has determined this is not Charter/Spectrum's pole. We have a single strand of cable attached to a clamp near the top of the pole. The main wires on the pole appear to be Verizon's." A minor breakthrough! Verizon did not respond to multiple requests asking if this was indeed its pole but did say there were "teams in the field" working to get that information.
Finally, I sent emails to State Senator Julia Salazar's and City Councilmember Jennifer Gutiérrez's offices about the pole. Maybe they would agree it's weird that no one is taking responsibility for a very tall pole that could collapse? In an email, Salazar's office said it would file a 311 complaint on the pole with helpful instructions on getting the complaint recorded (and offered apologies for the "wild-goose chase"). Gutiérrez's office did not immediately respond to a request for comment. If you have tips on the pole, please contact me. (Also please contact someone who can fix the pole, since I can't.) As Adams put it, "It's held up since February, so it's more durable than I thought. But I don't want to be right about it."
Update, April 5, 2022 at 5:24 p.m.: After a relentless search, the responsible party steps forward: It is Verizon's pole. Moments after we published, a spokesperson from the company emailed: "Our team is onsite and we've secured the pole as we're in the process of breaking up the sidewalk. We have obtained an emergency dig permit. Our teams are in the process of replacing the current pole with a larger one. We are estimating all work to be resolved and completed by later tonight." We will be watching the pole and will update you with any additional pole news as it emerges.