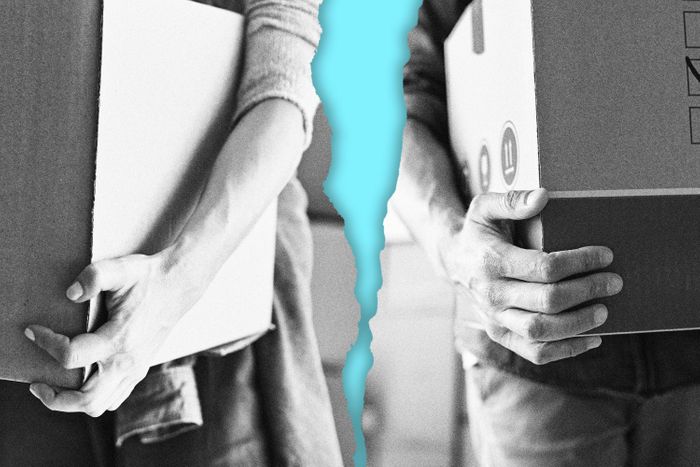 Photo-Illustration: Curbed; Photos: Getty Images
This article was featured in One Great Story, New York's reading recommendation newsletter. Sign up here to get it nightly.
"I have no more one-bedrooms right now. None," a real-estate agent named Rena told me on the phone one cold February morning. She had just sent me to her last option: a one-bedroom in Prospect Heights facing an interior courtyard that had the dark, cramped feel of a back office. Rent was $2,400 a month plus a broker fee. "I work from home," I told her. "And it was a little …" "Depressing," she filled in. "Sad. I get it."
The week before, I had visited two other one-bedroom or one-bedroom-adjacent apartments: a studio where my queen-size bed would fit snugly up against the dishwasher, if I ever wanted to open it ($2,500), and a one-bedroom sublet in a Brooklyn Heights co-op with a mini-fridge, for which I was told to write a letter about "my relationship to the borough" ($2,600). There were a dozen more one-beds that had been taken off the market before I was even able to make it to my scheduled tour. One of them, a broker told me, had been rented before the client even saw it. The listing consisted of a single photo of the current renter's fireplace mantel with a print of *Monet's water lilies and four photos of the Fulton Street G train entrance. "How is that possible?" I asked. He replied, "That's just the market right now."
Minutes after leaving the mournful interior apartment, I was already back to scrolling through Zillow when Rena made a casual remark over the phone: "Everybody broke up in the pandemic, and all they want is one-bedrooms."
Unbeknownst to her, Rena had, in an instant, delivered a grand unified theory for what I assumed was only my particular suffering. Of course I had known that my New York apartment search was going to be terrible: The city was in the throes of an unprecedently absurd housing market, with rents rising by double-digit percentages year over year and people outbidding each other for unspeakably degenerate places. But my hunt for a one-bedroom had felt arduous in a way that couldn't be explained purely by macroeconomics. Rena's theory made perfect sense: There were twice the amount of sad-sack people looking for the same number of one-bedroom units because so many relationships had bitten the dust during the end-time. I was in one of them. I was moving because I had broken up with my partner in South Slope and was starting over above Prospect Park — or trying to. "I'm sorry that happened," Rena said when I told her she was a genius and, in fact, talking about me. "At least it means there are a ton of other single people out there now?"
Instead of seeing them as romantic prospects, however, I saw them as my competitors. I had elbowed past them at showings, loudly talked over them about how much I adored crown molding. In order to outdo them, I had adopted a humiliating, abject tone while corresponding with various agents and brokers, a tone that felt disturbingly close to the one I had used toward the end of my relationship when I was trying to save it: "If there is anything I can do," I wrote about a renovated one-bedroom on Franklin Avenue that went for $400 more than the listing price. "I just want to understand what happened," I asked the broker for the elevator building to which 40 other people applied in, I was told, 16 minutes.
Rena's theory gave my grief some direction. I was a member of an especially afflicted group within the larger housing shortage, and as I heard other tales of rental woe from friends with partners and children looking for bigger apartments, I took to saying things like, "Okay, but it's actually worse for singles. A Realtor told me." I grew more confident with each extremely anecdotal piece of evidence I came across. A few weeks later, I got a text from an ex I had dated more than ten years earlier who told me he was also moving. "Two-bedroom?" I wrote back, politely referring to his girlfriend. "No, one-bedroom. Just me." "Welcome," I said. He told me that, even as a corporate lawyer, he could barely find anything in his price range that wasn't terrible. What's more, his broker, a Corcoran agent, had recently gone through a breakup, too, and he also couldn't find a one-bedroom.
I reached the agent on the phone. He wouldn't let me use his name, but he confirmed that, yes, he had witnessed a sudden uptick of breakup clientele, including himself. ("COVID was gonna make or break your relationship" went his summary.) He was still living with his ex, and they were competing in the one-bedroom-shortage crisis. So far, they had seen each other at showings twice but had yet to bid against each other. "You'll find a lot more studios available than one-bedrooms," he said, "because after a breakup, people want their own space. They want separation, and they want walls."
Another agent who declined to be named agreed. "No one wants to stare at their bed all day," she said. She has had multiple clients move because of a breakup, including a man who was so desperately in love — with the waterfront luxury apartment he lived in with his ex-girlfriend — he stayed in the same building when they broke up. She waived her fee because she felt so bad for him. "Frankly," she said, "I feel like I've become more of a therapist. And I actually went to school to be a therapist, so I'm glad I have the training."
Still, I wanted hard data to support the notion of a one-bedroom shortage fueled by a flood of the recently uncoupled. So I went to Jonathan Miller of Miller Samuel, a real-estate appraiser who keeps current data on rentals in a spreadsheet with 10,000 entries. First, he gave a typical rundown of the reasons renting and buying a home in New York are so difficult right now: After the city shut down, people are coming back, and there simply isn't enough inventory for all of us, plus rental deals from the last two years are expiring. Then he shared some harrowing statistics: The median one-bedroom in Brooklyn is $2,800, up 8 percent from last year; in Manhattan, it's $3,788, up 24.2 percent. Meanwhile, rents for two-bedrooms have remained basically unchanged or grew only slightly. The amount of one-bedroom listings fell 86 percent year over year from March 2021 to now. Looking at the data, Miller reasoned, "I would say you are entering a market that is much more punishing for one-bedrooms than two-bedrooms."
It wasn't enough. "So when you say, 'You are entering a market,' you mean me, a single person," I prodded. "You're saying there is effectively a singles tax on housing." But he wouldn't be as definitive as I wanted him to be: The data merely shows "correlation, not causation," Miller said, though anecdotally speaking, yes, he had been hearing about more divorces in the past two years.
Later, I told my friend Sarah about my investigation, and she gently rolled her eyes. "I will write a sequel" to this column, she said, "about how there are no affordable two-bedrooms for couples." I relented: Looking for an apartment in New York is heartbreak for nearly everyone right now. Miller had told me that, even with his thousands of rows of data, the market is so manic that many of its extremes still feel hard to explain. I had wanted a reason for my pain to be special. But at least I didn't feel lonely anymore.
By some miracle, at a showing in Fort Greene in March, an agent told me about an apartment downstairs in the same building. It was recently available, and the listing hadn't gone online yet. It was prewar, and it had a charming archway, kitchen cabinets installed backward, and no bedroom closet. I was the first applicant. When I found out I was approved, I told the agent, a 25-year-old former competitive e-sports player, that I was so happy I could kiss him. He told me he had a girlfriend.
*This story has been updated to reflect that the print was a reproduction of one of Claude Monet's water lily series paintings, not Vincent van Gogh's, though van Gogh has a drawing called "Marsh with Water Lilies."