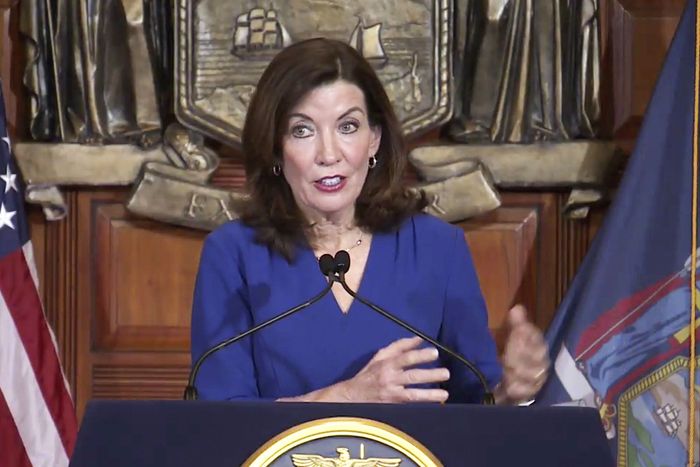 Governor Kathy Hochul is very proud about one thing in the "conceptual" New York State budget deal that was reached yesterday: legalizing to-go drinks. "I know we could all use a drink!" Hochul tweeted with a photo of her holding up a drink, which she knows we could all use. (It's a still from the same GIF she posted last month.)
Legalizing to-go drinks is cool (although it's only for three years, and the budget says they must be ordered along with a "substantial food item," which, as my editor Katie McDonough points out, is a big win for fettuccine alfredo.) But what about the other stuff New Yorkers were begging to be fixed in the budget? Well, not to worry, because whatever the problem, to-go drinks can fix it!
To-go drinks will fund the MTA, which lost at least $100 million in the budget because of a gas-tax holiday.
To-go drinks will help houseless people get housing after $250 million to jumpstart the Housing Access Voucher Program wasn't included in the budget.
To-go drinks will help those sent to jail because they can't afford bail now that the state budget rolled back part of the 2019 bail-reform law and made it possible for judges to set bail in more cases.
To-go drinks will help offset the giant $600 million taxpayer subsidy given out to the fracking billionaire owner of the Buffalo Bills to build the team a new stadium.
Conceptually, this is all sound, and don't ask me any follow-up questions. Cheers!