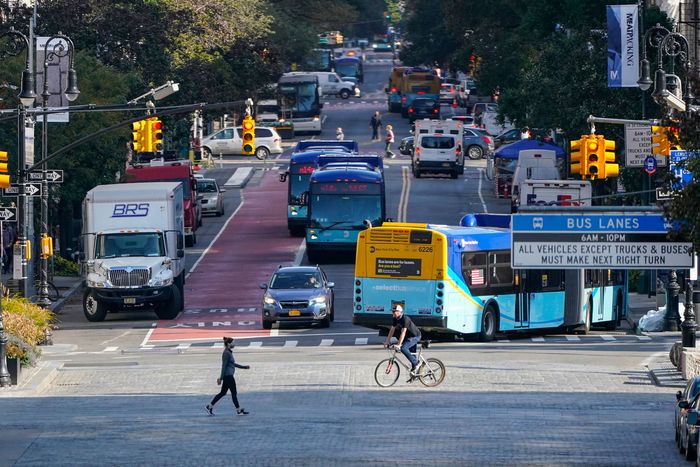 New Yorkers are losing 133 hours each year stuck in traffic.
Photo: Frank Franklin II/AP/Shutterstock
Five hundred miles of protected bike lanes, 500 miles of dedicated bus lanes plus 40 miles of car-free bus routes like the 14th Street Busway, and 38 million square feet — the equivalent of Central Park — carved out of streets and sidewalks citywide for mini-parks and -plazas. The City Council wants $3.1 billion to fund these transformations by beefing up the existing streets plan with an "unprecedented" scope. That kind of budget is enough to make a London- or Paris-level dent in congestion, and is exactly what those taking our current climate emergency seriously have already called for. (This week's IPCC report recommended expanding walking and biking in cities as a top priority for quickly reducing carbon emissions.) It will also, crucially, offer New Yorkers the rarest of gifts: time. MTA's buses are routinely deemed the slowest in the nation, meaning the average New Yorker loses about 133 hours each year to traffic congestion. Citi Bike trips are faster and cheaper than taxi trips, but cyclist deaths are the highest they've been in nearly a decade. Speeding up those buses and making biking more safe will take more cars off the road, offering the city a real shot to give people precious hours of their day back.
There are some beguiling trends in the data that the city's already collected on saving time and transit improvements. We expected that dedicated routes for buses mean faster buses, but it's actually much faster buses. The 14th Street Busway has cut travel times by almost 50 percent, while the M60's bus lanes cut travel times by 36 percent, according to stats compiled by Transportation Alternatives. The data also show that when dedicated bus lanes are side by side with protected bike lanes, travel times are reduced along with collisions. The stretches of First and Second Avenues with bus and bike lanes saw an 18 percent decrease in traffic deaths, even as traffic deaths increased dramatically citywide over the last two years, simply because of the separation between modes, leading to fewer potential interactions with cars. This underlines exactly who would benefit the most from such improvements: the people who primarily use buses and bikes to get to work or to do their work.
While the infrastructure goals themselves are impressive, ensuring the changes work for people who need them most will determine their success. The completed plan would mean New Yorkers will never be more than a few blocks from either high-quality bus service or a protected bike lane. In addition, the total area dedicated to pedestrians will increase dramatically, in line with the 25x25 proposal championed by a broad coalition of local advocacy groups that aims to give 25 percent of car space to pedestrians by 2025.
Mayor Eric Adams has proposed increases to pedestrian space as part of his raised-crosswalk plan and is hardening existing bike routes with concrete barriers, but his transportation vision for the city is nowhere near as comprehensive as what Council Speaker Adrienne Adams is proposing. A representative for the mayor told Gothamist that he would look at the council's plan and touted his own to add 150 miles of bus lanes over the next four years. Over the same amount of time, the council's five-year vision would add 100 bus-lane miles per year.
It's an incredibly tantalizing prospect, but funding is being slashed across city budgets and it's very unlikely this proposal will be approved for its full ask of $3.1 billion. What this plan does, however, is provide a vision for how the city might work if better streets were a fiscal priority. Not only is increased transportation access the best way to boost economic opportunity, it will also allow the city to reorganize and streamline routes to benefit the neighborhoods that have historically received the least investment, like the bus upgrade the MTA is already undertaking in Queens. Selling these improvements as a citywide, comprehensive package will also avoid the missteps of the de Blasio era where one-offs and half-measures became too easy for wealthy car owners, luxury developers, and unenlightened business owners to pick apart for the sake of preserving a few parking spots, which tells you all you need to know about whose time is currently being prioritized on New York City streets.
Other changes that might help the city's overall climate goals are in the works but proceeding at a snail's pace: Congestion pricing is still at least a year away, and the electrification of NYC's vehicles and building up charging infrastructure are far behind what's needed. And these aren't as tangible for people who need meaningful improvements today for getting around the city as an influx of cars render the streets unusable. Plummeting emissions, improving public health, outdoor dining not being served with a side of toxic particulates; these are all key benefits of investing in walking, biking, and transit. But by simply making the most efficient transportation modes operate even more efficiently, the City Council is handing you back a couple of hours every day. That alone seems worth the investment.