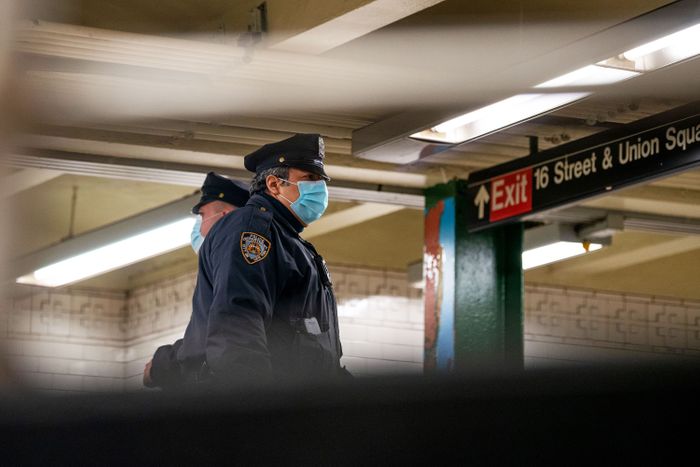 Photo: Alexi Rosenfeld/Getty Images
Eric Adams's subway crackdown is here. The NYPD announced last week that total arrests on the city's transit system have increased 64 percent over last year. For fare evasions specifically, the police made 350 arrests, a 51 percent increase, and have issued 17,000 summons since January. "We are definitely giving more attention to misdemeanor crime," NYPD chief of transit Jason Wilcox said.
Adams has consistently framed his approach to policing as a "quality-of-life" issue. "If we start saying it's all right for you to jump the turnstile, we are creating an environment where any and everything goes," Adams said in a press conference in March. Advocates for police reform see the focus on misdemeanors like turnstile hopping and public drinking as just more broken-windows policing, as a Legal Aid staff attorney said in a statement after the NYPD unveiled its so-called quality-of-life initiative in March: "This rebranded version will yield those same results." But the mayor is adamant that his resurrection of these strategies will be different from the stop-and-frisk eras of the Giuliani and Bloomberg administrations. "We are not going backwards, but the city is also not going backwards in crime," Adams said of his initiatives. "That is the key here — it's the balance of justice and safety."
But we already know how these fare-evasion arrests can look, especially for Black and brown New Yorkers. In 2019, a video of the arrest of 19-year-old Adrian Napier, which showed a huge group of cops shoving him to the ground and pointing their guns into a crowded train, went viral and spurred mass protests. (Later, the NYPD claimed that officers suspected Napier had a gun, though a gun was never found.) In 2021 a video showed police tasering David Crowell for letting his cousin in through the gate, even though Crowell said he had paid for both their fares. Just a month later, a video emerged of the NYPD sweeping the legs out from under a woman for alleged fare evasion. And now we're seeing more of the same, with a group of cops piling on top of a 19-year-old for jumping the turnstile just last month.
Even "nonviolent" police interactions can be violent, experts say. "People underestimate the very routine violence of even the most routine police encounter. It's very jarring for the person who is being seized," M.K. Kaishian, a civil-rights attorney and legal-policy expert who represented Napier, said of fare-evasion arrests. "Even if someone is simply reacting to a hand grabbing them from behind, it's interpreted by police as either resisting arrest or an attempt to flee."
And while some district attorneys are promising not to prosecute fare evasion, stopping someone for a turnstile jump doesn't necessarily mean the final charge will end at — or even include — fare evasion. "Those cases can still be prosecuted if that person is charged with resisting arrest or some sort of other charge on top of that, which often happens because police are escalating these encounters," Kaishian said. "It's a pretextual justification for stopping a person and the possibility of charging them with an additional crime." Just look at Crowell's case: He was later charged with resisting arrest, third-degree menacing, second-degree harassment, and obstructing governmental administration — but not fare evasion. And in many cases, the arrest for a misdemeanor can quickly turn into a fatal encounter with the police, as it did for George Floyd and Daunte Wright.
The reality for people on the ground remains the same. "There's been an escalation of state-sanctioned violence," Kaishian said. "We didn't need the NYPD any more emboldened than they already were, and that's what's happened."