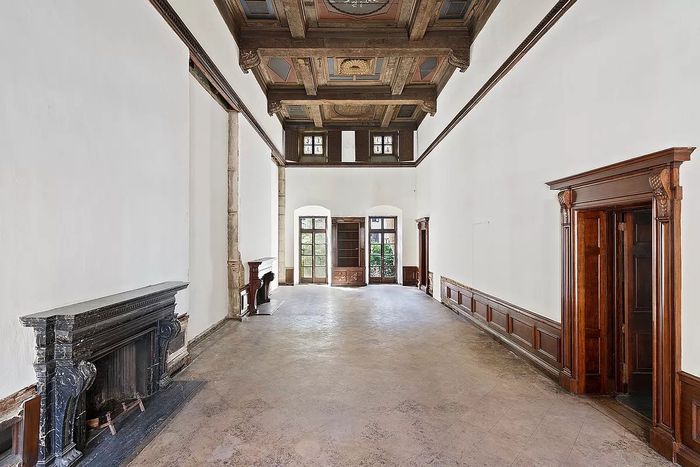 The ballroom with coffered ceiling
Photo: Michael Alley
The 8,700-square-foot Turtle Bay Gardens townhouse that Olivier Sarkozy and Mary-Kate Olsen were once going to renovate and live in together (and where they almost certainly had their wedding) is back on the market after first listing last August, about seven months after the couple's divorce was finalized.
Originally built in the late 1800s as two separate buildings, the townhouses were later combined into one particularly opulent home by socialite Charlotte Hunneman. Hunneman, who's also behind the handsomely turreted castle that recently went up for sale in Cornwall, Connecticut, dreamed up the whole Turtle Bay Gardens arrangement in 1919, buying some 20 townhouses and connecting their backyards into one lush common garden.
Sarkozy bought the place for $13.5 million in 2014, and before his split with Olsen, the couple was poised to do a full renovation on the five-story, six-bedroom house and had enlisted Montalba Architects, the studio that designed the Los Angeles flagship for The Row, Olsen's fashion label. But there was "nothing done at all that's worth noting," says current listing agent Catherine Juracich. Which might be a good thing, because the bones that remain are preposterously beautiful.
Notably, there's a ballroom with 22-foot-high coffered ceilings, emblazoned with quotes from Voltaire and a poem by Charles d'Orléans; a room entirely covered in wood paneling and built-in bookshelves; and a 30-foot-long space with huge arched windows that opens into the garden. On the third floor, a 17-foot stretch of skylights tops an unfinished room that could be a solarium or studio.
When the New York Times first reported the home going on the market last summer, many readers bemoaned the "digital enhanced" listing photos that seem to show what the place would look like with renovations. This time around, the interiors are shown as is, so you see the worn but original cork floors in the ballroom (instead of an artificially polished blonde herringbone) and the large empty garden for what it is without the imagined water feature, stone bridge, and thriving plants.
The price tag is also now $10.5 million — $1 million cheaper than it was listed for last year, designed to find a buyer quickly. Since listing the property on Wednesday, Juracich has already gotten multiple inquiries, done at least one in-person showing, and heard that she'll be receiving an offer sight unseen.