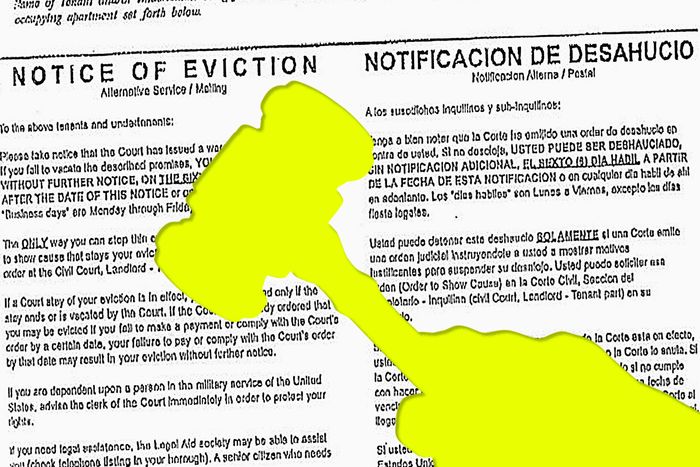 A lawyer at Legal Aid Services in Queens has a joke that RTC, the acronym for New York's Right to Counsel law, stands for "Real Time Crazy"; a landlord's attorney I spoke to said it stands for "Real Total Chaos." But the fourth floor of the civil-court building on Sutphin Boulevard was quiet on Friday, April 8. The benches outside the courtrooms were taken up by tired-looking people clutching piles of papers, but the hallway wasn't crowded. Clerks and lawyers occasionally walked around calling the names of landlords or tenants who were scheduled to appear. The courtrooms were mostly empty.
Some respondents were still showing up online — faces beaming from large screens placed on one side of the judge's bench — which belied the fact that the floor was actually teeming with dozens of housing-court lawsuits. Real Time Crazy. Real Total Chaos. Evictions, holdovers, nonpayments, repairs, harassment, and nuisances all processed at the same time. Court attorneys were trying to find Bengali, French, Spanish, and Mandarin translators. Legal-services providers, who give free counsel to any eligible clients who qualify (almost 70 percent of tenants who appear in housing court do), were scrambling to catch up on cases they had been assigned the day before. In addition to the dozens of ongoing lawsuits on the schedule for the day, around 60 new eviction cases had been put on the calendar. And court administrators wanted to schedule more.
"They now virtually schedule new cases every 15 minutes," Julia McNally, housing director for the Legal Aid Society in Queens, told me as we walked from courtroom to courtroom. "The court is saying, 'That's not fast enough. Come in person so you can have less than 15 minutes."
Three days earlier, Legal Aid and another Queens provider, the New York Legal Assistance Group (NYLAG), had announced that they could not take on any new clients for the month of April, because their caseloads were already so challenging. A third group, Legal Services NYC, was limiting its intake to 60 cases. Eviction law involves extremely specific filing deadlines and requirements: One day late or one missing signature can compromise a case entirely. By taking a break for an entire month, the organizations are attempting to catch up on the cases they already have, but it means that tenants already scheduled to appear in court will continue on without a lawyer. Over a ten-day period in April at the Queens courthouse, that amounted to 318 respondents. The current pause will leave them navigating the system on their own — at least temporarily. No one knows exactly what is going to happen as a result.
New York passed its Right to Counsel law in 2017; the law has dramatically transformed the fates of low-income tenants in housing court. A few years prior, advocates had cited an abysmal statistic: In 2013, only one percent of tenants had legal representation. According to the Office of Civil Justice (OCJ), which oversees legal-services contracts and provides funding for RTC, the law has helped to correct that: Eviction filings have declined 30 percent since RTC's implementation, and 84 percent of tenants represented by RTC lawyers are able to stay in their homes.
The rollout of the law was initially staggered. Before the pandemic, Legal Aid, like other organizations that take on low-income clients, had been assigned a set of Zip Codes and could only take on tenants who lived within their boundaries. Providers got increased funding every year as they expanded their new hires to meet the rollout. But the Zip Code rule was abandoned in March 2020 owing to overwhelming need during the beginning of the pandemic. McNally's colleagues were driving water coolers to people whose utilities had been cut off by their landlords; they even stopped screening for income eligibility, because so many people couldn't pay rent. "The city asked us to do that, and we said yes," McNally said. Legal Aid's client list expanded; its staffing did not.
Now it is up against a reported 200,000 eviction lawsuits filed in New York City in the last two years — a backlog that was unleashed when the state's eviction moratorium was lifted on January 15. An additional 13,000 lawsuits were filed in February and March. But this number isn't yet back up to pre-pandemic filing levels, according to the NYU Furman Center, which tracks evictions. (Court administrators note that 36,000 eviction cases had been filed in the first three months of 2019 alone.)
But lawyers for low-income clients say the case backlog — a so-called tsunami of evictions that has yet to arrive — isn't the problem. It's the rate at which court dates are being scheduled combined with a dire staffing crunch. The court wants to move fast; lawyers say they can't keep up.
Even before the pandemic, there was a "fundamental mismatch of numbers" between the capacity at legal-assistance providers and the sheer volume of cases New York City Housing Court wanted to move through the system, said Adriene Holder, attorney-in-charge of Legal Aid's civil practice. "When the law first got passed, they anticipated that the filings would go down dramatically because landlords would see that tenants had lawyers — and they did." But not enough. The way RTC is set up and funded in practice doesn't add up, she added.
Holder said that providers have estimated that they have been contracted to represent clients in approximately 42,000 cases in 2022; if eviction filings continue at their current monthly rate, there will likely be twice that number of cases to handle — in addition to the 200,000-case pileup. And now, Holder said, she has vacancies of around 20 percent citywide among staff attorneys for housing. There has been "a lot of staff departure," Holder said. Some attorneys burned out during the worst of the pandemic. "They said, 'This is way too stressful and this is a market where I can do something else.'" Frequently changing laws and measures — like the eviction moratorium and New York's Emergency Rental Assistance Program procedures — have made the work even more complicated. There's a lot to manage. "We're asking for triage in this moment," Holder told me. On Monday, April 18, two weeks after the Legal Aid Society's declaration in Queens, it told court administrators it was unable to take on 130 cases in Manhattan and 100 in Brooklyn this month; Legal Services NYC said it couldn't take any more cases in Brooklyn.
The court has put the blame for the current mess squarely on the lawyers: "The ongoing Right to Counsel issue for indigent respondents in Housing Court is neither about the Right to Counsel law nor a non-materialized overwhelming wave of new cases," Lucian Chalfen, a spokesman for the Office of Court Administration (OCA), wrote to me on April 19. "It is about legal services providers who are incapable of carrying out their contractual obligations regarding representation."
The fates of tenants who ostensibly qualify for Right to Counsel when there are no available lawyers to counsel them produced an awkward standoff between housing lawyers and court personnel. When appearing in front of a judge in the afternoon, McNally asked him if he would be referring a new case, a pair of sisters evicted by their brother, to the Office of Civil Justice, which oversees legal-services providers and typically matches them to tenants. The judge's antipathy toward Legal Aid was obvious: "Why would I refer to OCJ when no one is taking cases?" he asked. McNally said she was hoping the situation would improve soon. "Based on what?" he replied. McNally said that, in another month, they hoped they would have capacity. "That doesn't help anybody in April and May," the judge shot back.
"We are having the conversation we need to have about what Right to Counsel will look like when it's actually fully implemented," McNally told me later at Legal Aid's offices in Kew Gardens. "This was always going to be a question, and the pandemic just accelerated it. If the court continues to treat housing court like an eviction mill, it's never going to work." In order for clients to actually receive counseling, the court cannot go back to its pre-pandemic load of 50 to 70 cases a day, she said.
Legal Aid and other housing attorneys' refusal to abide by that status quo amounts to a kind of reckoning of the Right to Counsel law itself. They are asking New York City Housing Court to fundamentally change how it operates. At the court that second Friday in April, the immediate impact of the court's stand was still unclear. Instead of pairing people with a lawyer from Legal Aid or NYLAG, court attorneys (who work with housing-court judges) had been taking down tenants' names, numbers, and emails and referring their information to OCJ. But what would happen after that was still anyone's guess. Would they be assigned to an attorney at their next appearance? Would the providers even be able to take them? "It's for the whole month?" the court attorney asked McNally about Legal Aid's pause. "Yeah," McNally told her. "Hopefully, May will be better."
The following Monday morning, McNally was back on the fourth floor — still trying to figure out what was happening to the tenants who needed lawyers. It was a more chaotic day. The internet was down for several hours in the morning, leaving tenants exasperated in the hallway. McNally doubted that some of them would return for their next court date without counsel to help them understand their cases. She was especially worried about what might happen to cases that had already progressed toward an eviction warrant. For some, the severity of their situations would only become clear when a marshal arrived at their door.
I stood behind McNally in a courtroom as she talked to a judge who was approached by a court attorney with a new file. It was for an urgent post-eviction case — the tenant had already been removed from her home by marshals and was contesting her eviction. The judge told McNally that Queens Legal Services, to which the tenant had been referred, already said it couldn't take her. Was someone at her office available to look at the file? McNally relented.
After spending about 20 minutes looking over the case on her computer, McNally appeared on behalf of the tenant and convinced the judge to allow Legal Aid to present evidence that she had been improperly served her eviction notice. A new hearing was scheduled. If it went well, the tenant would have a chance to get back in her home. A chance she wouldn't have had without McNally. The woman had been staying in her boyfriend's mother's studio apartment — wearing the same clothes since the eviction three days prior. "I'm terrified," the tenant told me while sitting in Legal Aid's offices. She would have to find another place to stay soon.