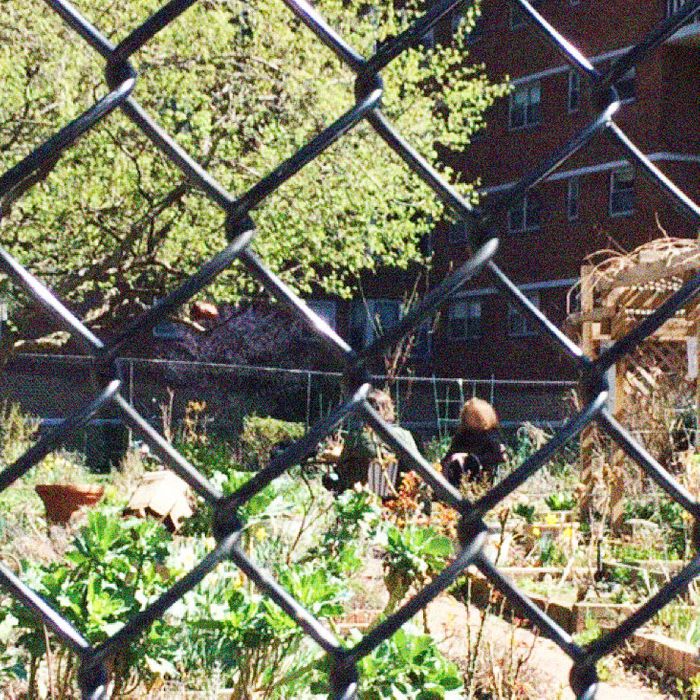 No one could get together at Penn South, but they could talk. As residents of the towering 15-building complex sheltered in place during the early months of the pandemic, Facebook groups and text chains lit up with neighbors sharing updates from the state, asking after loved ones, and, with all that idle time, getting deep into one another's business. One rumor in particular caught 69-year-old Judy Cohen's attention: People were hanging out in the co-op's community garden despite new rules against it. The board of the 2,820-apartment cooperative, one of the city's many naturally occurring retirement communities, had canceled events, shuttered common spaces, and banned nonessential deliveries to enforce social distancing. It had sent notices to people to stay inside and keep six feet apart. The garden was no different: It was now open to just one household at a time for intervals of 30 minutes. But that's not what some people were reporting on Facebook. There was talk of larger groups socializing, of people going maskless (and then questions about the rules of outdoor masking). "I hadn't left my apartment for months," said Cohen, who has lived at Penn South since 1982 and is not currently a member of the garden. And yet, she said, "people were gathering."
The drama about the garden wasn't new, exactly. The space is a small haven in the neighborhood, nestled between the southwest corner of 25th Street and Ninth Avenue and the backside of a Greek Orthodox church. Patches — the preferred terminology among senior residents because "plots" is a bit too reminiscent of "graves" — border a pergola and a collection of wrought-iron chairs and tables. In peak summer, the garden is lush with vegetables and flowers; the sound of church bells marks the time. But space was limited even before the pandemic: Only 125 members can access the garden — which requires a key to enter — a sliver of the co-op's 5,000 residents.
Over the years, the wait list has grown to 215 people. Some claim they have waited almost ten years to get in, while others say they haven't even bothered to put their name down. Maureen Melle, a 72-year-old "cooperator" — what residents call themselves — was already in her 60s when she moved to Penn South in 2009. "I said, Well, how many years worth of gardening have I got in me? So I didn't put my name on that list." (Instead, she adopted a tree pit on a bicycle lane with Chelsea Garden Club, where she plants rose bushes around the tree roots.)
Over the past year, Cohen, Melle, and other cooperators have come to see the garden as a symptom of something more endemic to the building, maybe to life in New York City as a whole. As one cooperator told me, "It's incongruent with our community philosophy that we have a gated community." They've asked Penn South's co-op board and the garden committee to introduce a rotating system so that more people can use it. They say the board has been maddeningly opaque about the whole thing. Requests for open meetings were denied. Names on the waiting list are kept private; decisions about garden rules, they say, are made behind closed doors.
As the desire for outdoor space grew during the pandemic, tensions only increased. "In season it's lovely; it's got all these flowering trees and plants and things," Melle said. "If you walk past, you can smell people cooking things on a barbecue — it seems like they've got a privilege that we don't have." At one point, some cooperators went old-school, papering all 2,820 apartment doors with fliers that read, "Penn South Board to Cooperators: Drop Dead."
Ask long-time garden committee co-chair Doug Acosta about the dispute and he will tell you that what you have is a misunderstanding. He doesn't really believe the speculation around illicit pandemic garden use. "The thing is, if you have a key, you can get in," he said. "It's hard to police, but I didn't see any big issues." (He recalled yelling at one woman who wasn't well-versed in computers and had come into the garden without first signing up for a spot online. During our conversation, he wondered if he should go back and apologize to her.)
Cohen said things used to run on a two-year rotation. She helped start the earliest iteration of the garden in 1985 as an intergenerational project that paired seniors and children. "At some point, maybe five years, 20 years ago, we don't really know, the gardeners decided to do away with rotation," she said. The timeline is fuzzy, but Acosta confirms the rotation ended some years ago. But where Cohen saw a power grab — first came lifetime memberships, "then they moved in the barbecue," she said — Acosta attributed the change to a lack of interest in the early days: "People were like, 'What? We have gardeners to do that work.'" Even now, he claims it's hard to fill volunteer spots. (Neither Cohen nor Acosta seemed to know each other when I asked them.)
The fight might seem silly, but these questions — what it means to be a true cooperative, how to share resources in a city determined to limit them — are more or less part of the cooperative's genetic code.
Officially named the Mutual Redevelopment Houses, Inc., Penn South is one of several trade-union co-ops built in the 1960s targeted at the city's white middle class. Penn South required residents to undergo mandatory preoccupancy training that emphasized its labor bona fides and community values, which attracted a certain kind of person: Former cooperators include civil-rights activist Bayard Rustin and David Graeber, who was asked to leave the co-op after Occupy Wall Street (which he suggested was a result of police interference).
Over the decades, residents have repeatedly voted to remain a limited-equity cooperative, which means there are strict income maximums for those buying in and a cap on the profit cooperators can make when they resell their shares. A tax abatement from the city also helps to keep the units' costs down. In 2019, the last time the co-op opened its waiting list, a one-bedroom was priced starting at $101,247. (The typical value of homes in the neighborhood overall is $1.8 million, according to Zillow.) "This is a place that was political from the start, and it was conceived as an argument against the market in multiple ways," said Matthew Lasner, an urban-policy and -planning professor at Hunter College.
This means that many of the co-op's longtime residents have a certain affinity for organizing, or at least for making themselves impossible to ignore when they're concerned about something. In the pandemic's first summer, Cohen, who is semi-retired, requested information about the length of time the longest-running garden members had had their patches but was told that information was confidential. She then sent a letter to the board in September suggesting a reform of the garden rules and that there be an open session during which to discuss it. The board responded that it had decided to let the garden committee keep its rules intact but was in the "process of trying to find solutions to accommodate those people who have been waiting so long." (Cohen claims that some board members have garden patches, which she sees as a conflict of interest. She requested this information, too, but was again denied because of its confidentiality: "We recognize that you feel speaking in generics … is not a violation of this policy; however, we disagree.")
Over the next year, Cohen went back and forth with the board and organized fellow cooperators through Facebook. She even went so far as to file a report with the city's human-rights commission, claiming age discrimination. (The garden has a separate waiting list to expedite children's memberships; Cohen agrees that children should get a chance to garden but said she worries because the senior residents have fewer years of gardening left in them.) Melle tried to push for reform in her role as a co-op council representative — an advisory body that brings cooperative concerns to the board — but she was shut down there as well. "I had even at one point suggested that maybe they should have a second tier of membership for people who wanted to enjoy the garden but not necessarily take a plot," Melle said, referring to a conversation she'd had before the recent garden drama began. That idea was also shot down. She says they told her, "Oh, no, we can't allow people to come in and trample our plants." She said she gave up at that point and "put my efforts into my little tree pit."
Vanessa Wyeth, a cooperator who got into the garden three years ago, said that she understood people's frustrations with the current system. But, she added, "maintaining the garden is a tremendous amount of work, and it does seem it's a core of people who have been members forever and are on the garden board who do most of that work." She agreed that there should be a way for the co-op to openly discuss the issue and come to a resolution.
When I asked Ambur Nicosia, president of the co-op board, about the allegations of secrecy, she called the garden dispute a one-off issue. "The woman who's on the wait list who's unhappy with the wait time, she'd reached out to the current garden, and they didn't make her recommendations to change," Nicosia said. "From the board, we get a lot of people who wish there weren't as many wait times for amenities." (This is a general theme at Penn South. In 2001, the New York Times quoted a saying among residents: "People don't move out. They get carried out.") She said the board doesn't set the rules for member-led groups; Acosta confirmed that it largely lets the members of the garden manage it themselves, though he noted that they ultimately serve "at the pleasure of the board."
Last fall, as the city enjoyed a brief respite between COVID's Delta and Omicron waves, there was some progress: Penn South, it was announced, would move forward with a plan for a second community garden that would sit on the complex's grounds across the street from the first. Cooperators — including those running the first garden — had been clamoring for more gardening space for years; the plan had finally been approved by the board in 2019 but been held up by the pandemic.
For some, this settled the matter. There would be a second garden, doubling the available beds: a happy compromise. "This is the only area we're working on where we can actually create enough space for people to be in," Nicosia said.
But with the announcement of the second garden, Cohen and others saw an effort to diffuse the momentum about opening up the first garden and to maintain the closed-door nature of how garden decisions are made: The original garden committee — the first garden committee — holds annual meetings only for its members. The board's monthly meetings are still largely closed, too. Nicosia conceded that these meetings would remain closed but said there was a new green-spaces committee that they had invited everyone to join to voice their opinions about the second garden. (Cohen declined to join that committee because she believed it wouldn't address the issues with the first garden.)
"It's all very secretive," Gerry Russo, a 76-year-old cooperator who has lived in the building for 22 years, said of both gardens. "I have absolutely no faith in these people who run this show." In January, a group of cooperators worked on a petition that was signed by 50 or so residents, including at least one current gardener, calling on the board to vote on the garden policy in an open session. (The letter is broken down into six sections: "Transparency," "Equity," "Functionality," "Garden Focus," "Accountability," and, again, "Transparency.") The board responded in a letter: "As the issue has been addressed on many occasions, we consider the matter closed."
In response to the board's letter, the group of cooperators went public in February, putting out a press release that was picked up by a local paper. The Village Sun's "Privilege amid the petunias at Penn South" featured a photo of the barbecue behind the garden's chain-link fence. (In recent months, Cohen's husband has hung signs up on the garden fence that say "BBQ for All or BBQ for None," with a drawing of a frowning barbecue grill.)
In the backdrop of all this — or the foreground, depending on whom you're talking to — is a larger development deal hovering over Penn South. Last summer, the board announced it had joined with the real-estate company MAG Partners to redevelop a deteriorating commercial building owned by the cooperative and turn it into mixed-income housing. The board said this was necessary in order to maintain the revenue required to keep monthly maintenance fees low for Penn South residents. Some cooperators protested, saying that the board pushed the plan through without proper community input; a separate group wrote a letter calling on government agencies to investigate the deal, claiming that the board had "operated in secrecy" and ended up with a deal that "in no way reflects the kinds of funds this prime real estate could obtain in the current market." They also raised concerns with leasing "city funded limited equity land" for the 70 percent of market-rate rental apartments.
People who spoke to me about the garden rotation brought up the MAG Partners deal using much the same language: transparency, privatization, what it means to hold to the founding values of the cooperative. "Penn South, in a way, is itself this utopian garden in the middle of the capitalist city," observed Hunter College's Lasner. "It's easy to imagine the debates around this particular corner of the project reflecting anxieties and debates about the project as a whole." Because of that, from cooperator to cooperator, people either saw the fight over the garden as a companion issue to the MAG Partners deal — or worried that fighting over plant beds might distract from more existential questions about the cooperative's future.
Even those helping to lead the charge on the garden fight wonder whether the issue has become overblown. "I'm not sure whether I wanted it to go this far," Melle said, calling it a "big to-do." Still, she said, "I'm talking to you. I want it to go somewhere."
At the annual members-only garden meeting last week, the board's attorney presented against the idea of a garden rotation, noting that members set the rules in all clubs at Penn South. The board, just as before, considers the matter settled. Cohen does not. When I asked her what was next, she said her fellow agitators would be continuing to press the various committees to talk openly with the community. And there was another flier planned for last week. But she'd taken to heart the feedback from some of her neighbors that the "DROP DEAD" language of the last round was too harsh. This time, instead, they asked the designer to put hearts and flowers on it.