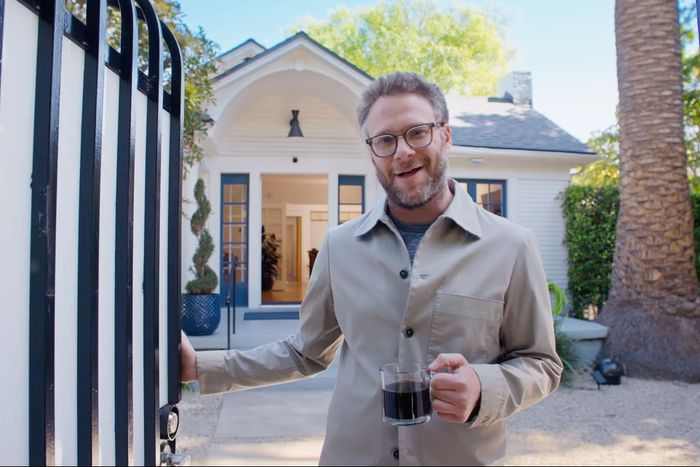 Photo: Architectural Digest/YouTube
Architectural Digest's "Open Door" series has long been a way for celebrities to show off (and potentially sell) their houses, but the latest installment features more explicit commerce: Seth Rogen offers a bubbly yet mellow tour through his office that is also a weed-experience lab that is also a house. It's a walk through the 1918 Los Angeles bungalow that serves as the operations base for Houseplant, Rogen's new cannabis-and-homewares company. "This is a front yard," Rogen says as he gestures to the front yard.
Inside the house we get to see Rogen's standing ashtray and his dog-shaped lighter caddy (both available for purchase) while he very charmingly laughs and says things like "ashtray ingenuity is on the rise once again." But, more important, we get a little glimpse inside Rogen's mind. When he shows off a lamp with a built-in ashtray, Rogen explains how it came to be. "For years and years, I would look at an ashtray and a lamp sitting on my desk side by side. Two different things," Rogen says. "And I thought, What if it was one thing?" That this very stoner thought was made reality leads one to consider more terrifying and expansive possibilities — what two different things can't be made into one thing? A weed store and a home-goods store? Ceramics and acting?
Most of the products Rogen shows off are ashtrays — vintage hedgehog ashtrays, glass ashtrays, gloopy ashtrays. They are stylish, and natural light fills the house-office. But there is one thing that can't be translated through video. What does the inside of a weed-home-goods headquarters-house actually smell like?