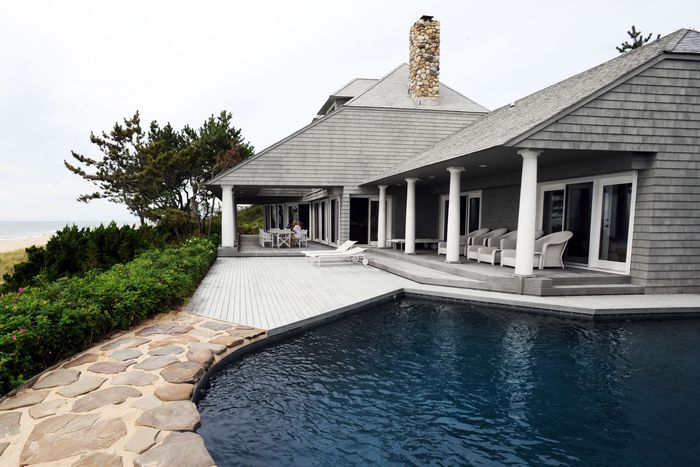 The property before Roth's renovation.
Photo: Karen Wiles Stabile/Newsday RM via Getty Images
Steve Roth is the chairman of Vornado, one of the biggest owners of office and retail space in the country and the developer behind 220 Central Park, which may be Manhattan's most successful condo project ever. He knows more about New York real estate than almost anyone. So why can't he find a buyer for his Montauk beach house? After trying and failing to sell the three-bedroom at 216 Old Montauk Highway over several years and a series of price cuts, Roth has relisted it for $21 million, according to Realtor.com — which is the same amount he and his theater-producer wife, Daryl, tried to get in 2018, before dropping the price to $19.9 million in 2019 and $17.9 million in 2020.
A $21 million waterfront home in Montauk ought not to be a harder sell than a $238 million penthouse at 220 Central Park South. Is the problem the ghost of Bernie Madoff, the property's previous owner? That seems unlikely. Roth bought the property from the government in 2009 for $9.41 million, more than the $8.75 million asking price (homes listed by the U.S. Marshals tend to be underpriced so that they move quickly), and Madoff's other properties have appreciated handsomely since first trading hands.
Is Roth simply asking too much? When the couple bought the 3,000-square-foot place — it's on 1.5 very nice acres — it was "a 1980s dump set in a fabulous location," a broker told Forbes. The Roths hired Thierry Despont to do a full renovation before it went on the market, excising the Formica countertops, the dated great room with a vaulted ceiling, and a fireplace with a weird panel to hide the TV. That should help bump up the price, but compare Dick Cavett's old place in Montauk, which is over 6,500 square feet on 20 oceanfront acres: It sold for only slightly more — $23.6 million — last October.
There's also the matter of its stunning/unsettling proximity to the sea. The Roth property has 180 feet of ocean frontage, and the house sits just 150 feet inland, an arrangement that's no longer allowed because it's a flood risk. Which, honestly, could go either way. While some rich people might be spooked by the thought of their Thierry Despont–designed interiors becoming indoor swimming pools, you can see how even more would be thrilled to get grandfathered-in zoning that no one else has.