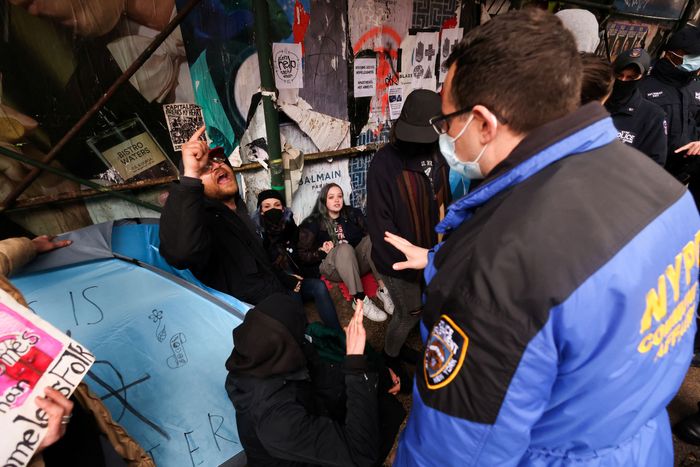 Photo: Andrew Kelly/Reuters
Early in the morning of April 6, a group of around 30 people quickly packed up books, art supplies, and legal documents from a line of tents on 9th Street and Avenue B in the East Village to put into a nearby car for safekeeping. In the pouring rain, a couple of people tidied up around the tents with a dustpan before the New York Sanitation Department would arrive to do the same. But all of this activity wasn't in preparation for a move. The day before, an employee from the Department of Homeless Services had posted a notice on the scaffolding that said the city would clear away the encampment the next day. Less than 24 hours later, the small crowd of tent residents and activists were now preparing to defend it.
The scheduled sweep of a camp that the tent residents have fondly named "Anarchy Row" was just one of hundreds that Mayor Adams has ordered. The initiative, which has already cleared 239 homeless camps in 12 days, is ostensibly aimed at offering unhoused people a bed in the city's shelters and connecting them to other services. But only five people affected by these sweeps have agreed to take a bed in the shelter system. The residents at Anarchy Row had no plans to join them.
As they waited, a few made cigarette runs; another brought boxed coffee from Dunkin Donuts. "I'm scared of having coffee right now because it'd make me have to go to the bathroom," joked Johnny Grima, a tent resident who prefers to go by Ramza, after the Final Fantasy video-game character. The 37-year-old is usually in a cheerful mood. But the impending sweep made him feel angry and exhausted. "I've been homeless on and off since I was a teenager," he said. "I'm just tired of getting kicked around by these fucking people, man."
It wasn't long before the police arrived at around 8:45 a.m., trailed by the garbage truck. Protected by the scaffolding, the protesters formed a barrier with their bodies to prevent the police from reaching the five mid-size tents behind them. Whenever negotiators from the NYPD or the Department of Homeless Services approached, the crowd chanted "Let them stay!" and "Housing not shelters!" The police in turn ordered them, "Move back, please!" But there was nowhere to go — the scaffolding around the tents boxed protesters in and kept the police out.
City negotiators quietly offered to relocate residents to a shelter, safe haven, or a hotel west of Times Square. But Ramza always answered no. "There are 200,000 vacant units in the city," he said. "I've been in a safe haven before. I've done my time." An officer also asked if residents could just pick up their tents for a little bit and bring them back after the city workers left.
"We want apartments and houses, not shelters and safe havens," said Sinthia Hamilton, another tent resident who, like Ramza, has always hovered near Tompkins Square Park. Ramza and Hamilton passed the baton between them all day, speaking to the press, negotiating with the police and city workers. If Ramza relied mostly on housing statistics to make his argument, Hamilton kept referring to a 1987 Supreme Court case where charges against demonstrators camping in Lafayette Park in Washington, D.C., were dismissed. "I'm making a constitutionally protected political statement," she said.
Hamilton had moved to the city as a teenager in 1988, when the park was more of a tent city filled with squatters, punks, and the unhoused. Even then, when police attempted to clear it, activists and local residents fought back. It quickly devolved into a riot when police charged into the crowd. The park may not look like it did in the '80s or even during the Occupy movement, but for some, it maintains that spirit. Anarchy Row, which has only been up for a couple weeks, is one of the few encampments in the city that has fought against the sweep (although the encampment at the southern edge of Tompkins Square Park, on 7th Street and near the chess tables, has remained cleared through the winter).
"They can absolutely live here as far as I'm concerned," said Pastor Will Kroeze, who runs the Trinity Lower East Side Lutheran Parish across the street. His parish has hosted a soup kitchen on the same corner for over 30 years. To Kroeze, Anarchy Row is as inextricable from his neighborhood as the park itself.
But the police wouldn't leave. They taped off the street on both sides. The Sanitation Department's garbage truck had been stalled in front of the encampment for over four hours, the driver hunched over his phone, bored. At around 1:15 p.m., activists began to prepare everyone to leave or be arrested. A rumor swirled around that the police had called in "SRG," its Strategic Response Group often called in at protests, and 15 minutes later, they pulled up in a large, white van. There were at least three officers for every protester. "It's like we've got the president of the United States hostage," said Ramza. City Councilwoman Carlina Rivera arrived but took a wide berth away from protesters. An activist named Kushtina walked around asking participants, "Are you okay with being arrested?" If they said yes, she wrote the number of a lawyer on the back of their hand in blue sharpie.
An officer clutching a bundle of zip-tie handcuffs walked around distributing them. "Things are about to pop off," Kushtina said. The small crowd chanted more loudly and quickly than before: "Keys, not sweeps!" "Let them stay!" and "Carlina Rivera, do something!" Press scattered into specially allotted zones. Police and riot cops closed in. Finally, one officer gave one last warning through a speaker: "9th Street is now closed. At this time you are subject to arrest."
They took Hamilton's tent first. The crowd opened for her to escape. "A 71-year-old woman lives there!" shouted Ramza. The garbage truck crushed her tent and belongings, shooting small slivers of plastic like crumbs. Six activists blocked the sanitation crew and police arrested them. When Ramza refused to leave his tent, he was also put in zip-tie cuffs and joined them in the police van. "I want an apartment for all my homeless people!" he shouted. "No more shelters, no more safe havens!" The crowd fell silent.
Watching from the outskirts, Hamilton wept. "I don't want them to feel like I left them," she told me, but she knew that someone had to talk to the press and figure out what to do next. By 4:30 p.m., the police were mostly gone, but a few officers remained to observe the crowd, which had broken into small clusters on either side of the road. One woman made tentative plans with Hamilton to get new tents and come right back, if not at the same site, then someplace close by. Hamilton sniffled. "I hope I made the right decision."