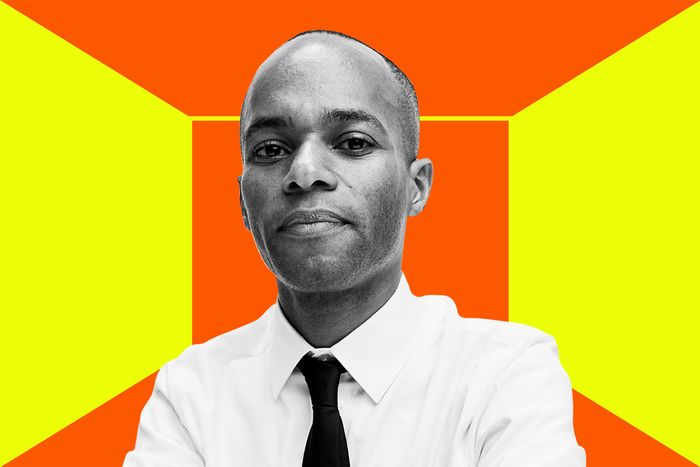 Photo-Illustration: Curbed. Photo: Dario Calmese
New York's "21 Questions" is back with an eye on creative New Yorkers. Justin Garrett Moore is the inaugural program officer for the Mellon Foundation's Humanities in Place initiative, which has awarded more than $48 million to organizations working in place-based social-justice and cultural-heritage projects. He's a founding member of BlackSpace, a collective of Black architects and designers, and co-founder of Urban Patch, a social-enterprise real-estate developer working in Indianapolis and Kigali, Rwanda. Last year, President Biden appointed Moore to the U.S. Fine Arts Commission. During his decade as an urban designer for New York City, Moore worked on the Greenpoint-Williamsburg waterfront, Hunter's Point South, and the Brooklyn Cultural District. He ran the city's Public Design Commission from 2016 to 2020.
Name: Justin Garrett Moore
Age: 42
Neighborhood: Harlem
Occupation: Architect, urban designer, real-estate developer, and professor
What's hanging above your couch?
I have a painting by Alteronce Gumby titled Their Eyes Are Watching God. It's made from glass and wood, and its color changes. It harkens to the Zora Neale Hurston story about life, environment, and what happens in moments of difficulty. I'm interested in supporting Black artists and recently started to more actively search for work that resonates with my aesthetic interests, but also story and narrative. How I started collecting art is a funny story. I'm a member of an organization called BlackSpace, and one of the things we do is host brunches at our houses. When it was my turn to host, people came over and were shocked and appalled by my blank walls. Emma Osore, a member who works in the art space, was the person who really prompted me to collect. I told her I wouldn't even know where to start, and she suggested I follow local artists on social media and make studio visits, which is how I got this piece.
What's the first job you had in New York?
My first job was with Bernard Tschumi. I came to New York for graduate school at Columbia and there was a paper ad posted on a bulletin board — this was old school; no LinkedIn and social media back then — for an intern and model-maker at his firm. I was lucky to work for a famous architect while I was still in school.
What color are you always drawn to?
People who follow me on Instagram know it's the color blue. It's the color of the earth, the sky, the water — all of these essential things present as blue. It's ubiquitous and universal and calming for me. I'm so fascinated by the blue sky in September in particular. The color is distinct and sharper during that time of year. I don't know the exact science about why. If you have been to the World Trade Center memorial, you've probably seen the artwork about people recalling the sky, because it was the perfect color blue that morning and it gets really ingrained in your mind.
What art or artifact are you most surprised you own?
I inadvertently started collecting piggy banks. I'm interested in social finance and micro-lending. One of the organizations I invested in was called MicroPlace, which is now closed. After you loaned a certain amount of money, it sent a piggy bank made by one of the small businesses the loans went to. I got one that's handmade from brown ceramic, with a rough texture. This not-so-pristine piggy bank is out of character compared to my much more curated and controlled apartment. Since then, I've picked up piggy banks when I travel.
Which New Yorker would you want to hang out with?
It would be fun and entertaining to go on a walk around New York with Fran Lebowitz. I am a big fan of Pretend It's a City. I'm not a native New Yorker and I always appreciate whenever there's something that shows you the layers of this place and how it has shaped people.
What's the last thing you made with your hands?
I sketch and draw, but whenever I'm feeling this combination of boredom and nervousness, I make little origami cranes out of Starburst wrappers — it's like I have to impose my will on the universe in a very small way!
Is there one thing you own multiple versions of?
I have nine or ten giraffes. They're my favorite animal, and if I see one when I'm traveling, I'll buy one. They're each made from different materials: soda cans, soapstone, leather, wood.
Which New York City museum do you always go back to?
I would have said the Whitney when it was uptown. I just love that building and miss the museum being there. I don't go to the new one as much.
What do you always have next to your computer?
Candy. I don't drink coffee, so I've mastered the art of the well-managed sugar high to get me through deadlines and long stints of work.
Where is the best view of the city?
This is a very selfish answer: In my career in the Department of City Planning, I was the urban designer of a new neighborhood called Hunter's Point South in Long Island City, which included affordable housing and a new public space. I made the layout, and the design was a joint venture between Weiss/Manfredi Architects and Thomas Balsley. We tried to maintain what was a really unique New York City waterfront. From the park, you get a wonderful view of the midtown skyline and can see the boats go by. It's cool — and a little egotistical — to say, This exists because I drew it. 
What building or object do you want to redesign every time you see it?
There are so many things to fix, but what I want to change is the typical treatment of a street and the public right of way. It's horrible. There has obviously been a ton of work in this area, but in large part the streets are still designed for approaches and systems that don't really meet our current and future moments. It's so car dominated. With all of our ability, ingenuity, and resources, there can — and should — be ways to rethink how we deal with waste, our water, plant life, the curb, and parking in ways that are better for people and the environment.
What's one thing you would change about your field? 
When you think of the regulatory regime that controls so much of how firms practice — what's elevated as knowledge, what the approach and treatment should be for problem-solving — all of it has a foundational base in what people are taught. For the most part, it's fashioned in a very Eurocentric, western, capital- and business-minded approach to how the world should be.
There are other ways the world can be — and probably should be — that are systematically excluded from how we learn about doing this work.
If you could live anywhere in New York City, where would it be?
Harlem. It's a beautiful community. There are express trains and great parks, and I really enjoy the Black heritage and culture that lives in Harlem. And I'm very fortunate to be able to experience that daily.
What would you hoard if it stopped being produced?
Fitted shirts. I have an unusual stature, and there are very few stores I can go into and buy off the rack. Ben Sherman closed; TopMan closed. You can still get their shirts, but it's not as easy as going into a store, seeing something, and trying it on.
What do you do to get out of a creative rut?
I do two things: One is to go on a walk. I usually go through Morningside Park, over to the West Harlem Piers, or through the more wild part of Central Park's north end. The second is to just watch something really stupid and mindless. The go-to is watching Judge Judy yell at people. I don't know why, but somehow it works!
Where was your first NYC apartment, and how much was the rent? 
It was on 108th Street and Manhattan Avenue, 12 blocks away from where I live now. It was a two-bedroom, Columbia-owned property, and my share of the rent was $680 a month. I moved there in 2001, right before 9/11. When I arrived, the church on the corner was throwing a street fair. People were dancing and kids were drawing with chalk in the street.
Where in the city do you go to be alone?
There's nowhere! I attempt to go to the North Woods since it's one of the less-populated parts of Central Park, but there are still people there.
Worst piece of career advice you've ever gotten? 
I've been told that I should really focus on one thing. For me, that's clearly not how I'm wired. It would have been limiting had I listened to that advice. My career is based on multiple disciplines and different contexts. I'm constantly learning and able to be more open. Having that variety, opposed to the narrow "pick one thing and become an expert at it" approach, means something I learn in one space is something I can bring to a different space. It has allowed me to have knowledge, power, agency, and resources I otherwise wouldn't have had access to if I worked in any one single column or direction.
What have you given away to someone that you wish you could get back? 
I've given gifts to people, but I haven't given something of mine away in a really long time.
What's your favorite NYC restaurant and regular order? 
I'll qualify "favorite" as "most frequented," and that's Ponty Bistro in Harlem. I go there at least once a month and get the Senegalese-spiced steak.
What descriptive word do you want in your obit headline?
Impactful.