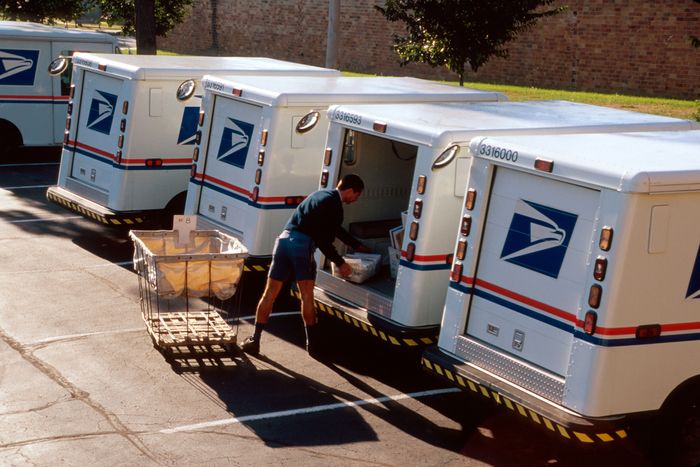 They ought to be plugged in.
Photo: Jeff Greenberg/Universal Images Group via Getty Images
After the United States Postal Service announced that only 5 percent of the nifty next-generation mail trucks it planned to order would be electric, it got some mail of its own: Over 35,000 comments were submitted expressing outrage at the federal government's indifference to climate change. In response, USPS raised the number of electric vehicles — but only to 10,019, still just about 20 percent of the initial 50,000-vehicle order. Now, lawsuits filed this week are attempting to block USPS from buying the remainder of the trucks with gasoline engines until another assessment can be made of the environmental impact. In March, postmaster general Louis DeJoy, a holdout from the Trump administration, heralded his decision to lean on gas guzzlers as one that "makes good sense," but it marks a sharp departure from other agencies that are moving to completely electrify per the Biden administration's 2027 deadline. "The postal service can't be driving in the opposite direction," said Scott Hochberg, a lawyer with the Center for Biological Diversity's Climate Law Institute. "Louis DeJoy's gas-guzzling fleet guarantees decades of pollution with every postcard and package, and we're hopeful the court will block it."
There are three lawsuits: one from the Natural Resources Defense Council and United Auto Workers; another from Earthjustice, CleanAirNow, the Sierra Club, and the Center for Biological Diversity; and a third filed by 16 states plus New York City, California's Bay Area air-quality district, and Washington, D.C. The claimants are demanding a new independent review that more closely examines the pollution that would come from running 90 percent of the post office's 165,000 vehicles — one-third of the federal fleet — on gasoline for the next 30 years at least. (It's possible that a bigger proportion of electric vehicles might be purchased in the next procurement batch, but according to USPS, the 10,019 vehicles are for routes that represent the best candidates for electrification right now; doing so for the rest will require investments with money it doesn't yet have.) Although USPS representatives say the department conducted a "robust and thorough" report of the proposed trucks' impact, that claim was firmly rebuked by the Environmental Protection Agency, whose administrator Vicki Arroyo called the process "seriously deficient" in a very strongly worded letter earlier this year. In this week's filing on behalf of 16 states, New York Attorney General Letitia James called the USPS's move "fatally flawed decision-making."
That the legal challenge to these mail trucks is being issued not just by environmental groups but also by states representing more than half of the country's population is significant. Many of the 16 states that filed together — California, Connecticut, Delaware, Illinois, Maine, Maryland, Michigan, New Jersey, New Mexico, New York, North Carolina, Oregon, Pennsylvania, Rhode Island, Vermont, and Washington — have been granted waivers from the EPA to set their own stricter tailpipe-emissions standards. That same waiver also allows California to proceed with its plan to phase out the sales of all gas-powered vehicles by 2035. Yet the way the current USPS deal works — turning over the fleet in increments for ten years, starting in 2023 — the federal government could still be putting new gas-powered trucks on California's roads just as the state is taking its most dramatic steps to get rid of them.