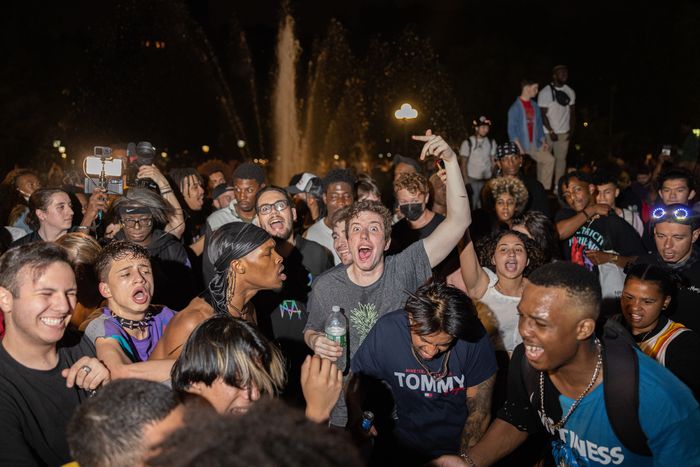 A party at Washington Square Park last summer.
Photo: Alex Kent/Getty Images
When the Washington Square Park Conservancy was created in 2013, its four wealthy founders insisted that their mission was a horticultural one — "planting bulbs, weeding the beds," Betsey Ely told AM New York at the time. "We're not here to run the park," stressed another. But many in the community feared that the group would try to exert control over the public space. That fear, as Gothamist reported last week, was well-founded: during the raucous partying at the park last summer, the group's rich members, including Facebook co-founder Chris Hughes, asked parks officials to intervene in what they referred to as a crisis. It was one of the group's many attempts to remake the park into a more sanitized, exclusive space, one without "hooligans" (as Ely called them in one email), amplified music, or downscale food carts.
It's not surprising that a group of wealthy fundraisers would meddle, of course, but it's noteworthy how cozy the relationship was between the group's members and the Parks Department and how obligingly Parks officials responded to members' many non-horticultural requests and complaints over the years — sending out Parks employees within minutes to investigate reports of amplified music, moving hot-dog vendors away from the arch while allowing gelato and ice-cream vendors to stay, and working with the conservancy to close off a corner of the park associated with homelessness and drug use and reserve it for Conservancy-led kids' programming. "Kudos to one and all," Ely wrote in one of the Gothamist-obtained emails. "Now next steps, how do we maintain it?" Another member who wasn't even living in the city (she'd fled for Maine) emailed Bill Castro, the Manhattan Borough Parks commissioner, to say she had heard reports of parties and trash. "We are on the case," he replied. "As I like to quote William Faulkner: 'We will not only endure, we will prevail.' "
Park conservancies — private nonprofits that raise money to maintain parks and in some cases also manage them — became a popular model for revitalizing neglected, often dangerous greenspaces in an era of anemic city funding. They followed the lead of the Central Park Conservancy, which played a key role in dramatically transforming the city's flagship park beginning in the 1980s. But even as New York's finances recovered, the model has remained popular. Mayor Bloomberg, in particular, championed them and other private-public park models such as the High Line. Like Business Improvement Districts, or BIDs, park conservancies seemed a way to get something for nothing. But, of course, they aren't.
With money comes power, or at least the expectation of power, and the people doing the giving and the fundraising inevitably end up feeling entitled to some say in how a space is used. This despite the fact that no conservancy, with the exception of Bryant Park's, provides the entirety of a park's annual operating budget. (The Central Park Conservancy provides 75 percent.) Both BIDs and park conservancies may be civic-minded — and for the most part, their work is well regarded — but they are not public agencies. As the situation at Washington Square Park illustrates, the conservancy setup makes it easy for a few (often wealthy) residents to impose their personal views of what a beautiful, well-run community space should be, who should be able to use it, and how.
Parks run by powerful conservancies also run the risk of becoming overly commercialized — during the 2014 Super Bowl, Pepsi and Verizon took over large swaths of Bryant Park for marketing events. And while the free, though prominently branded, ice-skating rink is lovely and extremely popular, much of the rest of the park is given over to shops and kiosks every winter, detracting from its main appeal: a sliver of nature amid office towers and stores, offering a refreshing contrast to the overwhelming commercialism of Midtown Manhattan. The park, a nonprofit corporation, is itself run like a business: At one point, many longtime small businesses that ran kiosks were to be pushed out in favor of a single operator, a decision Daniel A. Biederman, the president of the business association that runs the park, attributed to the fact that so many visitors bring their own food to events like free movie nights. (Picnics may be allowed at Bryant Park, but they're apparently not welcome.) And then there's Shake Shack, which Danny Meyer, a co-founder of the Madison Square Park Conservancy in 2003, opened in the park the following year, clogging a corner of the small space with fast-food lines for years to come.
Many conservancies do an exemplary job of maintaining pristine spaces, but this, in itself, involves a judgment call: How much should access be restricted to achieve that? In 2004, Central Park refused to allow antiwar groups to stage a protest on the park's Great Lawn, arguing that it would destroy the grass, although the lawn is regularly used for large concerts and festivals. In 2014, the Central Park Conservancy started sending crews to ten other parks in the city, teaching workers and conservancies its techniques for seeding and maintaining grass, which include fencing off areas of the park to protect lawns and gardens. I live near one of the parks in the Conservancy's program, Fort Greene, and have watched it implement Central Park's lessons over the years, transforming a zone of dirt patches and overgrown grass into a meticulously maintained greensward. The park is much more verdant than it used be, but there is fencing everywhere, separating areas for passive recreation and pets, protecting plantings and grass, and dictating pedestrian paths such that walking willy-nilly up and down or across hills is impossible; a pilot project that's currently under way has kept half the main lawn fenced off for the last five months and isn't expected to be completed until this summer. So much of city life is constrained and controlled; is beautiful grass really more important than being able to roam freely though one of the few greenspaces around?
While a number of park conservancies have contracts with the city, giving them control of maintenance and operations (Central and Bryant Parks' both fall into this category), the situation at Washington Square Park was supposed to avoid the issues that can come up when a small group of wealthy people take over a public resource. When the community board approved the conservancy in 2013, the Parks Department and the conservancy applicants assured the public that "WSPC will not have a role in policy, planning or event creation, and all policies concerning the park will continue to be set by Parks with input from CB2" and that Parks would "maintain authority in permitting activities in the park and will not generate revenue for WSPC through concessions … or other activities that limit public access or commercialize the park."
The problem, as Gothamist's reporting shows, is that Parks was overly eager to accommodate, and in many cases prioritize, the wants and needs of the conservancy, which raised $336,000 for the park in 2021, over the wants and needs of the thousands of other park users who flocked there last summer. It also shows how easily stewardship can slide into something more proprietary, especially when the stewards come bearing not just opinions and concerns but money. Beautification sounds nice enough, but for the conservancy, that meant things — for example, banjo groups and power-washed benches, as several members of the conservancy suggested would be lovely additions in 2013 — that weren't compatible with what many others found beautiful there last summer: a vibrant gathering of young people from all over the city, coming together after more than a year of living in isolation and fear.