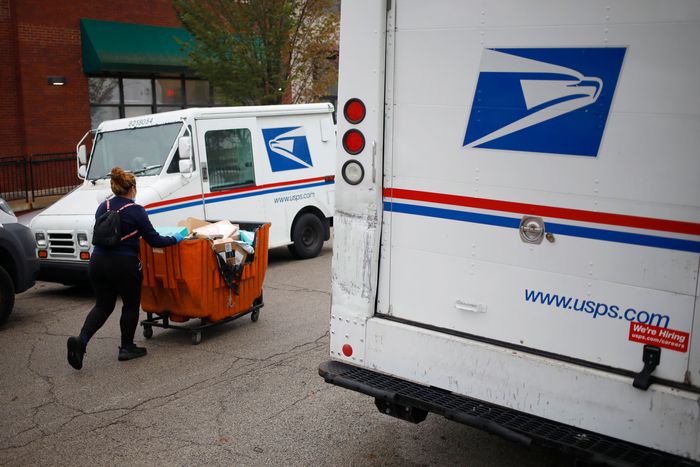 Photo: Luke Sharrett/Bloomberg via Getty Images
On the first day of September last year, Texas enacted one of the strictest abortion laws in the country, banning the procedure as early as six weeks. Later that month, with less fanfare, Governor Greg Abbott signed another bill, this time banning abortion medication from being sent through the mail in the state. But as the Texas Tribune reported in March, in the immediate aftermath of these laws, people were possibly still terminating their pregnancies at nearly the same rate. According to a study from the University of Texas at Austin, an average of 1,400 people left Texas every month to receive abortion care. Almost as many may have been able to terminate their pregnancies without leaving their homes at all: Researchers found in a separate study that Aid Access, an organization based in Austria that provides abortion medication by mail, received 1,100 requests per month from Texas alone. Abortions at clinics went down 60 percent, but the studies suggest abortion incidence is down overall in the state by just 10 percent.
If Texas is the best test case we have for what might occur if the Supreme Court overturns the constitutional right to abortion in June, the results show that more, not fewer, people will get their abortion pills delivered in a post-Roe America. The idea of being able to terminate a pregnancy in the comfort of your own home, in private via the mail, is the embodiment of the feminist maxim for "abortion on demand": safe, effective, and normalized to the point of arriving with whatever new item of direct-to-consumer athleticware you just bought on Instagram. It is fascinating to consider the implication that follows: Mail-delivery services — and the U.S. Postal Service in particular — could become one of the nation's largest abortion providers. On the one hand, there is potential here: an ad hoc federal subversion of state crackdowns. "You can't protest every mailbox; you can't create that type of regulatory regime" that the right wing has done around brick-and-mortar clinics, explains Amanda Allen, senior counsel at the Lawyering Project. On the other hand, with that potential comes uncharted legal territory and the possibility of even more criminalization and surveillance around abortion. There is also the question of whether or not the USPS, a beleaguered federal agency, is up to the challenge.
Public awareness of the safety and availability of medication abortion — mifepristone and misoprostol taken in sequence, which is commonly referred to together as the "abortion pill" and can be administered through ten weeks of pregnancy — has been on the rise in the United States. Medication abortion accounted for more than half of all abortions administered in 2020, according to the Guttmacher Institute. People receive abortion pills in the mail one of two ways, broadly speaking: In December, the FDA made both pills more accessible by permanently removing the requirement that they be prescribed in person, clearing the way for telehealth providers such as Hey Jane, Choix, and Just the Pill, which send them to patients while adhering to various state laws. In the case of self-managed abortion, patients procure medication on their own without official medical oversight via online pharmacies or services like Aid Access.
There are many ways that the mail service feels like an incredibly potent mobilization tool to combat abortion restrictions from the right. Theoretically, the ubiquity of mail delivery offers an enormous opportunity for abortion providers, advocates, and defenders to physically reach one another when the law threatens to keep us apart. The USPS specifically feels like a foundation for effective organizing because it is federal infrastructure: a fully democratized service that ostensibly reaches every person regardless of their state's misogynistic state legislatures. If most Americans want abortion access, which they do, then the USPS can physically represent that shared value on the ground, whether the agency realizes it or not. During the pandemic, after a rocky rollout, the institution was turned into a public-health emergency-response system, delivering COVID-19 tests to any household that requested them; it could be the same for abortions as education on the availability of the abortion pill increases everywhere. Patients who live in blue states but far from clinics can be reached via the postal service; in red states, it's sometimes easier for people to drive over a state border, have a telehealth appointment, and receive a package there than it is to get to a clinic in their home state. And as self-managed abortion increases, so will person-to-person networks rise in a mutual-aid-style framework, operating clandestinely in the most hostile states. People can forward the pills using two-day or even next-day service, if they need it.
There are major caveats, however, to making the dream of abortion by mail a reality for everyone who needs it. Not unlike abortion care, the USPS is another essential service that has been compromised by neglect and politicization over many decades. Delivery times have slowed because of lack of funding, and the areas that are more affected are likely western states and parts of Texas and Florida — some of the states where abortion trigger bans are potentially about to be enacted. As with abortion access, the people who are most impacted by slower and less reliable mail service are marginalized: people of color, people in rural areas, and people living in poverty. And that's assuming they would actually be able to reach telehealth services or self-managed abortion counseling to place orders for abortion medication by mail in the first place. Renee Bracey Sherman of We Testify, an advocacy organization, told Vox earlier this year that the dismantling of the in-person requirement for pills "is not actually making a difference in the people's lives who need it most because they simply cannot have [the pills] mailed."
And then there is the fact that a wave of criminalization will very likely rise to meet the wave of abortion medication by mail. More than 100 restrictions on abortion via telehealth, including eight outright bans, have already been introduced in 2022; 32 states require at least one in-person visit in order to acquire abortion pills. There is no reason to think the most aggressive states, like Texas and Mississippi, will not try to criminalize people who send and receive abortion pills across state lines, which could have a deeply chilling effect on attempts to seek out or provide such care. As BuzzFeed reports, "an online search in 2017 for the abortion medication misoprostol was used to charge one woman with second-degree murder," and "in 2015, a series of text messages with a friend about getting an abortion helped convict another of feticide and child neglect." There is major precedent for the criminalization dragnet to be expanded to make the kind of solidarity networks facilitated by the mail as fragile as possible.
"I just have a million questions," Wendy Parmet, a professor at Northeastern who specializes in reproductive-rights law, says of the legal battles to come. "I see a mess. More litigation and more confusion. In the draft, Justice Alito says it's time to give everything to the states, but that implies that state legislatures will provide neat and tidy results in each state." Instead, what Parmet foresees is a storm of litigation — between states, between states and the federal government, between individuals and states. "States can't regulate federal mail," Parmet reasons, "but they can regulate the use, the touch, the possession" of abortion medication within their boundaries. "But how do they actually enforce it?" she wondered. "Are they really going to be able to stop it?" They couldn't in Texas. That's a start.