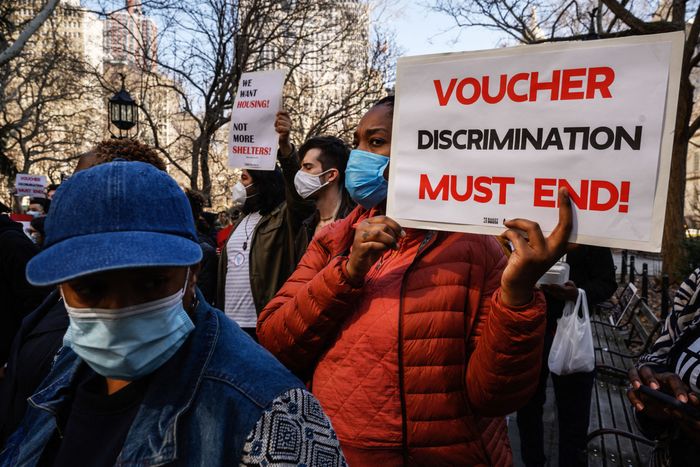 Photo: Ed Jones/AFP via Getty Images
The Adams administration has a new front in the battle against housing discrimination: spam emails. As AmNY reported, the mayor's Public Engagement Unit ran an event Monday — national "Do Something Good for Your Neighbor Day," apparently — encouraging tenants to email their landlords and ask them to rent to people using housing vouchers.
"Dear [Landlord or Broker]," the suggested email template reads. "My name is [your name here] and I am [a tenant in your building]. I would like to let you know of the many benefits available to you when renting your property to a voucher holder."
It's illegal for landlords to discriminate based on a tenant's source of income, but the practice is pervasive, rendering housing vouchers useless if property owners won't take them. As one report by a coalition of housing advocates showed, in 2019, only 20 percent of New Yorkers who received a CityFHEPS voucher to exit the shelter system found housing. The same report found that many landlords simply "ghosted" prospective tenants who used vouchers, while others used credit scores and income requirements to deny applications. Sometimes, the illegality was made explicit: The tenants were told "the landlord doesn't take vouchers."
In this context, a day of emails is a benign, if wildly ineffective, bit of advocacy. (Your local tenant union would likely advise you on additional tactics.) But it's even more lacking when you realize that, as City Limits reported earlier this year, the city agencies that crack down on "source of income discrimination" have been hollowed out over the past year. The actual work of enforcing against source of income discrimination is being stripped of its teeth. Currently, only six staffers work in the Department of Social Services' Fair Housing Litigation Unit, down from an already paltry nine the year before, and only one person works in the Commission on Human Rights' Source of Income unit, down from three. "It's crazy," Housing Rights Initiative executive director Aaron Carr said to City Limits. "It would still be insufficient in a city with a fraction of New York City's population, but this is the largest city in the country with among the highest housing costs in the country.'"
When enforcement teams do follow up on cases, they can often lead to a successful intervention, whether that's securing housing for voucher holders or suing landlords and brokers for source of income discrimination. Doing this at the necessary scale would cost the city money — advocates are requesting a minimum of $1 million in increased enforcement funding. But asking people to send an email to an LLC's spam box? That's free.