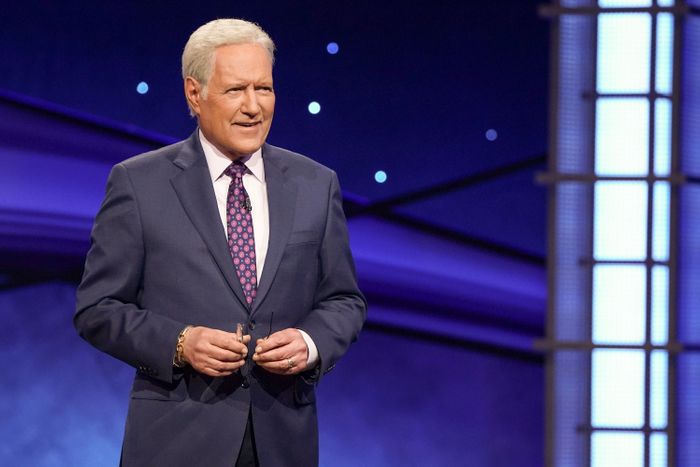 Photo: Eric McCandless/ABC via Getty Images
He was one of Los Angeles' most generous homeless advocates, although most people might not know it. Who was none other than god-tier Jeopardy! host Alex Trebek? This week, the Trebek Center, a new bridge shelter partially funded by him and his wife Jean, welcomed its first residents with 107 beds and comprehensive mental-health services. At the entrance to the center, which is managed by homeless-services provider Hope of the Valley, a video wall cleverly made to look like the Jeopardy! game board displays Trebek's name alongside the names of other donors. A quote from the late host is painted on a mural along the building's exterior: "Homeless people are not deadbeats or druggies or criminals. They are us. They are our neighbors." Trebek's commitment to tackling homelessness in L.A. was his quiet legacy.
Just before he died in November 2020, Trebek donated the $500,000 that kick-started the fundraising for the $14 million shelter in Northridge, which is located in a beloved 23,000-square-foot roller-skating rink that had shut down during the pandemic. It's actually the second Hope of the Valley property to be funded by Trebek; he previously donated $100,000 to a North Hollywood facility where a community room bears his name. (He also gave generously to L.A. in other ways: In 1998, he donated a 62-acre parcel of land in the Hollywood Hills to create the hiking trails and wildlife habitat of the Trebek Open Space.)
Shelters aren't going to solve L.A.'s crisis on their own — the city still needs to focus on building permanent housing and expanding tenant protections — but Trebek's desire to end homelessness went beyond simply making donations. The game-show host, who lived in Studio City for three decades, was an outspoken member of a community that wasn't always so welcoming to the idea of housing homeless residents nearby. In this corner of the Valley in particular, there have been few permanent supportive-housing units built, largely due to opposition from those neighbors. He was mortified by the attitudes of those who tried to fight proposed shelters. "I'm not one of those NIMBYs," Trebek told ABC7 in 2020. "I'm not one of those people who thinks that we can't deal with the homeless near my house because that's bad. I wish more people would react in a positive way to reaching out and trying to help their fellow members of the community."
L.A.'s celebrities love to sign checks and tap the right hashtags onto their Instagram Stories, but few rally for transformational changes when they believe it might affect their property values or — gasp — neighborhood character. Trebek defied the caricature of the rich, out-of-touch Angeleno. This city needs more residents like him.