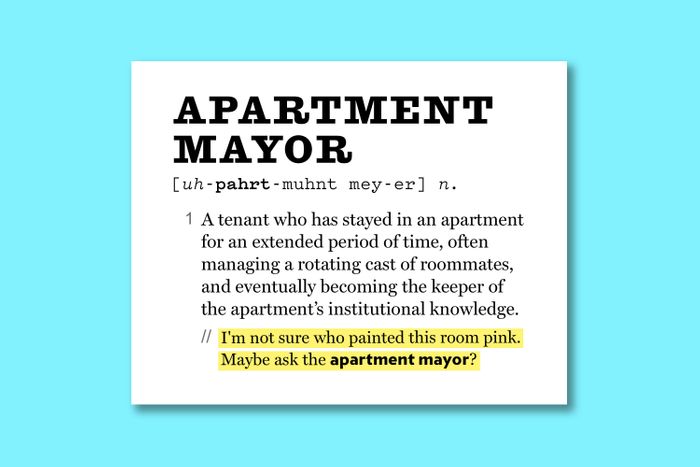 Photo-Illustration: Curbed
Ben Lebovitz moved into his two-bedroom apartment in the East Village, with old, splintered wood floors and exposed brick, in 2006. At first, he and a friend were just subletting from "some guy" in Brooklyn. "We knew it was kind of shady and he was overcharging us," Lebovitz said, but he was happy to find a spot that was spacious if a bit run-down. More than 16 years later, Lebovitz still lives there. He's now the leaseholder in an apartment that has seen 10 other roommates come and go; he counts them off — a couple from New Zealand, an ex-girlfriend, one friend who still comes over regularly. Eventually, his wife moved in. "Then our daughter was born and moved in," he said.
Lebovitz is part of a New York City cohort I call "apartment mayors" — people who have stayed in their homes for an extended period of time, managing a rotating cast of roommates and security deposits, and eventually becoming the de facto landlord and keeper of institutional knowledge. "How everything got here — I think about that quite a bit," Lebovitz said of the evidence of former roommates that lingers. "The little stuff of, like, how my ex-girlfriend put up the backsplash in the kitchen and a bunch of shelves."
It isn't easy to become an apartment mayor. The act of staying implies a certain kind of passivity, but anyone who's been through the New York City rental market knows that to remain is a full-contact sport. In his early years in the apartment, Lebovitz realized his hunch about being ripped off was correct and he was in fact being illegally overcharged above the rent-stabilized rate by the previous leaseholder. (A classic apartment-mayor move.) After confronting the former apartment mayor, Lebovitz ended up taking over the lease. He also fought off an eviction when the notorious landlord Raphael Toledano — who is banned from the real-estate industry for five years in connection with a settlement over tenant harassment and violating stabilization laws — bought his building. His next landlord tried to buy him out, but he said the offer wasn't good enough. When I told him about my theory of apartment mayors, he joked: "My 4-year-old is the mayor now."
Like any political position, apartment mayoralty comes with power: One person I spoke to has been the leaseholder of a rent-stabilized two-bedroom in a luxury building for over a decade; they live rent-free by charging a roommate the entire $1,300 a month. The people who take the room know about the arrangement but still consider the rent — which includes utilities and internet — a deal.
But it also comes with responsibility. Most people I spoke to complained about the headache of constantly having to find and bring in new roommates. "I've learned over the last few years to go over everything. I bring up stuff you would never think to bring up," Kelly Kopp, who's lived in a three-bedroom in Washington Heights and has seen eight roommates over nine years, told me. "I'll even say please shut the cupboards after you open them." Kopp makes every new roommate pay their security deposit directly to the person whose room they're taking over, so each tenant who leaves has an incentive to help fill their spot.
There's also the uncanny experience of watching life repeat itself as people begin to assemble their lives in a new place. Hayley Karl, who went through 10 roommates in a three-bedroom Bushwick apartment over seven years, recalled once bringing a departing tenant's abandoned stuff down to the lobby of her building. The new person who was moving in that day unwittingly brought it all back up. "Hours later she came up, like, 'Someone just left these things downstairs!'" Karl said. "She then left those same things behind when she left."
Many people told me they'd stayed for practical reasons, that they wanted to build rental records, or the deal was pretty good. Or as Karl put it: "It's a pain in the ass to move." COVID changed that, at least for her. Holding the lease as people came and went became too stressful. She's now in a studio apartment, a mayor of one.
Others still plan to extend their terms: "I might complain about it, but I'll re-sign that lease. I love it here, it's my home," Kopp said. His main kickback for being in charge is that he gets his own bathroom, but other mayors have bigger perks.
While some mayors plan to hold the lease as long as possible, others eventually find themselves outgrowing the role — and the apartment. Kate, who stayed in a rent-stabilized three-bedroom in Bushwick for eight years, saw 13 different people come and go. "There's a golden era of the apartment where there's a perfect combination of roommates," Kate said. Some left their marks — one roommate painted their room baby pink, which the next tenant ended up keeping; another left a heavy armoire that fit perfectly in one of the bedrooms without a closet. It has yet to be moved out.
"I wanted it to be a home," Kate said. Over time, though, turnover got quicker and trying to make that happen became harder and harder. "It started to feel like an albatross," she told me. "It felt like no one wanted to invest in this apartment besides me. People would come and move out in less than a year, often to move in with their partners." Eventually she found a new place with her partner and left the lease in the hands of a good friend. It was a peaceful transfer of power: "He's the new apartment mayor now."