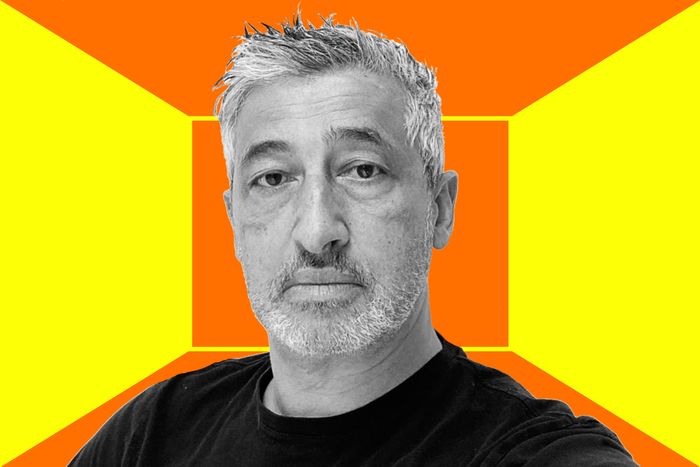 Photo-Illustration: Curbed; Photo: Courtesy of Hani Rashid
New York's "21 Questions" is back with an eye on creative New Yorkers. Hani Rashid is an architect who with his partner, Lise Anne Couture, launched their firm, Asymptote, in 1985. He is responsible for the first-of-its-kind Guggenheim Virtual Museum (and the virtual New York Stock Exchange, among others) and has designed museums, hotels, and residential buildings around the world. He has recently teamed up with the digital-art agency DMINTI to launch DMINTI Metaverse.
Name: Hani Rashid
Age: 63
Neighborhood: Brooklyn Heights
Occupation: Architect and designer
What's hanging above your couch?
We have a fantastic and quite large Tomás Saraceno sculpture hovering up in our space, much like Sputnik is hovering surreally in the United Nations Assembly Hall foyer.
What's the first job you had in New York?
I suppose the first thing I did here — which was not really a job — was creating and installing my first large-scale art installation at Artists Space, an environment that I called a Kursaal for an Evacuee. After that, I decided to leave Milan and stay here, and I worked with architect Lebbeus Woods, a great visionary.
What color are you always drawn to?
Muted orange, azure, and forest green.
What art or artifact are you most surprised you own?
I have a small sculpture by Frank Stella that he gave to us when we collaborated on a project in Malaysia. It's one of his early 3-D prints, and it is so strange and intriguing to have around to discuss important matters with.
Which New Yorker would you want to hang out with?
These days, I hope to bump into and hang around with some virtual resurrection of Marcel Duchamp.
What's the last thing you made with your hands?
The last physical model I made was a large-scale architectural model of the Hermitage Modern Contemporary Museum we designed for Moscow. But it's a strange question to answer because I just modeled with both hands a three-dimensional model in VR using an Oculus and controllers.
Is there one thing you own multiple versions of?
I do own a lot of bikes, including the racing bikes I designed for Pinarello and bikes for moving fast through Brooklyn and Manhattan.
Which New York City museum do you always go back to?
The Met is a constant pilgrimage when in need of perspective and inspiration. Then the Guggenheim rotunda, simply to ask a lot of questions.
What do you always have next to your computer?
Lots of coffee and my Oculus headset because these days, we are deeply involved in a fascinating metaverse art environment called the DMINTI Metaverse, where there's lots of back-and-forth between designing a virtual world with our software and testing and running around in the DMINTI Metaverse.
Where is the best view of the city?
From my home. Because on the right, I see lower Manhattan's skyline, and to the left, I see what Manhattan once looked like before it was filled up with skyscrapers, Governors Island.
What building or object do you want to redesign every time you see it?
The Manhattan grid. It was designed for horses and old ideas of efficiency, so I'm constantly toying in my head with ways to redesign this city to maintain its aura and magic but to accommodate 21st-century needs and possibilities.
What is the one thing you would change about your field?
The reliance on glass-and-metal panels in designing residential and office towers and the developers who seem to understand little else about what architects can bring to the table.
If you could live anywhere in New York City, where would it be?
I have lived in Soho, Chelsea, the Upper East Side, and the Upper West Side. There is nowhere in all those areas that is as inspired, I feel, as where I live now, between Brooklyn Heights and Cobble Hill on the harbor.
What would you hoard if it stopped being produced?
IWC watches. They were born in Brooklyn and made in Schaffhausen, Switzerland, by fanatics.
What do you do to get out of a creative rut?
Bike or run depending on the weather, and if it's possible, a nap also always does the trick. But then again, so does sleep deprivation. It's a toss-up.
Where was your first NYC apartment, and how much was the rent?
It's a blur.
Where in the city do you go to be alone?
Bear Mountain … or the metaverse.
Worst piece of career advice you've ever gotten?
To change my name to something "people can relate to" … advice from a girlfriend's father, an architect in Toronto, where I grew up, who did just that and thrived in Toronto's very staid corporate culture. I disdain corporate culture
What have you given away to someone that you wish you could get back?
After graduating, I moved to Milan and started painting and drawing a lot and gave away those works thinking that, as an architect, it was not my "real" work. I would really like those drawings and paintings back to see what the hell I was thinking!
What's your favorite NYC restaurant and regular order?
Indian Table, here in Brooklyn, and the dish is Khada Masala Gosht. I used to love the roasted duck at Eleven Madison before the vegan turn there.
What descriptive phrase do you want on your obit headline?
A riff off of a Jean Cocteau line about poets: If an architect has a dream, it's not of becoming famous but rather of being provoked.