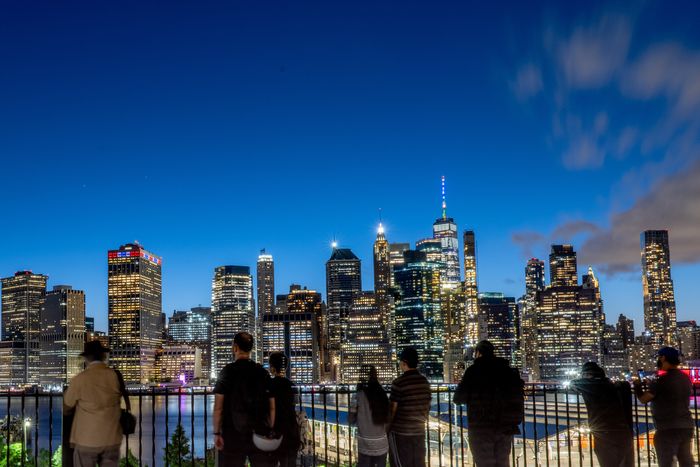 This is what you look at when you spend $40,000 a month to live in Brooklyn.
Photo: Roy Rochlin/Getty Images
A Brooklyn Heights penthouse entered the rental market earlier this month, and within two days, overbidding tenants helped the apartment break the record for the highest rent in Brooklyn.
The apartment at the top of 67 Livingston Street was listed for $30,000 in monthly rent, but, as the Real Deal reported, its new tenants voluntarily offered to pay $40,000 instead, sight unseen. The family was relocating to move from schools in the Upper East Side — which were apparently not good enough — for schools in Brooklyn Heights.
The apartment's rent journey is even more wild than all that. Bianca D'Alessio and Mia Calabrese, stars of the Discovery+ show Selling the Hamptons and agents at Nest Seekers International, listed the penthouse and originally bumped the apartment from its $17,500 monthly rent in 2020 to $30,000 just because the vibes felt right. "We felt very comfortable at 27, [but] we said, 'Let's try for 30,' because there's not a lot of rhyme or reason right now in the rental market," D'Alessio told the Real Deal. It worked — on the first day, they got an estimated 22 inquiries. The building, which was completed in 2018, transitioned into rental units after luxury-apartment sales slowed down during the pandemic.
My colleague Bridget Read has termed tenants offering landlords more rent in the apartment bidding wars as cuck money, to capture the form of "collective debasement" that's happening in our current rental-market craze. But most cases of cuck money are around a thousand or so more in rent at most. What we're seeing happening here is either the pinnacle of the term or a shattering of the cuck-money ceiling altogether. Can you really be a cuck if you have $120,000 more per year to spend on rent?