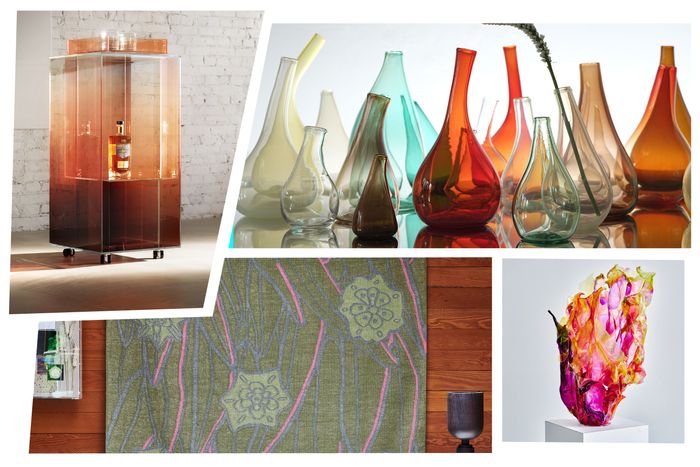 Photo-Illustration: Curbed
The objects, designers, news, and events worth knowing about.
Caroline Zimbalist's Bioplastic Vessels at "Melt"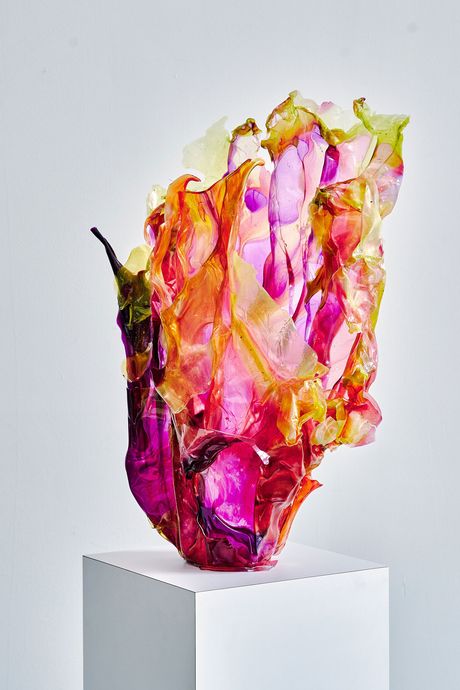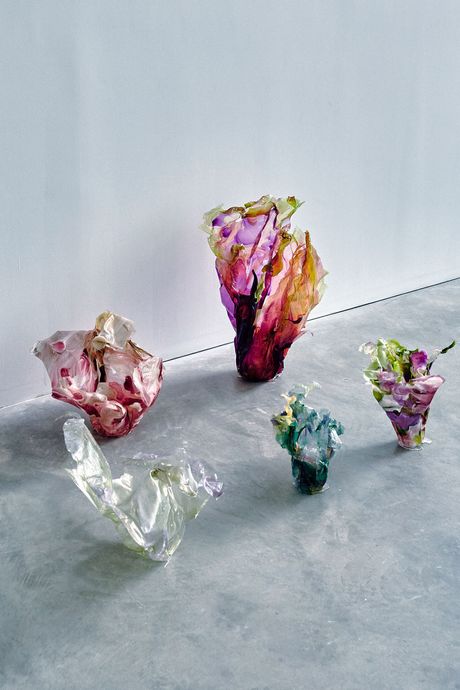 Designer Caroline Zimbalist has been obsessed with making her own materials since she was a fashion student. In her first experiments, she stripped her abstract paintings off their frames and created garments out of them. Her idea was to drape a body in color. A few years ago, she learned about bioplastics — a colleague told her she could cook up and dye her own materials at home using grocery-store items including gelatin, agar, and spirulina powder. The results of those experiments are on view in "Melt," an exhibition organized by HNH Gallery and Adorno. To make her vessels, Zimbalist drips pigments — everything from acrylic paint to matcha powder to charcoal — into the gelatin base as it hardens and then drapes, squishes, and pinches it into forms, coating it in epoxy to finish. The result is exquisite: vessels that look as though they're made of paper-thin, layered stained glass. Through May 30.
Studio & Projects' Okra-Inspired Rug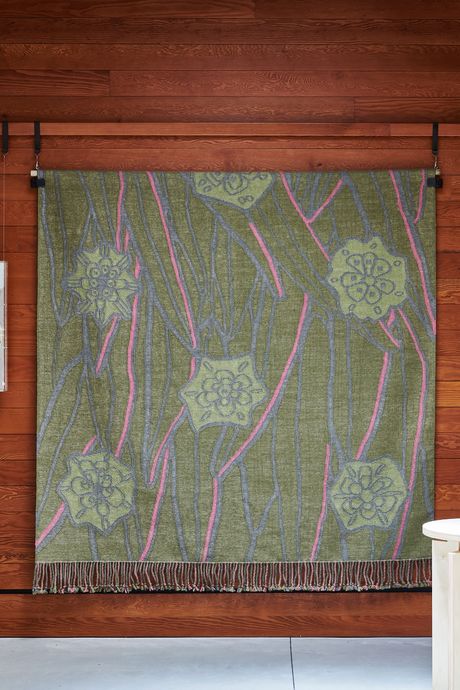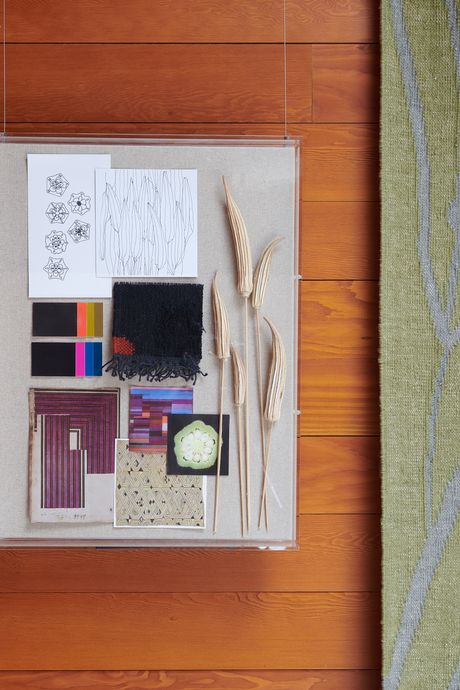 Little Wing Lee — founder of Studio & Projects and the design director of Atelier Ace, the Ace Hotel's in-house creative studio — created a rug inspired by the cross sections of okra pods. I never noticed how beautiful the seed pods were until seeing them in this piece, which was made in collaboration with Odabashian. Lee also exhibited a vitrine of her sketches, material samples, and photographic references. It's part of "Spotlight One," the inaugural exhibition by Black Folks in Design, at the Ace Hotel Brooklyn, which is on view through June 29.
Bestcase's Foundation Collection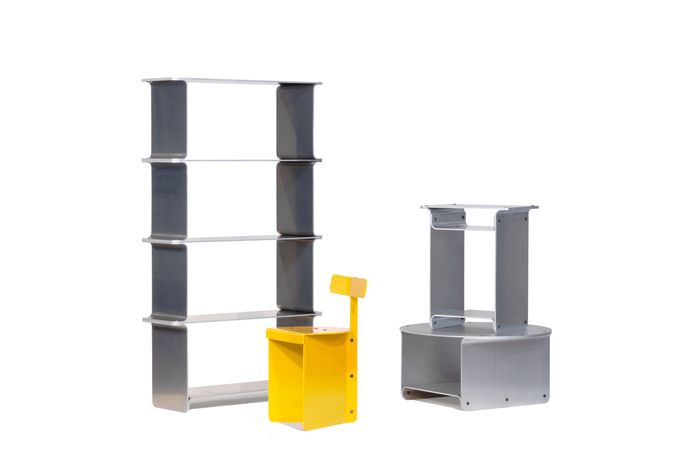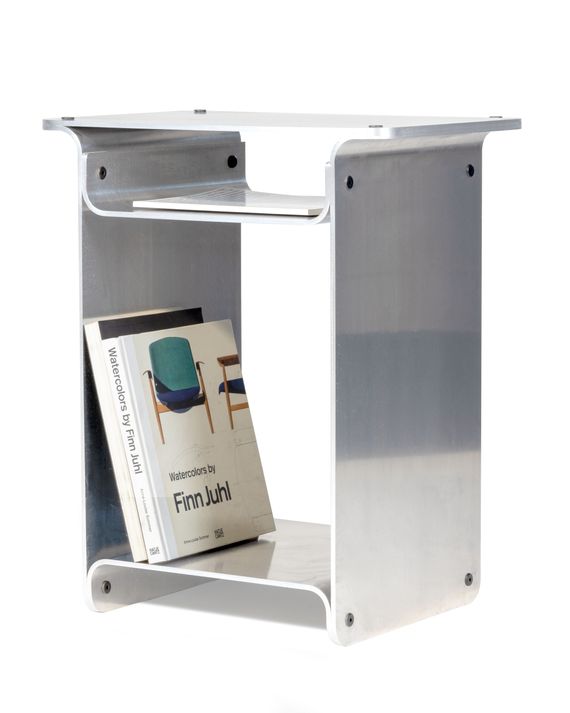 This year, designers are embracing industrial aesthetics: Think materials such as steel and aluminum and machined silhouettes. It seems the pendulum is starting to swing back from the past few years of gloopy textures and maximalist color palettes and patterns. Or maybe I'm just craving something a little different, which is why I was drawn to Bestcase's Foundation collection of customizable chairs, tables, and shelves exhibited during New York Design Week. The pieces look crisp, with subtle curves — a little more Ron Arad than Restoration Hardware. Available on 1stDibs.
Sabine Marcelis's Whiskey-Inspired Bar Cart
Sabine Marcelis, a designer based in the Netherlands, has an intuitive approach to color; she can't quite explain how she mixes her hues but just follows her instincts until the shade seems right. That approach shows up in her resin tables, gradient mirrors, and recent reorganization of Vitra's design archive into color families. But for a recent design, commissioned by the whiskey brand Mortlach, the inspiration came from alcohol — specifically how its taste unfolds when you drink it. Marcelis translated the smokiness into a geometric bar cart that looks almost like a 3-D Cubist painting.
Jean Lin, founder of the cooperative design gallery Colony, and Deborah Czeresko, winner of Netflix's Blown Away series, have collaborated on a series of earth-toned teardrop-shaped glass vessels. They're for a good cause: All proceeds are going to the Environmental Defense Fund and the Rainforest Foundation. $150 to $200, available from goodcolony.com.
Bill Carroll's Dust Chair
There is a long history of designers turning sawdust into furniture: Philippe Starck's Broom chair and Jasper Morrison's Alfi chair, to name a couple. Bill Carroll, still an M.F.A. student at RISD, dyed and compressed wood chips and sawdust together for his Dust Chair. Carroll compares the process to quilting; it results in a surface that looks a little like a photo of a nebula, with the texture of the chips that compose the piece showing through, giving it a satisfyingly organic sensibility.