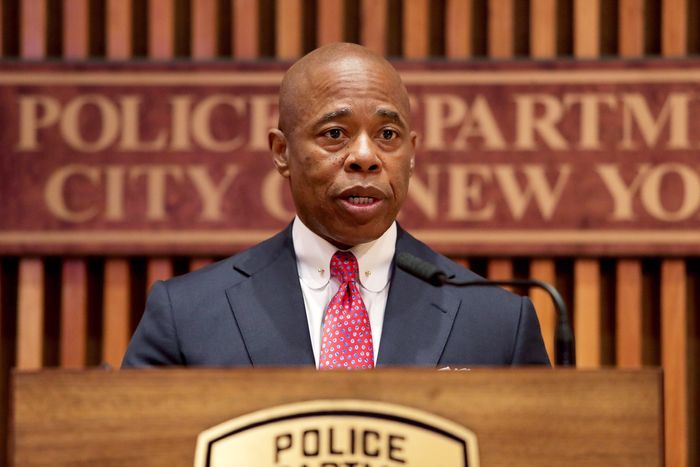 Photo: Andrew Schwartz/SIPA/Shutterstock
Andrew Abdullah, the man charged in the shooting death of Daniel Enriquez, evaded police for 48 hours before he was taken into custody on Tuesday afternoon. The circumstances around his arrest, which reportedly involved a failed negotiation between a Rolls-Royce-driving, media-savvy bishop and his apparent friend the mayor, couldn't be stranger.
After the shooting on a northbound Q train on Sunday, Abdullah left the Canal Street station and allegedly abandoned his handgun and took off his sweatshirt. He then walked around Lower Manhattan, avoiding arrest by the transit officers who stopped and questioned him, took down his name, and sent him on his way. At some point, Abdullah also made contact with his family, who reportedly tried to find him help.
This is where Lamor Whitehead, bishop of Leaders of Tomorrow International Churches, says he comes in. Whitehead, a Brooklyn pastor who once was convicted in a fraudulent auto-loan scheme, claimed to the New York Post that he had a close relationship with Abdullah's family, whom he says are among his congregants, and that he tried to broker the surrender. According to Whitehead, Abdullah's aunt and mom called him on Tuesday morning and asked him for advice; Whitehead said he told the family that Abdullah needed to turn himself in. The family — again, according to Whitehead's account — agreed, but first wanted to consult Legal Aid's offices in Manhattan. Whitehead says he then called Eric Adams, to whom he has ties, and the mayor "said he would support me in whatever had to happen for this young man to surrender. He trusted what I had put in place." Whitehead then went to go meet the family at Legal Aid's offices, intending to take Abdullah to the 5th Precinct and hand him over to the mayor.
Instead, before he could surrender, Abdullah was arrested outside of Legal Aid by city marshals. Legal Aid told Bloomberg that this was inappropriate and they had been in negotiations with the police over Abdullah's surrender. "He was needlessly ambushed out front of our Manhattan Trial Office by law enforcement, denied of his opportunity to first consult with counsel," a Legal Aid spokesperson said.
A Legal Aid lawyer also disputed Whitehead's account of events, telling the Post that Whitehead "has no affiliation with the family. He has no affiliation with the legal team and the statements he has made claiming on behalf of the family are untrue." One police source who spoke to the New York Daily News suggested that Whitehead was attempting to engineer a high-profile handoff and had been keeping an eye on the media presence — "waiting for a bigger crowd to arrive."
The Daily News reported that Eric Adams was apparently game for a good show. "The mayor was in the area and was willing to participate if that's what it took," one police source told the paper. But other NYPD sources were reportedly annoyed at Adams, saying that his participation would set a precedent for future surrender stunts. "Why is the mayor getting involved in law enforcement? He's not in law enforcement anymore," a former detective told the Daily News.
For his part, Adams has kept mum about the whole negotiation. "This is an active case in front of the DA, and I'm not going to say anything that's going to impede the investigation at all," he said in a press conference on Tuesday.