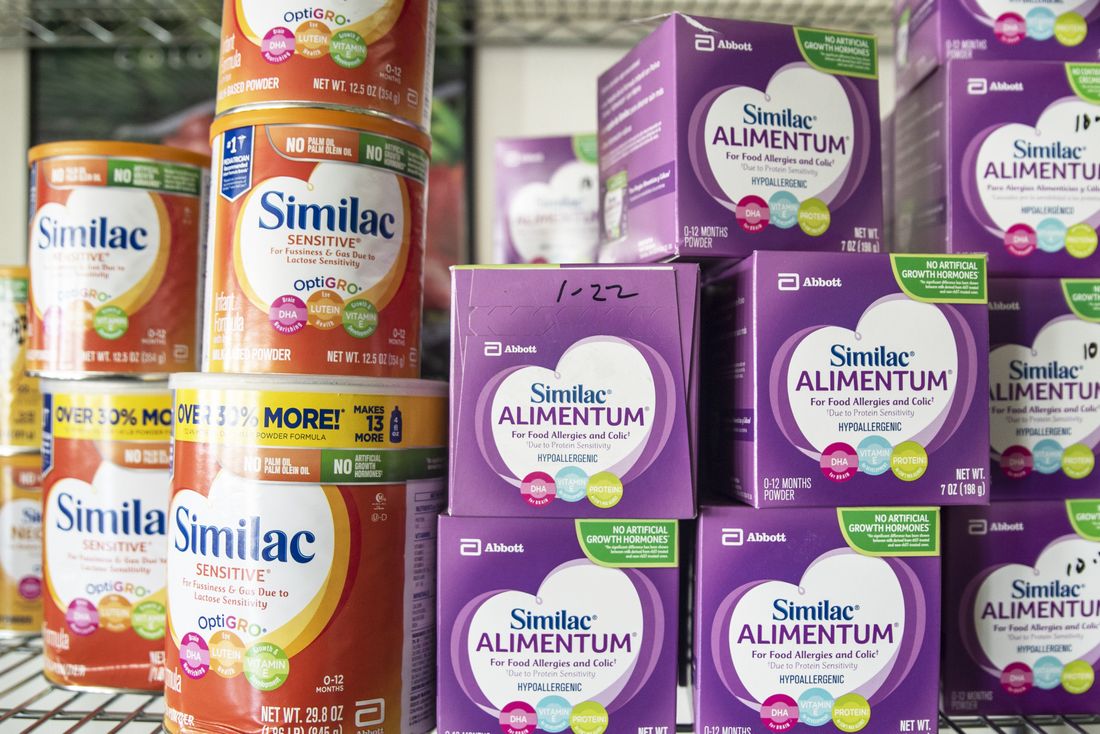 Photo: Sergio Flores/Bloomberg/Getty Images
TheSellingPost.biz is an unlikely baby-formula vendor. The company's tiny storefront in a suburban Massachusetts mini-mall sits next to a barber and across the street from a car wash — promising in neon letters to buy gold and "Turn your PAST into CASH." Like a lot of eBay consignment shops, TheSellingPost.biz traffics in goods your average suburbanite might have lying around and takes cuts from sales of used handbags or old iPads it auctions off for people too busy or technologically illiterate to navigate the platform themselves. But this month, as the supply of available baby formula in the U.S. dropped to nearly half of what's typically on the shelves — and as the existing black market for the product concurrently exploded — TheSellingPost.biz apparently found a very profitable, if temporary, niche.
Over the last week, as federal regulators negotiated with Abbott to reopen a plant partially responsible for the dire formula shortage, TheSellingPost.biz spammed local Craigslist sites with offers to buy two dozen types of formula — promising cash for anyone looking to "make extra money" from formula they had lying around and offering between $6 and $30 per can. But on the company's eBay page, between Ford F-150 dome lights and audio/video cables, a single case of Neocate formula is listed for $249.95. The same case costs $167.50 purchased from the Neocate website — but of course, the item is out of stock. TheSellingPost.biz's hustle appears to be profitable, as eBay lists the Neocate formula it's selling as a "hot item" — with ten purchased in the last 24 hours. When I called the store, a jovial man named Paul turned serious when I told him I was a reporter. Emails inquiring about the moral implications of selling a product that keeps babies alive at such an extreme markup went unanswered, though after I called, TheSellingPost.biz's Craigslist posts disappeared.
TheSellingPost.biz joins a number of unlikely price-gouging fiefdoms on Craigslist attempting to capitalize on the formula shortage over the last few weeks: One person in Anaheim pays cash for Similac and Enfamil. Another offers to pick up and "Pay Top Cash $$$" for baby formula of any kind. It's a scheme exploiting the uneven economics of a product necessary to at least supplement the diets of half of American infants up to 6 months old. A year ago, the monopoly on baby formula belonged to the four major producers that sold more than 90 percent of formula purchased in the U.S.: Abbott, Mead Johnson Nutrition, Nestlé USA, and Perrigo. Now a network of resellers is attempting to replicate that monopoly by buying up remaining stock and setting prices as high as they can.
As one of the more unregulated marketplaces on the internet, Craigslist remains the starkest illustration of the baby-formula black market. But as MIT Technology Review reported recently, parents are looking to Facebook groups and Instagram for tips on where to buy the specific brands their kids need. On TikTok, influencers share potentially risky recipes for anyone who might not be able to find their preferred brand or, alternatively, advise people to shell out hundreds of dollars to vendors like TheSellingPost.biz. The terms of service for most major tech platforms prohibit the sale of instant formula — Facebook, for instance, classifies it as a "medical product" — but there are still dozens of posts listed under cryptic names offering formula for several times what it might cost in a store. Even Etsy's moderators are deleting baby-formula listings as they come up.
That all of these sellers are attempting to price gouge baby formula is somewhat at odds with the market's attitude toward the necessary good. As one supply-chain expert told Fortune recently, one issue with baby formula from the manufacturing side is that "it's not a very lucrative market." Demand is dictated by the birth rate, and there isn't much room outside of that number to grow or expand — even if that demand is shorthand for what can be an infant's sole food source. The state-level bidding process through which the big four producers compete for exclusive contracts with WIC, the nutrition program for low-income families with infants, has further entrenched these companies' control of the market for the last 30 years.
What's happening now is a particularly extreme acceleration of a broken market that has spawned an underground and resale market — a shadow economy that existed long before the current crisis. Given how essential baby formula is and how short-lived its demand (infants generally rely on formula for up to 12 months), websites like SellFormula.com launched years ago to encourage parents to trade in the products for cash. "With the grocery bills so high, SellFormula makes sure I get cash back for anything I don't use," one user testimony reads, an unintended illustration of what makes the industry so grim.
It's not just buybacks. Police regularly announce stings targeting "crime rings" shoplifting and reselling formula. In 2009, for instance, Florida police announced they'd arrested 21 people who'd stolen an alleged $2 million in the powder every year — removing and repackaging it and leaving empty canisters on the shelves. (But what else can you expect from a medically necessary resource produced by a monopoly that, in many stores, was already locked behind glass?) This week, I spoke to a Connecticut woman named Sherisse Rissey with three sons — including a 5-month-old. She was relieved to find a few cans of formula on the shelves at a local supermarket last week, but when she got home, she found the cans' seals had been broken. Instead of baby formula inside, there was flour.
It took until this week for the federal government to meaningfully address the shortage triggered by the Abbott plant shutdown in February. Now it has ordered companies to prioritize delivery of formula ingredients — invoking the same Defense Production Act terms deployed during the pandemic, when hucksters stockpiled and sold masks at markups of more than 400 percent. The Biden administration has ordered government agencies to fly in formula from overseas — formula that, until recently, regulatory bodies had made nearly impossible import. But millions of parents like Rissey need formula for their infants now. In such a vacuum, of course an eBay consignment shop that made its business in truck parts and estate sales is getting in on the action. It's a simple issue of supply and demand.