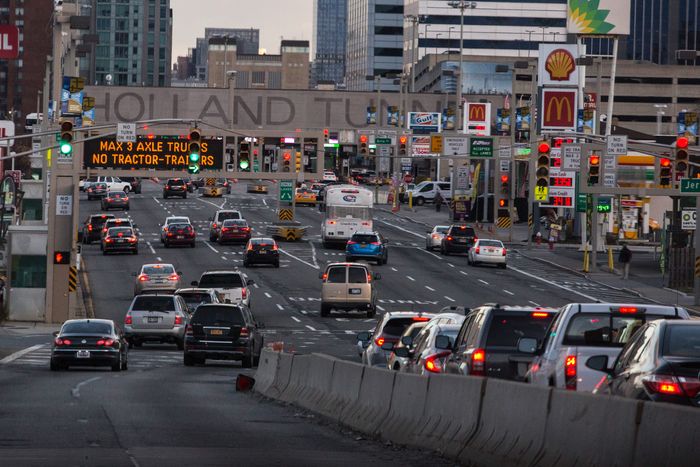 Photo: Kena Betancur/VIEWpress/Corbis via Getty Images
The MTA is currently spending 16 months bouncing around the five boroughs and out into the suburbs holding public meetings about congestion pricing, a proposal to reduce vehicular traffic by tolling drivers heading into Manhattan. But it seems the largest show of support so far is coming from a member of Congress from New Jersey telling his constituents to protest the plan by refusing to drive into the city. Which is exactly the point of the plan — to have fewer drivers, and therefore fewer cars, on the streets. So, Representative Josh Gottheimer of New Jersey's Fifth District … thank you?
Gottheimer's so-called "Stay in Jersey" campaign launched this week with a press conference he held along the side of the road as semi-trucks careened past him on their way to the George Washington Bridge. Avoiding a long commute into the city, Gottheimer said, is actually a good thing: It means spending less money on gas and spending more time with family. He's right! Except a lot of people have no say in where they work, and a lot of his constituents use public transit.
Still, in his own, accidental way, his message is encouraging Jersey drivers to think about their commutes and look at ways they can change their own travel behavior accordingly. This is how congestion pricing has worked in other cities.
Sure, he's mostly just advising his constituents in the northernmost part of the state to start working at office parks in Jersey, but he's also kind of aiding the effort to keep cars from clogging up the streets and tailpipes from dirtying the air in New York City. It's just that, by encouraging more driving, he's bringing more of those impacts — pollution, traffic — to Jersey. Maybe he can rethink that part.