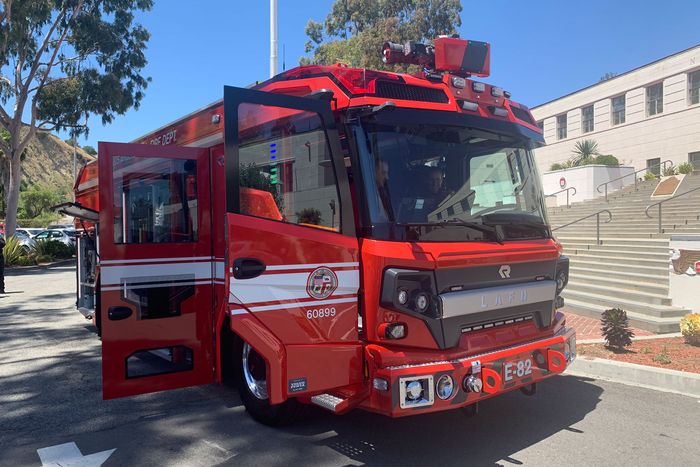 LAFD's more compact electric pumper is the first of its kind in North America.
Photo: @LAFDChief/Twitter
On Tuesday, a brush fire started in the Hollywood Hills, sending plumes of gray smoke over Los Angeles. When fire risk is extremely high in these hillside neighborhoods, they are placed under a "red flag warning" that prohibits street parking so emergency vehicles can navigate the twisty and narrow streets. "We spend a lot of time training on those roads," says Richard Fields, LAFD's deputy chief of operations for its West Bureau, who responded to Tuesday's fire, which was contained in about an hour. But a new and funny-looking little truck could help firefighters respond even faster.
The Rosenbauer RTX that rolled into Hollywood's Station 82 just this week is the first fully electric pumper — meaning it has hoses, pumps, and water tanks onboard — in North America. The short ranges that emergency vehicles travel in cities make them especially well-suited to electrification, but there's a diesel range-extender onboard that can charge the battery for backup during longer calls. It's an important first from a noise and emissions perspective, but perhaps even more significantly, this engine is compact, more like a transit bus than a traditional fire truck. "Every single thing is different," says Fields. "There's nothing about it that's like the rest of our fleet." Because the truck is shorter and narrower — it doesn't even have exterior mirrors — and has four-wheel steering, it's much more maneuverable in tight spaces, he says. "There is a significantly better turning radius." It's part of the push to "rightsize" large municipal vehicles, making them safer for cyclists and pedestrians in dense urban environments. (European cities are way ahead on this.)
The efforts to narrow L.A.'s extra-wide streets — notoriously difficult and dangerous for pedestrians to cross — sometimes run up against municipal requirements for emergency-vehicle access. Those concerns have been weaponized by NIMBYs, whose go-to excuse to stop bike lanes is the fear of limited emergency access. With a smaller (and, although this doesn't exactly matter, totally endearing) truck, they'll have to find a new justification.