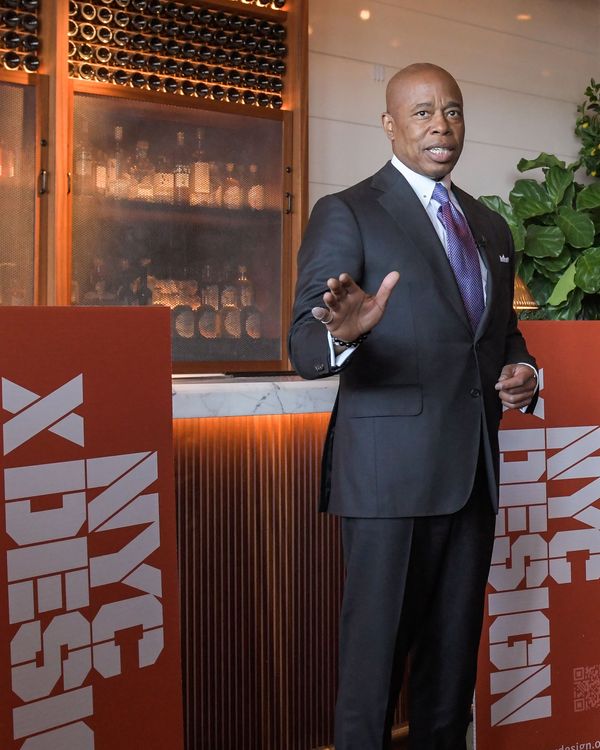 Photo: Courtesy NYCxDesign
The opening of NYCxDesign, the citywide design and architecture festival that's now in its tenth year, took place yesterday at Dante, a cavernous restaurant at the Seaport's newly renovated Pier 17. Among the developers, architects, publicists, and journalists in attendance was New York's traveling hype man Mayor Eric Adams. As it turns out, he's design's biggest fan. For exactly four minutes and 48 seconds, he unleashed a stream-of-consciousness pitch about how design can help us "go into post COVID" — as well as fix injustice and help people experiencing homelessness, victims of domestic violence, and formerly incarcerated people "feel better about themselves."
Pointing to the NYCxDesign banner beside him, he started with a riff on the two words, NYC and design, beginning with his favorite topic, post-pandemic New York City:
"Sometimes we hear words and names. But let's think about it for a moment: New York City by Design. We can't stumble into a post-COVID New York City. We must move into post COVID by design. We must sit down and knock out. What is New York City going to be? We must design it in every aspect. As we go into post-COVID, we must design New York City not to leave anyone behind. Historically, when we designed the city, we designed it without thinking about those communities that have historically not been part of the design."
Designing an equitable city? Sounds great, especially when our streets, housing, public spaces, and transit systems could use some rethinking. But he didn't mention any of those things. He just started talking about …clothing.
"When we think of fashion, when we think of telling a young person the clothing you wear, where it comes from, are we paying people adequate wages where they are making the clothing, selling the clothing, what it looks like, how we map out this plan of fashion and design so that people feel better about themselves." 
Adams continued to talk about how fashion (not furniture, interiors, or architecture, which is what NYCxDesign is about) can help people:
"How do we creatively go into homeless shelters with women who are victims of domestic violence and allow them to design themselves so they can feel better about themselves as they go out and explore themselves." 
A good thing, in theory! (Although it's a lot of weight to place on a new shirt.) Adams continued to double down on garments, this time on suits and ties:
"Young people who are coming home from serving time in prison, I'll be showing them how to put a suit on. And to tie a tie correctly or just wear an open collar. How are we going to design them into a pathway of being employed so they don't constantly go back to jail in a real way?"
And, of course, he found a way to incorporate his favorite word, swagger:
"How do we design the city? Nothing can do it better than the fashion industry. Because if you wake up in the morning and you put on a nice dress suit and tie and walk into the street, you have swagger." 
NYC? Design? For Adams, that clearly means fashion. And he really wants people to look good. (We got a glimpse of this at his recent appearance at the Met Gala, where he wore a bespoke jacket billboard with an anti–gun violence message).
"The complexity and diversity of the city with different languages and different cultures we have so much here! It's not the sterilized environment of the classroom. We should wear garb that reflects all the diversity of the city."
And here's the kicker — a generic cheer for the city of New York that would have easily been part of any event — sports game, political rally, mayoral campaign — at any point in time:
"Unafraid, unapologetic, bold, audacious, New Yorkers — this is who we are. There's something special about this place called New York City. Nothing can hold us back! Nothing can hold us back!"
Clearly, nothing can hold Adams back from speaking off the cuff about whatever is on his mind. But I wish Eric Adams cared as much about design as he does about design sound bites. Perhaps we would have gotten something better than the padlocked hardware-store sheds that he has passed off as the city's solution to containing trash and that rat bucket.