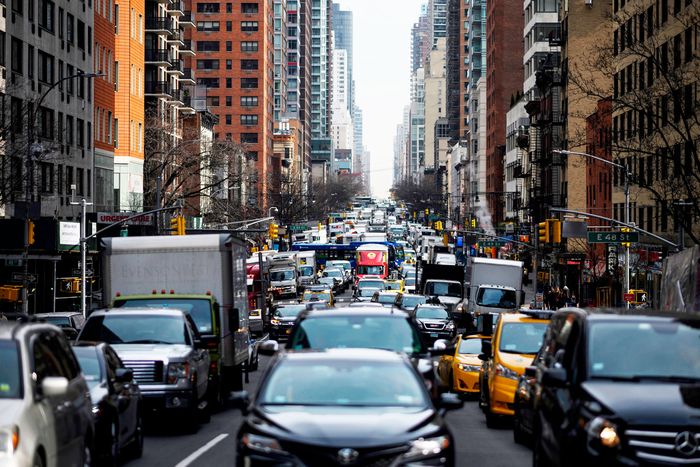 Photo: Johannes Eisele/AFP via Getty Images
Imagine waking up in your home in Bed-Stuy on a beautiful Sunday morning and having to do some errands. You hop into your Mini Cooper electric hardtop™ and drive an estimated 16 to 40 minutes — depending on traffic — to stop by a hardware store near Barclays Center. (You just can't get enough of Atlantic Avenue!) You spend about 15 minutes looking for parking before walking 10 minutes from your parking spot to the store. You get a pack of drywall anchors then walk back to your car. Then you drive another 12 to 30 minutes across the Manhattan Bridge into Manhattan to drop off your dry cleaning in Soho — park, walk again, walk back — before your stomach starts to grumble. Time for a delicious snack. So you decide to grab some takeout over by Stuyvesant Town — because everyone in New York knows that the Chipotle by East 17th Street has the absolute best takeout — 9 to 28 minutes away before taking the FDR Drive down to the Williamsburg bridge and arrive back home 20 to 50 minutes later. You have to find parking again, and so your incredible Stuy Town Chipotle bowl gets cold.
This is the nightmare 14-mile trek across New York City that takes anywhere from an estimated two to four hours in travel time (if you're lucky) envisioned in an ad for Mini Cooper's electric car. The idea is to show you that you can "run all your errands" with "plenty of charge to spare."
Another way to run your errands with plenty of charge to spare in New York City would be to walk around in your neighborhood. Near your home dot, you can drop your clothes at any one of two dry cleaners, get a bagel at BK Bagels, and visit a local hardware store, all in the space of a few blocks. But then how would you get to sit in traffic?