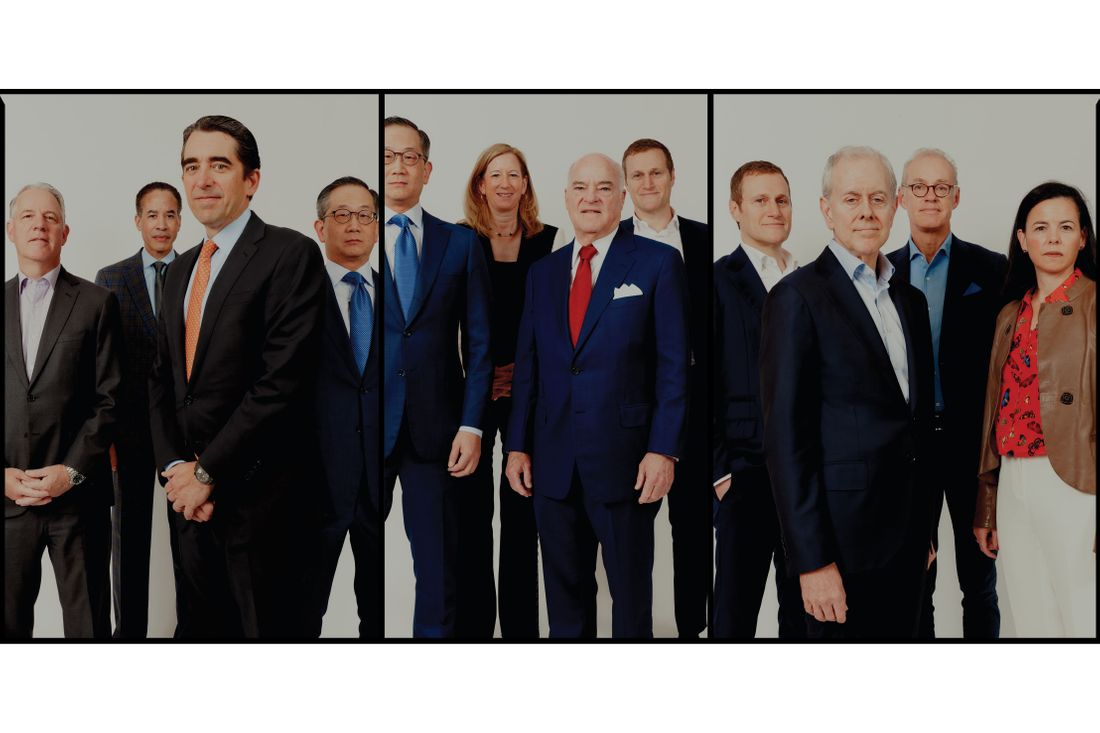 Partnership members, from left: Jim Zelter, Charles Phillips, Michael A. Peterson, Kewsong Lee, Catherine Engelbert, Henry Kravis, Rob Speyer, Steven R. Swartz, Kevin P. Ryan, and Christiana Riley.
Photo: Victor Llorente
For the past couple of years, the corporate members of the Partnership for New York City have been fond of paraphrasing Mark Twain in stating that reports of the metropolis's demise, as measured by vacant storefronts and empty office buildings, are greatly exaggerated. Now, as masks in the city have largely come off indoors and out, the executives in the organization are trying to broadcast another message: It's high time New Yorkers go back to work in person.
Many of them have already issued a similar directive to their own employees, whether as an ultimatum or something softer. "We have a lot of type A people, and they figure out pretty quickly what it takes to get ahead here," says Henry Kravis, executive co-chairman of KKR, the private-equity giant, who sits on the Partnership's executive committee. "If everyone else is around the table and you're sort of sitting there on a Zoom call, that doesn't make a lot of sense."
On any given weekday, about 35 percent of Manhattan workers are in the office, according to the Partnership, up from 28 percent six months ago. But that's still far below pre-Omicron forecasts that about 75 percent of workers would be coming in by now.
In conjunction with mandates, bosses are offering perks. Much of Wall Street is providing free lunches and coffee. Google is promoting private concerts featuring the likes of Lizzo. Still, some employers are learning that such benefits mean little to their staffers, who would likely trade them all just to hold on to the ability to sometimes work from home. "What we really found was that people weren't looking for balance per se," says Jim Zelter, co-president of Apollo Global Management, meaning the work-life kind. "They were looking for flexibility." While most of the private-equity firm's staff commute to the office most weekdays, Apollo struck a compromise that will allow them to work remotely for the month of August. "There's a war on talent," Zelter explains. "Talent's probably won."
Yet even at companies that preach flexibility, employers are having to address workers' fears that their attendance is being tracked. "We've had a lot of conversations with managers around trust," says Christiana Riley, CEO of Deutsche Bank Americas. At KKR, for one, Kravis maintains that "we don't have a time clock." But he receives regular reports on how many key cards were swiped to enter the building. It's how he knows people are now spending a majority of their time in the office. Should employees be wary? "Not at all," he says. The swipe just records binary data. "There are no times on it."