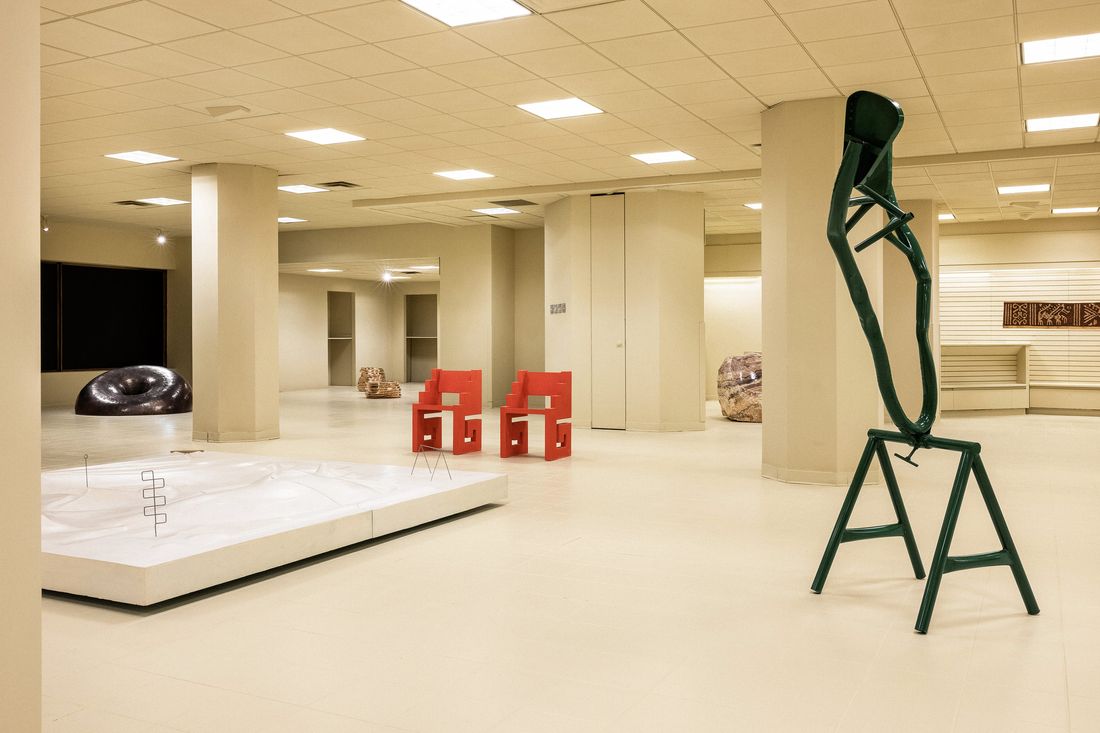 MASA, a gallery based in Mexico City, has an exhibition of contemporary design that includes two chairs by Pedro Reyes, Isamu Noguchi's model for a playground inspired by Teotihuacan, and sculptures by Miguel Calderón.
Photo: Caylon Hackwith
In the 1930s, Isamu Noguchi had an affair with Frida Kahlo while he was living and working in Mexico City. Judging from the lovesick letters he sent her, it didn't end well. "Forgive me dearest for not having been all I should have been — Perhaps when we meet again (soon I hope) when we love again, I will have the courage and humility to be very real," he wrote in one of them. The relationship seemed to leave an impact on his work. In 1937, he developed a proposal for a mural with motifs that are cribbed from Kahlo's iconography: a fetus, a heart, a cutaway image of a body showing its skeleton. The mural was never sculpted, but Noguchi's study for the mural is now on view at "Intervención/Intersección," a new exhibition by the itinerant Mexico City gallery MASA in a decommissioned post office in Rockefeller Center.
"This is really the centerpiece of the show," says Su Wu, the curator of the exhibition. "We're highlighting the power of gossip and love affairs — the role that all of these things, which are seriously nonacademic, play in creating what we mean by art or design history. We're finding space for intimacy and private stories."
Artists have a long history of finding intimacy and kinship in Mexico City, just as Noguchi did. He went to Mexico after he failed to get a Works Progress Administration commission for a New York City playground, and managed to secure his first public commission there, a socialist mural on the second floor of a public market. "How different Mexico was!" Noguchi wrote of his experience. "Here all of a sudden I didn't feel strange for being an artist. All artists were useful people, a part of the community." This sensibility fostered a "creative porosity," as Wu describes the city's openness to artists, which still defines the contemporary art and design landscape in Mexico City today. MASA's co-founders, Hector Esrawe, Age Salajöe, and Brian Thoreen, who hail from Mexico City, Estonia, and Los Angeles, respectively, are an example of this. Wu also moved there in 2017 and quickly found a place for herself at the center of the city's creative scene. The show she has assembled reflects the city's openness and the work that can result from blending cultural influences.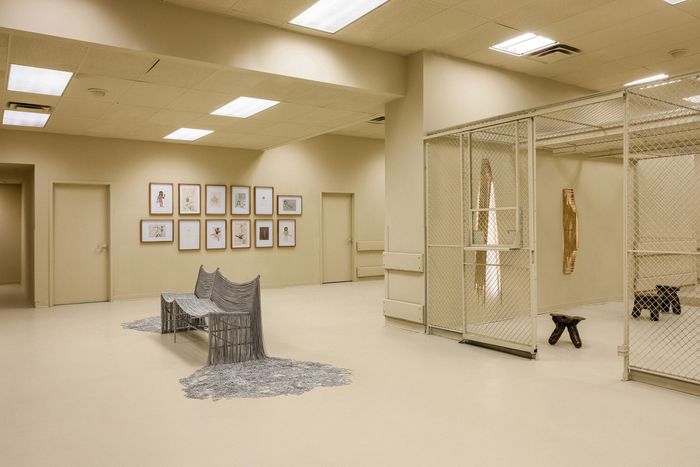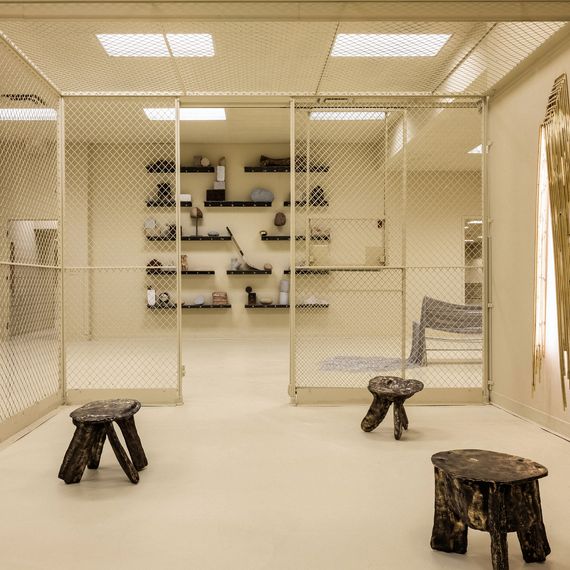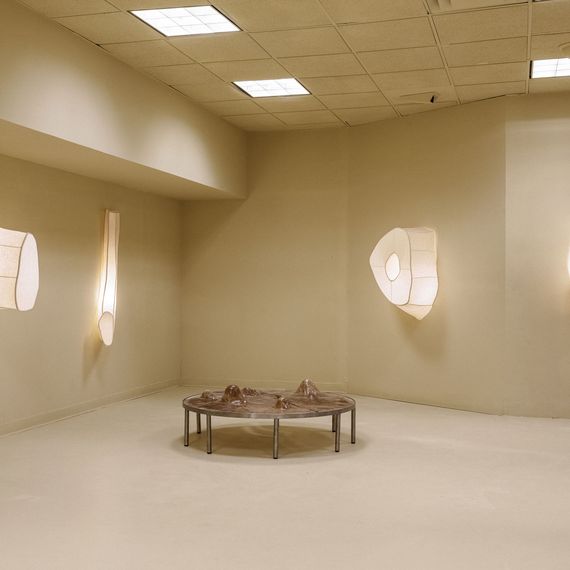 Throughout the exhibition, we see how artists have tapped into deeply personal references. Architect Frida Escobedo, who is designing the Metropolitan Museum of Art's new modern and contemporary wing, contributed a piece in homage to Ana Mendieta, the Cuban American artist whose work has long been overshadowed by the circumstances surrounding her death, which some believe was at the hands of her partner, artist Carl Andre. Escobedo's Creek Bench references Mendieta's Creek, a 1974 film in which the artist emerges nude from rocky waters. Made from hundreds of strands of tiny ball-chains, the bench mimics the fluidity onscreen. A steel table with a lumpy, stitched-together rawhide surface and a pink silicone jug embellished with sutures by the emerging design studio Panorammma look distinctly like surgically mended skin and reference the founder's chemotherapy and hospital stays. The exhibition continues onto the public plaza, with sculptures by Alma Allen, stone seating by Mario García Torres, and an installation by Pia Camil of shirts, pants, and dresses Mexico City residents donated to her strung up like flags around the ice rink. Camil describes clothing as the most intimate items a person has; they "contain our sweat and secrets; they bear witness to our moments of joy and sadness," she writes. Seeing these items hanging in the plaza where flags of the world normally fly brings a sense of intimacy and familiarity to the monumental space.
It's fitting that most of the show takes place in a former post office, a place that facilitates the movement of objects and ideas through correspondence, like the letters that Noguchi sent to Kahlo. The setting is not accidental; it reflects MASA's nomadic strategy. Choosing to exhibit in obscure locations comes from its desire to challenge conventional expectations about how we perceive art and design — most often in sterile environments that have been stripped of any character. Experimenting with different venues often results in exhibitions that are less showcases of precious objects and more often surreal, immersive environments where the setting influences how the works are seen. Its inaugural show, in 2019, took place in a 1970s Mexico City mansion made infamous for being the site of a gruesome murder, which the gallery did up with red carpets and walls — a striking contrast to the minimalist works. A "castle" built by German expats was the site of a 2020 exhibition. The house, paneled with dark wood walls, looked as though it was haunted with the furniture displayed in the show. The venue of its 2021 show, "The Last Tenant," was a modernist house from the 1950s with very little documentation about its history, which inspired the gallery to imagine the daily habits of its last inhabitant and invent a story about him.
In "Intervención/Intersección," much of the post office's interior features remain — the dropped ceiling, fluorescent lights, storage cages, and display shelves — but they're all covered in creamy beige paint, a palimpsest of what was there before. The design pieces interact with these elements: They are hung from the ceiling and displayed on the post office counter; and in one instance, a set of metal stools by EWE is penned up in a mail-storage cage. MASA chooses its spaces based on a gut feeling, but what happens when it's all put together, as at the old post office, can feel "serendipitous," says Thoreen.