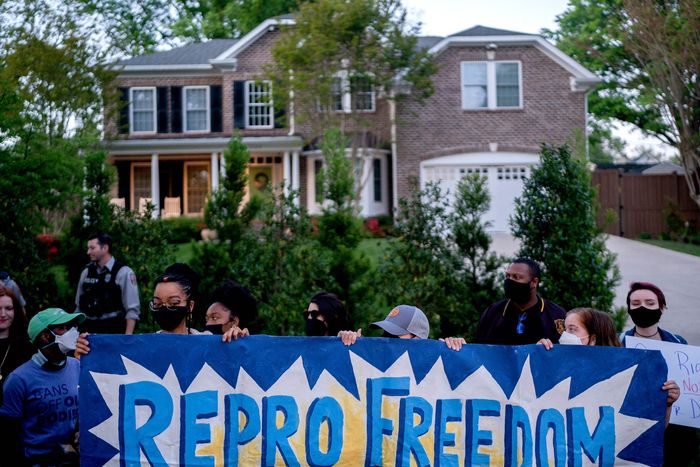 Pro-choice demonstrators gather outside the house of U.S. Supreme Court Justice Samuel Alito in Alexandria, Virginia, on May 9, 2022.
Photo: Stefani Reynolds/AFP via Getty Images
The protest outside of Supreme Court Justice Samuel Alito's home on Monday night began with a slow march through the leafy streets of Fort Hunt, a suburb south of Alexandria, Virginia. About 100 abortion-rights advocates, trailed by a police car, arrived at the justice's Federal-style home around dusk. The advocates chanted and lit a row of votive candles in the empty street. The press snapped photos. By the time it was dark, the protest was over, and everyone went home.
A rumor had been circulated the previous week that Alito, who wrote the draft decision overturning Roe v. Wade, was so threatened by the possibility of such a protest that he had to be spirited to an "undisclosed location." (It seems he was not frightened by anti-abortion protesters cheering him on outside his home a few days before, holding signs that read "Alito Rocks" and "Alito Just Brilliant.") Congress, apparently equally threatened, took swift legislative action to extend additional security protections to the justices' families. Experts weighed in on the legality of protesting a justice's home. Editorial boards fretted about protesters infringing on the "private lives" of people in power. Tame as they were, the protests likely were jarring: Like the other five conservative justices, Alito lives in a wealthy suburb outside of D.C. It is a place where residents believe their Zip Code and property taxes have secured them the right to be left alone. A protest, even an uneventful one, violates that unspoken but vigilantly enforced expectation.
The six conservative Supreme Court justices live in a C-shaped arc that fans west from the D.C. metropolitan area. The communities in which they reside look and feel strikingly similar — majority white, mostly single-family homes, with an annual household income of $150,000-plus.
These are also communities that have fought, vigorously, to keep people who live closer to the city from easily accessing their doorsteps, by blocking new housing or obstructing the expansion of transit. Chevy Chase, Maryland, where Justices Brett Kavanaugh and John Roberts live a few blocks from each other, fought the construction of the Purple Line through the D.C. suburbs for years in one of the most epic NIMBY battles in U.S. history. Shut Down DC, the organizers of Monday's vigil — which required people attending the protest to pre-register and submit to vetting — warned that Alito's house was not Metro-accessible, and coordinated carpools to a centrally located hospital. Even then, reaching the neighborhood from this public parking lot required a long walk down arterial roads with no shoulders, no sidewalks, and no street lighting, making for a dangerous return trip at night.
Over the past week there have also been protests held in front of House Majority Leader Nancy Pelosi's San Francisco mansion (as there often are) and Senate Majority Leader Chuck Schumer's Brooklyn apartment (as there often are) without similar outrage. In the past, protesters have tacked eviction notices to Pelosi's door to protest the expiration of the federal moratorium and a right-wing influencer climbed over a small barrier on the property to draw attention to Pelosi's opposition to the border wall. "My house, there's protests three, four times a week," Schumer told the New York Daily News yesterday. "But, so long as they are peaceful, that's okay with me." (Schumer, who lives in a building with a doorman, voted to extend security measures to Supreme Court families, and Pelosi, who also has heightened security, has signaled she will do the same when the bill reaches the House.) Pelosi and Schumer have homes on gridded streets in their densely populated, transit-adjacent districts. Protest is heavily — and often violently — policed in their cities, but property lines are not as sacred: It is often harder for lawmakers to draw a clean line between their homes and the public square. The suburbs are designed to very explicitly delineate these things. Your home is your castle.
And, sometimes, a fortress. At Alito's house, which, like the homes of most high-ranking public figures, is blurred out on Google Street View, some front-yard foliage has been added to create a privacy screen, yet the perimeter, like other lots on the block, was mostly unsecured (perhaps to retain its curb appeal?). That changed in just the last week, as a new fence has been erected — it's tall, but not Supreme Court tall — to fortify the backyard. In anticipation of this increased policing, the approach to the protest has changed as well. Today, instead of coordinating gatherings in front of the conservative justices' homes, organizers will be conducting "walk-bys" on each of the conservative justices' blocks. Simply walking down a public street won't trigger the same accusations of "targeting" justices' residences, but it will be very clear in certain instances that people aren't just out for a casual stroll. Alito, like four of the six justices, lives on a cul-de-sac.