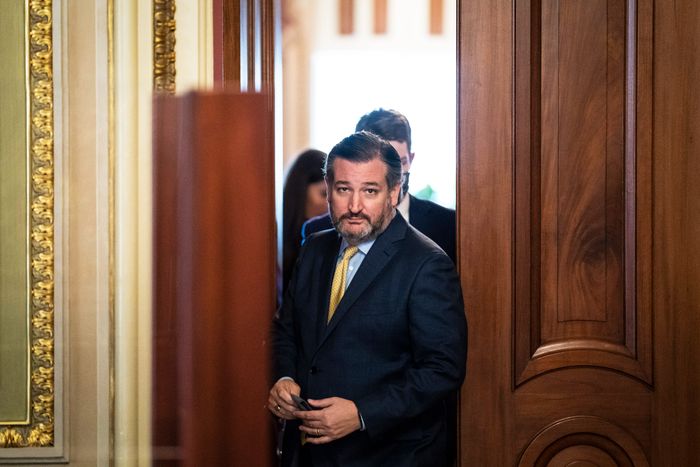 Photo: Jabin Botsford/POOL/AFP via Getty Images
"You want to talk about how we could have prevented the horror that played out across the street?" Texas senator Ted Cruz said Wednesday, standing outside Robb Elementary School in Uvalde, Texas, where just 24 hours earlier 19 children and two teachers were murdered. "Having one door that goes in and out of the school, having armed police officers at that one door." He repeated the line later that day during an appearance on Fox News. Guns were not the problem. Doors were the problem.
Cruz wasn't the only Texas legislator to call for a door ban yesterday. Lieutenant Governor Dan Patrick joined Tucker Carlson last night with more of the same: "We have to harden these targets so no one can get in, ever, except through one entrance." This particular line of deflection is drawing ridicule now, but it isn't even new. After the 2018 shooting at Santa Fe High School outside Houston, where eight teens and two teachers were murdered, Patrick said the exact same thing. "There are too many entrances and too many exits to our more than 8,000 campuses in Texas," he said. "Had there been one single entrance possibly for every student, maybe he would have been stopped." These talking points are drawn directly from a National Rifle Association task force formed in the wake of the Sandy Hook massacre in 2012, where the findings recommend eliminating not just school doors but windows and trees as well. Since 2013, the NRA has been pushing the same solution to deadly mass shootings inside our schools: a single entrance with fortified doors and access by intercom.
Thanks to decades of such efforts to put the focus on doors instead of guns, this is already how many schools work, as noted by parents swamping the replies to Cruz's and Patrick's tweets. A 2018 report showed that 96 percent of Texas schools statewide lock campus doors to limit access while students are there. Before Sandy Hook, only eight elementary schools in Dallas's public school district had intercom entrances, as Craig Miller, a school safety consultant for Dallas Independent School District, told the Dallas Morning News. After the Connecticut shooting, leaders rallied to install them. Since the Santa Fe shooting, Uvalde's school district doubled the amount of money spent to secure its campuses, and Robb Elementary had received $69,000 in state grants to be used for hardening, including "exterior doors with push bars" and "door-locking systems."
As Texas Republicans are declaring that doors are dangerous and need to be carefully regulated, they're taking the opposite approach for guns. As of September 2021, the state has actually loosened gun restrictions: It is now legal to carry a handgun in the state without a permit. Cruz had very little to say when asked if that kind of thing might be dangerous, too.