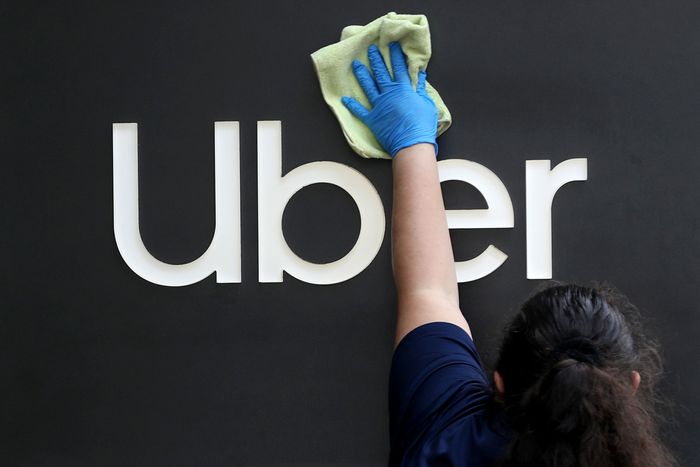 Photo: Justin Sullivan/Getty Images
In Super Pumped, the Showtime series about Uber, founder Travis Kalanick makes the case for his company's existence with a single word: Horseshit. "There were piles of it all along the streets of this fine city," Kalanick tells San Francisco mayor Ed Lee, "until the horse and carriage got replaced by the streetcar." Kalanick, played by Joseph Gordon-Levitt, has been summoned to City Hall because his fledgling startup — still in its nascent "Ubercab" phase — is facing imminent shutdown for operating without a livery permit. That is, until Kalanick gestures out the window to remind the mayor that he could be known for moving San Francisco past another stinky and inefficient transportation system. (Presumably cars? Which will be replaced by … other cars?) "Does Mayor Ed Lee want to go down in the history books as an innovator?" Kalanick asks. The pitch, as Uber's lobbying has on almost all politicians in its path for the past 13 years, works. Kalanick returns to the Uber office, pumps his fists, and proclaims: "The city has been taken!"
Yesterday, a memo from current Uber CEO Dara Khosrowshahi read like a page from a Super Pumped script — right down to an all-caps "GO GET IT!" The horseshit has caught up with the company, which has yet to turn a profit despite grand promises. "It's clear that the market is experiencing a seismic shift and we need to react accordingly," the memo reads. "We will absolutely have to do more with less." But amid the warnings of corporate austerity and hints of a pivot to food deliveries and freight, there's an admission of a deeper failure: the tacit understanding that moving passengers around crowded cities using cars was never going to work. Something which, after over a decade of scheming, cheating, and extorting its way onto our smartphones and into our streets, Uber may finally have to admit.
But just because Uber hasn't made money doesn't mean it hasn't made an impact. Tens of billions of dollars — a great deal of it coming directly from Saudi oil interests — has been funneled directly into closed-door City Hall meetings where Uber has delivered variations on the horseshit speech to nudge American urban policy away from investments in public transit. This was, in fact, a key part of the "bezzle," as Cory Doctorow described Uber's strategy in an epic takedown that all but predicted Uber's imminent demise: "As the years went by, the stories that Uber told us about its path to profitability got more and more fanciful," Doctorow wrote. "Take the story that Uber could be a substitute for public transit. Private cars can't substitute for buses, light rail, and subways. It's just fucking geometry."
Trying to ignore that geometry, or perhaps distract from it, has led to multiple Uber pivots over the years, from lofty visions of flying-car skyports to a deadly detour into self-driving SUVs. But along the way, Uber seems to have forgotten how its original promise might have actually helped solve urban transportation problems. With gas prices high, ride sharing can help people save money, reduce emissions, and tackle traffic congestion all at the same time. Lyft deployed a sensible response to the oil shock by increasing carpooling options in major cities, renewing its commitment to a 100 percent electric fleet by 2030, and rolling out more multi-modal options like new electric Citi Bikes. Uber now struggles to see where it fits.
In Super Pumped, when Kalanick faces too much heat from shareholders or regulators, he retreats into the city to strategize. He sits on the curb — public space that is now deeply contested, in part because of him — his head in his hands, surrounded by all the better ways to get around San Francisco: a MUNI bus sails past him, vintage trolleybuses rattle down Market Street, the Civic Center BART station glows like a lightbulb over his head. In the real world, a transit-operator shortage due to chronic underfunding of those agencies is creating service disruptions coast to coast. It's hard not to view Uber's actions — including effectively buying a California state law to avoid fairly compensating its own drivers — as revealing its complicity. The final scene of Super Pumped shows Kalanick forced out of his own company (as he was in 2019) and trying to leave town when he realizes his corporate phone has been bricked. Unable to summon an Uber, he must commit the unthinkable: He hails a cab. In the series, it's the ultimate gut punch of defeat. Yet just before the finale aired, that scenario more or less came true: Due to a driver shortage affecting earnings and reliability, Uber announced that it will start listing New York City taxis on its app by this summer.